Top Gun: Maverick produced hundreds of hours of aerial footage, with sequences shot using multiple cameras. Editor Eddie Hamilton tells Screen how he wrangled the material into a film that honours its predecessor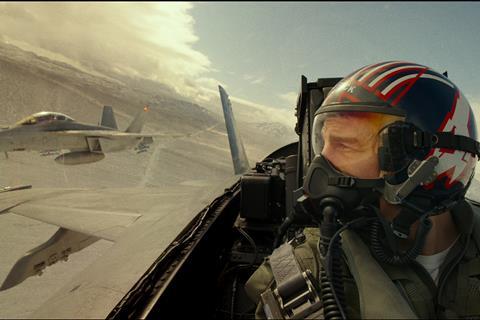 Eddie Hamilton had one directive in mind when it came to editing the opening of Top Gun: Maverick. "Tom Cruise said, 'We have to make sure the film feels the same, to remind everybody of the world of Top Gun and reassure the audience,'" says Brighton-born Hamilton, who saw Tony Scott's original movie six times on its initial release.
"I watched 23 hours of footage and took all the best bits, slightly timing it to fit [Kenny Loggins' song] 'Danger Zone'," he says about the opening credits montage, an homage to Top Gun in which fighter jets take off and land on the USS George Washington aircraft carrier. "But [with] the rest of the movie, we felt our way through each scene dozens of times. It had to be a slam dunk. It had to be a 10 out of 10. Every frame had to justify its existence. We combed over every single cut to make sure it flowed and was a seamless, emotional experience."
In all, Hamilton, 50, spent two years working on Top Gun: Maverick, joining the Joseph Kosinski­directed sequel on the recommendation of Cruise, after he cut Mission: Impossible — Rogue Nation and Mission: Impossible — Fallout for director Christopher McQuarrie. "The helicopter chase in Fallout prepared me for Top Gun," laughs the British-American editor, "because the helicopter chase had 70 hours of footage for a nine-minute sequence. Top Gun had hundreds of hours."
The aerial sequences in Top Gun: Maverick have delighted audiences, with stakes that are easily identifiable and an emotional element that enhances the action. Partly that is due to Hamilton being on set when the scenes with the actors flying in the F-18 Super Hornet jets were shot. "I was there so I understood what they were trying to film with each sortie," he recalls. "When they landed, I could look at the footage and say, 'Yes, we got that,' or, 'No, we didn't.' In the evenings, I would sit with Joe and go through the footage again. If it didn't feel right, we would ask them to go up the next day and have another crack. Or we would add an extra beat onto the next sortie. The days were brutally long — we didn't get enough sleep for weeks."
Kosinski wound up with 650 hours of aerial footage, which Hamilton duly watched. "It was so time-consuming and there are no shortcuts. It was the hardest thing I've ever done. But it's Top Gun and we all wanted the film to be incredible."
Ultimately, the sheer amount of footage became overwhelming: "One day they had 27 cameras running and I was just, 'I'm going to fail. One person can't stay on top of this and do the rest of the movie as well.' I remember a Sunday morning, trying to plug in my laptop, and my brain was going, 'Do something.' And my body was going, 'No, you've got to stop.' So I said, 'Guys, I'm not getting enough sleep. My blood pressure is high, I'm totally stressed out. I want to do a great job but I can't do it on my own.'"
So Hamilton called on Oscar-winning editor Stephen Mirrione (Traffic, The Revenant). "I said, 'Start at the beginning, recut anything you want.'" Mirionne went to work, making several major contributions throughout, before having to leave for another film. Then Chris Lebenzon, who had cut nine films for Tony Scott including Top Gun, stepped in just as the pandemic hit. Kosinski and Lebenzon worked in Los Angeles, while Hamilton edited in London. Originally, there was a dogfight that saw Cruise's Maverick chase a Sukhoi Su-57 fighter jet into a canyon. "When Tom saw it, he went, 'No, the Su-57 must chase me,'" remembers Hamilton. "When an editor gets a note like that, you get a chill up your spine because you're going to have to watch all the footage again and recut the scene from scratch. It was only about 45 seconds but it was going to take a week. Chris said, 'Don't worry, I got it.' I was so grateful. Stephen doesn't like taking a credit unless he's done the entire movie. And I wanted him to have credit, but he declined. So whenever I talk about the film, I give those guys credit, because they really helped me when I was struggling."
The toughest sequence to cut, however, was the final mission, beginning when the planes flown by Maverick and young pilot Rooster (Miles Teller) take off from the aircraft carrier until they crash-land on deck, 27 minutes later. "It took me about three months. A lot of stuff was filmed that got cut, and there was a lot of stuff that got combined," Hamilton reveals. "We would take shots from other things and fold them in. And every line of dialogue is rewritten and rerecorded dozens of times to get the intonation perfect."
Childhood dream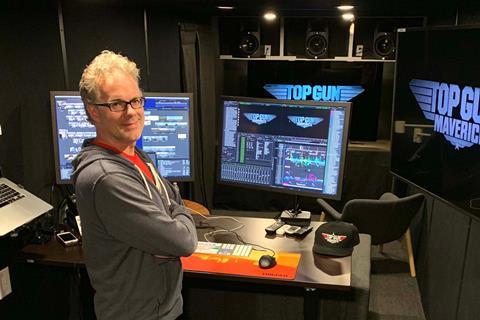 Hamilton has wanted to make movies since he was eight years old. "I thought I'd be a director, but realised storytelling via editing suited me because I'm a bit of a nerd and I don't mind working for hours on my own in a dark room," he says. His film school applications were rejected so he started as a runner in Soho in the 1990s, teaching himself video editing while reaching out to anybody making a low-budget film who needed an editor.
His first feature credit was Urban Ghost Story in 1998. "I did all the editing and sound design," says Hamilton. "Then I chipped away at a lot of very average movies that nobody saw."
His big break came when he heard producer Matthew Vaughn had parted ways with the editor on 2001's Mean Machine. "I said, 'I'm a huge fan of Lock Stock and Snatch, I'll sleep on the cutting-room floor and do whatever it takes.' He said, 'You've got two weeks, cut as much of the movie as you can.' Two weeks went by and I had done about 40 minutes. Matthew came in, watched it, and said, 'That's awesome, keep going.'" The pair worked together on Kick-Ass, its sequel and X-Men: First Class — "my first taste of a proper big studio movie".
Hamilton was cutting Kingsman: The Secret Service with fellow editor Jon Harris when he got a call asking him to meet Christopher McQuarrie, aka McQ, about editing Mission: Impossible — Rogue Nation. "It was two or three weeks before they started filming and somebody had dropped out, or they didn't want to pay to bring an American over, so were searching for a British person who would be cheap," laughs Hamilton. "But I had dreamed of working on something this size, with an incredible storyteller like Tom Cruise. Plus, Chris understands the power of editing. I chatted with him for an hour and was in a car on the way back when they called and said, 'When can you start?'"
After Rogue Nation, Hamilton moved onto Kingsman: The Golden Circle, then Fallout. He is now in South Africa working on Mission: Impossible — Dead Reckoning Part One and Part Two with McQuarrie and Cruise. "We wake up, have breakfast, talk about what we're doing, do it; then, in the evening, we debrief so I know exactly what McQ and Tom are thinking, and I can incorporate the discussions into the edit as I go," he reveals. "The scale of the storytelling is gigantic."
There is, inevitably, a massive aerial sequence that Hamilton describes as "the most ambitious that's ever been or will ever be filmed. I kid you not. But all my muscles are flexed from Top Gun, so I can dive in and not feel too overwhelmed."