The name of producer Michel Merkt, whose credits include foreign-language Oscar nominee and festival sensation Toni Erdmann, is little-known internationally. And that's how he likes it, he tells Melanie Goodfellow.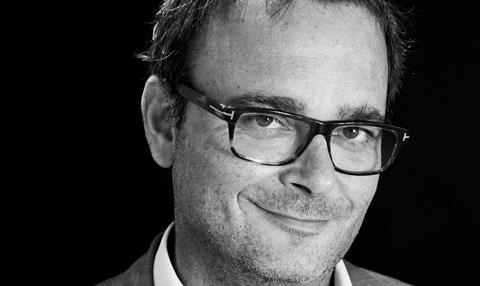 Producer Michel Merkt is known as "the man in the shadows" in his native Switzerland thanks to the low profile he likes to keep.
Not one for grandstanding announcements nor fond of giving many interviews, the Swiss-born Monaco resident lets his films do the talking.
"I'm fighting for the movies," he says. "I always put the director and cast in front. Being in the shadows allows me to work more quietly and to reinforce the strength of what I have to say if I appear only a few times a year."
But following a year in which a rich and eclectic group of his projects have hit festivals and won acclaim, the producer is going to have a tough time remaining under the radar.
Merkt, who works alongside his wife Kateryna at their Monaco-based KNM banner, is celebrating one of his most successful periods since his first official producer credit less than a decade ago.
Roll call
Three films produced by KNM made the nine-strong longlist for the foreign-language Oscar: My Life As A Courgette, It's Only The End Of The World and Toni Erdmann, with the latter securing a nod this week.
Courgette has been nominated in the best feature animation category.
Moreover, KNM co-produced Paul Verhoeven's Elle, for which Isabelle Huppert won a Golden Globe for best actress and is nominated for an Oscar.
Elle, Courgette and Toni Erdmann also picked up 22 Cesar nominations in total.
"We both read all the scripts and decide together," says Merkt of the partnership with his wife.
His further recent credits include Aquarius and Mimosas, which, alongside Elle, he co-produced with Paris-based Said Ben Said. Merkt describes Said as his "mentor and friend".
"We only met five years ago during the pre-production of [David Cronenberg's] Maps To The Stars and very quickly realised we had the same vision and taste," Merkt explains.
"We love demanding and accessible auteur-driven projects for international audiences. We had the same list of directors that we wanted to work with from Cronenberg to Verhoeven, Philippe Garrel and Kleber Mendonca Filho."
Geneva-born Merkt has enjoyed a life-long passion for storytelling. He was encouraged by his father, who read to him every day as a child, "everything from fairytales to Tintin".
After ditching his law studies at the University of Geneva, Merkt kicked off his film career as a production assistant on the cinema shows of Canal Plus in Belgium.
From there, he segued into working as a film critic, interviewing Cronenberg when he was president of the Cannes jury in 1999 and telling the director that one day he would like to work with him.
Becoming a producer was a natural move.
"I always wanted new challenges, I was exploring more and more, and when you can have this helicopter view you are a producer," says Merkt.
"You don't become a producer, either you are or you're not. I like to consider myself as a facilitator and a problem solver, and I need a new challenge on every project."
After a series of personal short projects, Merkt received his first official producer credit on Wim Wenders' 2008 short film Person To Person, made as part of a series on the United Nations Millennium Goals by eight top film-makers.
Less than a decade later, Merkt has more than 30 feature credits to his name, financed through a combination of state funds, tax incentives and equity and private backers.
On average he produces around two features a year and is involved with others at either the development and post stage or solely as an investor.
His latest project, Yance Ford's documentary Strong Island, co-produced with Joslyn Barnes at New York-based Louverture Films, made its world premiere at Sundance this week and has been selected for the Berlinale.
Upcoming productions include Anup Singh's The Song Of Scorpions, starring Golshifteh Farahani as a shaman travelling the desert of India's western state of Rajasthan, which Merkt co-produced alongside Swiss company Feather Light Films.
"I make the kind of movies I want to see and I like to see many different things," Merkt says of his wide-ranging line-up. "We first try to entertain, to surprise, to interest, to question and perhaps even effect change. But the minimum is to entertain."