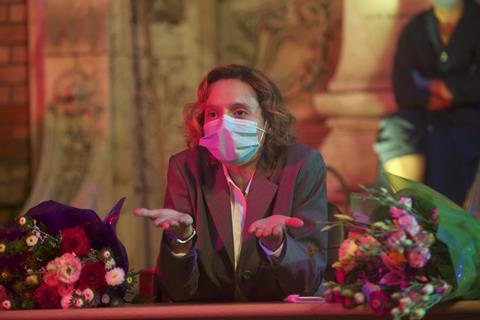 Sovereign Film Distribution has secured UK and Ireland rights to Radu Jude's Romanian irreverent satire Bad Luck Banging Or Loony Porn, which won the Golden Bear at this year's Berlin International Film Festival.
The London-based distributor struck the deal with Athens-based sales agent Heretic Outreach and is planning a theatrical release for the feature.
The latest film from Romanian writer/director Jude stars Katia Pascariu as a school teacher who finds her career and reputation under threat after a personal sex tape is leaked onto the Internet. Forced to meet the parents demanding her dismissal, she refuses to surrender.
Shot in Romania during the summer of 2020, it incorporates the ongoing pandemic into the storyline, with the cast wearing masks on screen throughout.
It marks the biggest acquisition to date by growing distributor Sovereign, a recently established offshoot of Sovereign Media Group, founded by Andreas Roald and former Merchant Ivory president Donald Rosenfeld.
It has steadily been picking up festival titles since August 2020, including Venice award-winning Pilipino drama Verdict, Francisco Márquez's Argentinian thriller A Common Crime, which premiered at the Berlinale, and Peruvian drama Song Without A Name, which debuted at Cannes.
Bad Luck Banging Or Loony Porn is lead produced by Jude's long-time producer Ada Solomon at Bucharest-based company microFILM, with co-producers Paul Thiltges at Luxembourg's Paul Thiltges Distributions, Anicka Juric Tilic at Croatia's Kinorama and Jiri Konecny at Czech company Endorfilm.
It marked Jude's second time in competition at the Berlinale after Aferim!, which won the Silver Bear in 2015, tying with Malgorzata Szumowska's Body. He was also at the 2020 edition with Uppercase Print, which debuted in the Forum.
The Russian government recently banned the release of Bad Luck Banging Or Loony Porn in the country, due to its "promotion of pornography", with distributor Capella Film refused an exhibition license.
The film has sold well for Heretic Outreach, which previously closed deals for France (Météore Films), Germany (Neue Visionen), Italy (Lucky Red), Portugal (Films4you), Taiwan (Swallow Wings), Poland (New Horizons), Lithuania (Kino Pavasaris), Estonia (Must Käsi), Israel (Lev Cinemas), Brazil (Imovision), Hong Kong (Edko Films Limited), ex-Yugoslavia (MCF Megacom), Greece (Cinobo) and Switzerland (Xenix Films). North American rights were secured by Magnolia Pictures.