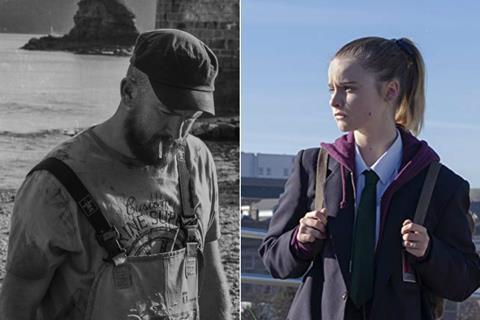 Mark Jenkin's breakout hit Bait and Shelly Love's pregnancy drama A Bump Along The Way are among the 16 titles longlisted for the Raindance Discovery award at this year's British Independent Film Awards (BIFAs).
The 16 films will be whittled down to five nominated titles by BIFA voters and announced next week (Oct 30) alongside the other BIFA nominations.
Other longlisted films include Good Posture, the directorial debut of actor Dolly Wells starring Grace Van Patten and Emily Mortimer; Pink Wall, the first feature film from Weekend and Downton Abbey actor Tom Cullen; and Mari, the dance drama from Georgia Parris which came through Film London's low-budget Microwave scheme.
The longlist includes 11 fiction and 5 non-fiction titles.
Films eligible for the Discovery award must have a maximum budget of £500,000.
As per the BIFA rules, films that are nominated for the debut director, debut screenwriter or breakthrough producer awards cannot also be nominated for the Discovery award.
Where a film achieves the nomination threshold in one of the three former categories, it will be ineligible for the Discovery award and replaced by the next highest-scoring title in the voting process.
The longlists for debut director, debut screenwriter, and breakthrough producer – as well as most promising newcomer – were announced last week.
Titles to appear in both these categories and the Discovery longlist are: Bait, A Bump Along The Way, Children Of The Snow Land, Good Posture, Hilda, Mari, Pink Wall, and Tucked.
Last year's Discovery award went to May Miles Thomas' Voyageuse, while previous winners include Ben Wheatley's debut feature Down Terrace.
The 2019 BIFAs will take place at Old Billingsgate Market in London on Sunday, December 1.
2019 BIFA Discovery award longlist
Bait – dir. Mark Jenkin
A Bump Along The Way – dir. Shelly Love
Children Of The Snow Land – dir. Zara Balfour, Marcus Stephenson
Death Of A Vlogger – dir. Graham Hughes
Good Posture – dir. Dolly Wells
H Is For Harry – dir. Jaime Taylor, Ed Owles
Here For Life – dir. Andrea Luka Zimmerman, Adrian Jackson
Hilda – dir. Rishi Pelham
Love Type D – dir. Sasha Collington
Mari – dir. Georgia Parris
Masters Of Love – dir. Matt Roberts
Muscle – dir. Gerard Johnson
Pink Wall – dir. Tom Cullen
Romantic Comedy – dir. Elizabeth Sankey
The Street – dir. Zed Nelson
Tucked – dir. Jamie Patterson