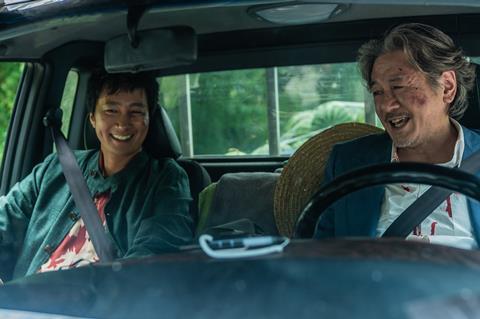 Im Sang-soo's Cannes 2020 label title Heaven: To The Land Of Happiness is set to make its world premiere as Opening Film at the 26th Busan International Film Festival (BIFF).
A regular at Cannes with films such as The Housemaid and The President's Last Bang, Im saw his latest film selected to the French festival's The Faithful category last year but, due to the Covid-19 pandemic, unable to screen anywhere.
He continued to work on post-production for Heaven: To The Land Of Happiness into this year while waiting for a release date.
The humourous pastoral road movie stars Choi Min-sik (Old Boy) as an escaped inmate and Park Hae-il (The Host) as a man who happens to join him when they get their hands on a large amount of money and set out to find a luxurious end to their terminally ill lives.
Recent Oscar best supporting actress award winner Yuh-jung Youn (Minari) also features along with Cho Han-cheul, Lim Sung-jae, and Lee El.
Asia's most prominent film festival, held in the South Korean port city of Busan, will run October 6-15 this year.