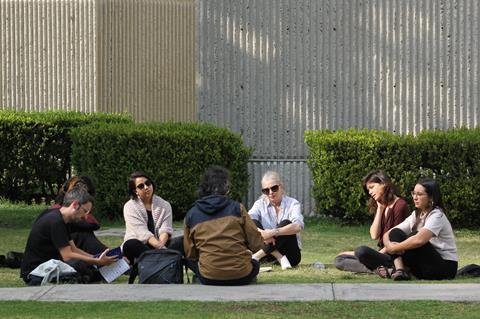 Spanish multiple Cannes award winner Olivier Laxe and Argentina's Lisandro Alonso are among participants in the expanded third Mexican project lab Catapulta set to run as an entirely virtual event from March 24-27.
Scroll to bottom to see all lab participants
Laxe, whose Fire Will Come won the Cannes Un Certain Regard jury prize in 2019 and followed a 2016 Critics' Week grand prize for Mimosas and the 2010 FIPRESCI award for Directors' Fortnight selection You Are All Captains, takes part in the new development programme.
His project After (France) follows a man and his 12-year-old son who trawl through raves in north African search of his missing daughter. Their quest takes them into the depths of the Sahara.
Alonso and US auteur Rick Alverson are co-directing The God Beside My Bed (Brazil) and their inclusion marks a relatively rare participation in labs. Alonso's (La Libertad, Liverpool) Jauja starring Viggo Mortensen earned the FIPRESCI prize at Cannes Un Certain Regard 2014, while Alverson's The Mountain earned a special mention from the Smithers Foundation Award for his Venice 2018 official competition selection.
Other notable entries include Ze from Mongolian filmmaker Lkhagvadulam Purev-Ochir, whose short Mountain Cat was a Cannes 2020 selection; A Golden Shotgun, the second feature by Chilean pop singer Alex Anwandter whose first feature You'll Never Be Alone won the Berlinale 2016 Teddy award; and new work from emerging Mexican talents Alejandra Villalba, Gabriel Herrera, and Nicolasa Ruiz.
Catapulta's previous selections include Yulene Olaizola's Venice 2020 selection Tragic Jungle and the lab takes place under the auspices of the 11th FICUNAM film festival in Mexico City.
This year through the support of new partner and British foundation Inspiration Inc, as well as ongoing support from CulturaUNAM, the lab has grown to accommodate two development sections alongside two post-production programmes, and will offer USD 30,000 in cash prizes.
The event will also stage co-production meetings and will be streamed for the industry on Mexican platform Tonalá TV.
Regular supporters include Estudios Churubusco (Mexico), 24/48 (Mexico), Estudio Sonamos (Chile) and Vitrine Filmes (Brazil), and new collaborators like French editing advisory studio Cut2TheChase and Mexican post-production facility SplendorOmnia.
Development programme 1
After, dir. Oliver Laxe (Fr)
Balearic, dir. Ion de Sosa (Sp)
Hiperbalada, dir. Alejandra Villalba (Mex)
La Chinesca, dir. Bani Khoshnoudi (Mex)
Pantheras, dir. Salomé Lamas (PR)
The French Teacher, dir. Ricardo Alves Jr. (Bra/ Por/Fr)
The God Beside My Bed, dirs. Rick Alverson & Lisandro Alonso (Bra)
The Human Surge 3, dir. Eduardo "Teddy" Williams (Arg/Fr/ Por/China)
To Die On Your Feet, dir. Maria Paz Gonzalez (Chi)
White Roses, Fall!, dir. Albertina Carri (Arg/Bra)
Juries: Erendira Nuñez (Mex), Rania Attieh (USA), Juliana Antunes (Bra)
Development programme 2
A Golden Shotgun dir. Alex Anwandter (Chi)
Ana Doesn't Want To Be Seen Dancing, dir. Gabriel Herrera (Mex)
Bajo Risco, dirs. Helena Giron and Samuel Delgado (Sp)
Collective Monologue, dir. Jessica Sarah Rinland (Arg)
Dengue, dir. Prantik Basu (Ind/Fra)
I Am Here But You Can't See Me, dir. Feyrouz Serhal (Leb)
Lost Songs Of Distant Realms, dir. Kiro Russo (Bol)
My Insides Are One Of The Most Beautiful And Strange Things In The World, dir. Nicolasa Ruiz (Mex)
The Waste Land, dir. João Dumans (Bra)
Ze, dir. Lkhagvadulam Purev-Ochir (Mon/Fr)
Juries: Elena Fortes (Mex), Agustina Costa Varsi (Arg), Ivan Eibuszyc (Arg)
First Cut
A Woman Escapes, dirs. Sofia Bohdanowicz, Burak Cevik, and Blake Williams (Can/Fra/Tur)
Carajita, dirs. Silvina Schnicer and Ulises Porra (DR/Arg)
Family Recipes, dir. Giselle Karam (Mex)
Jesus Lopez, dir. Maximiliano Schonfeld (Arg/Fr)
Journeys, dir. Sergio Flores Thorija (Mex)
Waters Of Parnasa, dir. Ines Alves (Por)
Juries: Matt Porterfield (USA), Antonia Girardi (Chi), Lorena Morin (Sp)
Work In Progress
Nuestra Película, dir. Diana Bustamante (Col)
Macdo, dir. Racornelia Ezell (Mex)
Magdala, dir. Damien Manivel (Fr)
Matamoros 20, dir. Leonor Maldonado (Mex)
Pornomelancholia, dir. Manuel Abramovich (Arg/Mex/Bra/Fr)
Prodigal Son, dir. Renzo Cozza (Arg)
Juries: Jacqueline Lentzou (Gre), João Nicolau (Por), Pela Del Alamo (Sp).