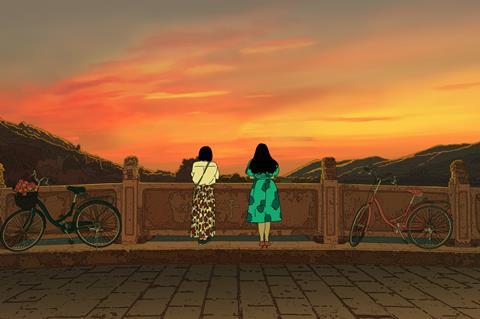 The Berlinale has made a last-minute addition to its Competition lineup with Chinese filmmaker Liu Jian's animated feature Art College 1994 and revealed its competition juries.

Art College 1994 will receive its world premiere at the festival's 73rd edition, which runs February 16-26, and marks Liu's third feature after 2010's Piercing I and Have A Nice Day, which became the first Chinese animation ever selected to play in Competition at the Berlinale in 2017.
Art College 1994 is set among a group of students in China in the 1990s and takes a bittersweet look at youth, drawn from Liu's experiences as an art student. An all-star Chinese voice cast includes director and Venice Golden Lion winner Jia Zhangke.
Producer is Yang Cheng, who also produced Liu's Have A Nice Day, and is produced by Nezha Bros. Pictures, Modern Sky Entertainment and China Academy Of Art's School of Animation and Game. Paris-based Memento International has sales rights to the title.
The film was previously set to screen in Directors' Fortnight at Cannes last year – under the title A Portrait Of The Artist As A Young Man – but was pulled at the last minute. Its selection had not been officially announced and was due to make a late entry to the festival, but organisers said its completion had been delayed due to pandemic restrictions in Beijing at that time.
Liu previously struggled with Chinese censors in 2017 with black comedy Have A Nice Day, which was withdrawn from France's Annecy film festival four months after its premiere at the Berlinale following pressure from Chinese officials.
The Berlinale unveiled its Competition titles last week, which included a sole animated feature – Suzume from Japanese filmmaker Makoto Shinkai. The addition of Art College 1994 brings the total number of titles in Competition to 19.
Juries
The festival also unveiled the jury members for Competition, Encounters, Generation and Documentary strands among others.
The Competition jury that will decide the winners of the coveted Golden and Silver Bears comprise Iranian-French actor Golshifteh Farahani, German filmmaker Valeska Grisebach, Romanian filmmaker Radu Jude, US casting director and producer Francine Maisler, Spanish filmmaker Carla Simón and Hong Kong filmmaker Johnnie To. As previously announced, US actor Kristen Stewart will head the jury. The winners will be announced at the Berlinale Palast on February 25.
Simón won the Golden Bear last year with Alcarràs while Jude secured the Golden Bear in 2021 with Bad Luck Banging Or Loony Porn.
The three-member jury for the Encounters section comprise writer, director and visual artist Dea Kulumbegashvili (Georgia), actor Angeliki Papoulia (Greece) and programmer Paolo Moretti (Italy). They will choose the winners for best film, best director and a special jury award from the Encounters lineup.
The GWFF Best First Feature Award jury includes Judith Revault d'Allonnes (France), Ayten Amin (Egypt) and Cyril Schäublin (Switzerland). They will consider 19 directorial feature film debuts from Competition, Encounters, Panorama, Forum, Generation and Perspektive Deutsches Kino.
A three-member jury will pick the winner of the Berlinale Documentary Award and comprises Emilie Bujès (France/Switzerland), Diana Bustamante (Colombia) and Mark Cousins (Scotland/Northern Ireland). In total, 20 documentaries are nominated from across Competition, Berlinale Special, Encounters, Panorama, Forum, Generation and Perspektive Deutsches Kino.
For the first time, there will be a Berlinale Series Award, with the winner chosen by Mette Heeno (Denmark), André Holland (US) and Danna Stern (Israel). The award ceremony will take place on February 22.
The Generation 14plus jury will comprise Kateryna Gornostai (Ukraine), Fion Mutert (Germany) and Juanita Onzaga (Colombia) while the Generation Kplus jury includes Venice Atienza (Philippines), Alise Ģelze (Latvia) and Gudrun Sommer (Germany). They will award Glass Bears and cash prizes to the winning titles.
From the 10 feature films and documentaries of Perspektive Deutsches Kino, a jury comprising Dela Dabulamanzi, Anne Fabini and Jöns Jönsson will determine the winner of the Kompass-Perspektive Prize, endowed with €5,000. A second jury including Freya Arde, Peter Kahane and Mirko Wiermann will award the Heiner Carow Prize for the Promotion of German Cinematic Art, endowed with €5,000. The Compass-Perspektive jury will also award the Kompagnon-Fellowship to a new film project that shows great promise.
The jury for Berlinale Shorts includes editor Catalin Cristuțiu (Romania), artist and director Sky Hopinka (US) and filmmaker Isabelle Stever (Germany). From the 20 nominated films, they will select the winner of the Golden Bear for best short film, the winner of the Silver Bear jury prize (short film) and the Berlin short film candidate for the European Film Awards.
The festival also announced the planned attendance of Cate Blanchett, Todd Field, Sepideh Farsi, John Malkovich, Geraldine Chaplin, Euzhan Palcy, Ruben Östlund and Kirsten Johnson among those who will attend its Berlinale Talents Programme.