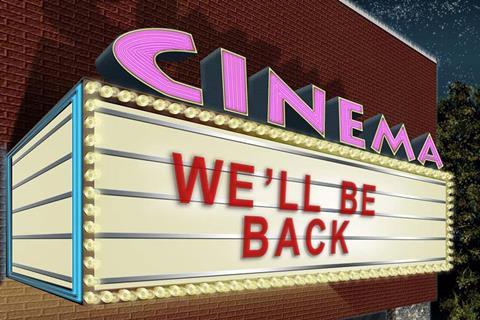 Exhibitors have been revealing their new health and safety measures ahead of plans to reopen cinemas across England from July 4.
It follows a greenlight from the UK government that cinemas in England can reopen from July 4, following more than three months of closures due to the Covid-19 pandemic. Social distancing has also been reduced from two metres to one metre.
The devolved UK nations of Wales and Northern Ireland have yet to announce reopening dates for cinemas. Scotland's cinemas can open from July 15.
Showcase Cinemas
Under the banner "Be Showcase Safe", the multiplex chain has introduced safety protocols including a limited capacity in every cinema screen to maintain social distancing; staggered film start times during the day; and fewer screenings, which mean fewer people in the lobby at any one time.
Audience members will be encouraged to wear face coverings, and multiple hand sanitising stations have been placed throughout cinemas for them to use.
After each screening, staff will conduct a thorough cleaning regime, which includes a new anti-viral fogging machine that eliminates airborne viruses on contact, and will be used on every seat in every screen between shows and at the end of each day. Each auditorium will also have a new air purifying system installed that also kills airborne viruses.
Perspex shields have been installed at all till points and filmgoers will now also be able to order their food and drink in advance and collect from a designated pick-up section. Contactless payment will also be encouraged for any purchases made at the venue.
Another new initiative is the self-scanning of tickets to enter film screenings – guests that have booked tickets online in advance will be able to scan their confirmation email on their smartphone in order to gain access to their film. Alternatively, they can use self-service ticket collection machines in the lobby.
To entice cinemagoers, Showcase Cinemas will be screening a raft of classic films for £5 a ticket in the weeks leading up to the first major post-lockdown releases, which include Disney's Mulan and Christopher Nolan's Tenet later in July.
Mark Barlow, UK general manager at Showcase Cinemas, said: "We've been busy preparing for our reopening by making all our sites as Showcase Safe as possible for the comfort of both staff and guests."
The exhibitor, which operates 18 sites across England and is owned by US exhibition giant National Amusements, has also produced a video outlining the new measures.
Vue Cinemas
Vue closed all its 91 cinemas throughout the UK and Ireland, comprising 870 screens, on March 17.
Vue International founder and CEO Tim Richards said: "We are waiting to see the specific advice from government, but we are ready and we welcome the reopening of cinemas. We will start reopening from July 10. After a record 2019, we know how important the big-screen experience is to people, and now more so than ever.
"We are confident we can look after our staff and our customers with enhanced protocols. By the time we reopen in the UK, our methods will have been responsibly and robustly deployed in the real world."
Richards added the exhibitor would employ preventative measures that had been rolled out at its sites in Asia and Europe.
"We have learned how to do this from our operations in Taiwan where we never closed and have successfully operated through pandemics such as Sars in the past; and from our sites in Germany, Denmark, Netherlands, Poland and Lithuania where we have recently and successfully reopened to the public," he said.
"We know from independent academic research that cinemagoing has a positive impact on mental wellbeing and now it is more important than ever to make that experience available to people.
Cineworld
Cineworld has previously stated it plans to reopen its UK cinemas from July 10. In a statement released yesterday (June 23) following the government announcement, the exhibitor said: "The health and wellbeing of our customers and employees is our top priority.
"We are following government guidelines in order to make cinemagoers feel as comfortable and safe as possible. This includes implementing measures such as: arranging cinemas in a manner that promotes and maintains social distancing, staggering film start and end times, setting up additional hand sanitising stations, undertaking an advanced cleaning programme and providing staff with Covid-19 specific training.
"We will ensure a safe and enjoyable cinematic experience for all our visitors and we remain committed to being the best place to watch a movie."
Cineworld and its boutique arm Picturehouse have seen all its cinemas closed across the UK since March 18. Cineworld is the world's second-largest exhibitor and operates 102 cinemas in the UK and Ireland, and more than 1,030 screens. Picturehouse Cinemas owns and operates 25 neighbourhood cinemas and programmes a further 40 venues across the UK.
The government announcement is expected to trigger the release of Covid-19 safety guidelines in the coming days, compiled by a cinema industry taskforce.
Everyman Cinemas
Everyman plans to begin a phased reopening, beginning with six cinemas on July 4 to test that all safety measures are proving effective. A further 10 will open the following week and all venues (except Cardiff in Wales) are planned to be open by July 17.
Social distancing measures will be in place, which the UK government has reduced to one metre in England, and there will be protective screens at bars and tills. Staff will also encourage customers to place food and drink orders from their seats, and seating plans have been revised to leave more space between audience members.
Wales has yet to announce a date when cinemas can reopen but Scotland has given exhibitors the go-ahead to open venues from July 15, meaning Everyman can open its Glasgow site.
Everyman is also set to be the first UK exhibitor to open a new venue post-lockdown, on London's King's Road in Chelsea on July 24. It will bring the exhibitor's number of London sites up to 13. A further site is set to open in Lincoln in August.
Odeon
Odeon will reopen its first cinemas in the UK and Ireland from July 4, as part of a staggered process throughout July. It has selected 10 venues to reopen on that date, including the Trafford Centre near Manchester, the Milton Keynes Stadium, and five of its Luxe venues including at Birmingham Broadway Plaza and Durham.
Seventeen further venues will open on July 10, with another 31 following on July 13. Three of this latter group are in central London, including the company's flagship Luxe Leicester Square site.
Further reopenings include eight sites on July 15, and 32 on July 16.
The company has also designed what it calls the 'Odeon safer cinema' experience, in accordance with the latest government guidelines.
The new safety measures include contactless transactions; 'grab-and-go' pre-packed food and drink; unoccupied seats between guests, while enabling families and social bubbles to sit together; staggered start times to reduce queues; and newly-serviced air conditioning.
The company has also committed to enhanced cleaning measures including guest sanitiser stations, more frequent cleaning on all high-contact areas, and additional health and safety training for staff, who will have PPE including face coverings and gloves.
Customers will be able to book tickets from today (June 25), with venues initially screening rece