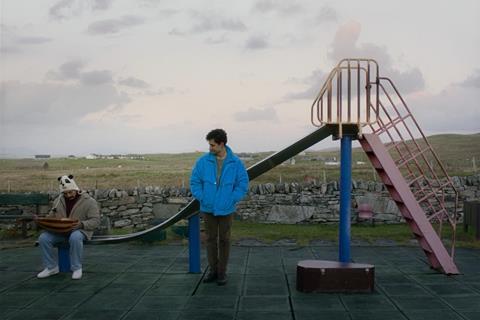 Ben Sharrock's UK drama Limbo was awarded three top prizes at the Cairo International Film Festival (CIFF) on Thursday, including the Golden Pyramid for best film.
The asylum seeker drama, which received a Cannes 2020 label and world premiered at Toronto, also won the Henry Barakat award for best artistic contribution and the Fipresci critics award. It follows a best film win at the Macao international film festival in China earlier this week.
The 47th edition of the festival, which took place as a physical event in the Egyptian capital, saw the Silver Pyramid for best director awarded to Russia's Ivan I. Tverdovsky for his terrorist survivor drama Conference.
The Bronze Pyramid, recognising the best first or second feature by a director, went to Egyptian filmmaker Mayye Zayed for her documentary Lift Like A Girl, which follows the Olympic ambitions of a teenage female weightlifter. The film, which premiered at Toronto, also won Cairo's Youssef Cherif Rizkallah audience award, which includes a cash prize of $15,000.
The best actress award was shared by Natalya Pavlenkova, who plays the central character in Conference, and Elham Shahin, star of Amir Ramses' family drama Curfew. Julian Vergov was awarded the best actor trophy for his performance in German Lessons, a Bulgarian drama directed by Pavel G. Vesnakov.
The best screenplay award went to Mexican writer-director Jorge Cuchi for his debut feature 50 Or Two Whales Meet On The Beach, which premiered in competition at Venice Critics' Week.
The jury, led by Russian director Alexander Sokurov, bestowed a special mention on Palestinian drama Gaza Mon Amour, directed by brothers Arab Nasser and Tarzan Nasser. The film, which premiered in Venice Horizons, previously picked up the Netpac Award in Toronto.
Gaza Mon Amour was also named the best Arab film in any of the festival's three competitions, an honour shared ex aequo with Wissam Tanios' Lebanese documentary We Are From There. Each received a prize of $5,000.
In the Horizons of New Arab Cinema competition, the best Arabic film prize was awarded to writer-director Roy Arida for his Lebanon-France co-production Under The Concrete. Cairo-based Mad Solutions boarded Arab sales and distribution rights to the mystery drama in June. The best non-fiction film award went to We Are From There, adding to Tanios' best Arab film win.
In the international critics' week competition, the best film award went to Jing Wang's Chinese drama The Best Is Yet To Come, which previously screened in Venice Horizons and at Toronto. Rogier Hesp's Dutch drama Gold received the special jury award.
Cairo film festival 2020 winners
International Competition
Golden Pyramid for Best Film
Limbo (UK)
Dir. Ben Sharrock, Pros. Irune Gurtubai, Angus Lamont
Silver Pyramid – special jury award for best director
Ivan I. Tverdovsky, Conference (Rus-Est-UK-It)
Bronze Pyramid Award for best first or second work of a director
Mayye Zayed, Lift Like a Girl (Egy-Ger-Den)
Actress award (ex aequo)
Elham Shahin, Curfew (Egypt)
Natalya Pavlenkova, Conference (Rus-Est-UK-It)
Actor award
Julian Vergov, German Lessons (Bul-Ger)
Naguib Mahfouz award for best screenplay
50 Or Two Whales Meet On The Beach, Jorge Cuchi (Mex)
Henry Barakat award for best artistic contribution
Limbo, Ben Sharrock (UK)
Jury special mention
Gaza Mon Amour, Arab Nasser and Tarzan Nasser (Pal-Fr)
Best Arab Film selected in any of the three competitions (ex aequo)
Gaza Mon Amour, Arab Nasser and Tarzan Nasser (Pal-Fr)
We Are From There, Wissam Tanios (Leb-Fr)
Fipresci award
Limbo, Ben Sharrock (UK)
International Critics' Week Competition
Shadi Abdel Salam award for best film
The Best Is Yet to Come, Jing Wang (China)
Fathy Farag award – special jury award
Gold, Rogier Hesp (Neth)
The Horizons Of New Arab Cinema Competition
Saad Eldin Wahba award for best Arabic film
Under the Concrete, Roy Arida (Fr-Leb)
Salah Abu Seif award – special jury award
The Tambour of Retribution, Abdulaziz Alshlahei (Saudi Arabia)
Non-Fiction film award
We Are From There, Wissam Tanios (Leb-Fr)
Acting performance award
Faisal Al Dokhy, The Tambour of Retribution (Saudi Arabia)
Jury special mention
The Fall of Apple Trees, Mohamed Mouftakir (Mor)
Youssef Cherif Rizkallah award – audience award
Lift Like a Girl, Mayye Zayed (Egy-Ger-Den)
Cinema Of Tomorrow
Mention of the jury (ex aequo)
Life on the Horn, Mo Harawe (Som-Aus-Ger)
The Girls Who Burned the Night, Sara Mesfer (Saudi Arabia)
Special jury award
The Game, Roman Hodel (Swit)
Youssef Chahine award for best short film
Isabel, Sarah Al Shazly (Cuba)