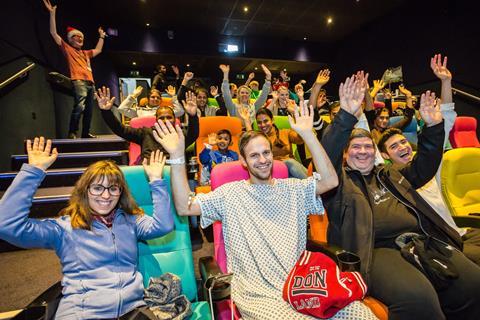 MediCinema will return as the charity partner for this year's Screen Awards, which take place on November 28, 2019 at London's Ballroom Southbank.
Once again the charity will run a fundraising sweepstake on the night with a £20 suggested donation, with a view to raising money for a new projector at London's St Thomas's hospital MediCinema.
MediCinema installs and runs cinemas in hospitals, providing cinematic experiences for patients and families. It has six MediCinemas at health facilities across the UK, through which it runs 21 screenings a week at present. Locations include St Thomas' Hospital in London and the Royal Victoria Infirmary in Newcastle. Among the charity's patrons are Simon Pegg, Emma Thompson, Helen Mirren, Andy Serkis and Ewan McGregor.
The charity's newest fundraising campaign 'MediCinema Previews' which has shown early screenings of titles including Christopher Robin, Spiderman: Into the Spider-verse, Dora and the Lost City of Gold & Shaun The Sheep: Farmageddon, has raised more than £300,000 since it kicked off in August 2018.
To book your table, please visit the Screen Awards website.
MediCinema CEO, Steve Crump, said: "We are delighted to be the official charity partner for the 2019 Screen Awards once again. It has been an extraordinary year for MediCinema, following the success of our 'MediCinema Previews' fundraising initiative in partnership with the UK film industry and securing a series of new MediCinema sites, the first being in Manchester in autumn 2020. The 'MediCinema Previews' initiative is the first of its scale and we are hugely proud of what we have achieved since launching the campaign in 2018. We look forward to celebrating with the UK industry at this year's Screen Awards."
The nominations for this year's Screen Awards were announced earlier this month, with Picturehouse and Curzon leading the way.
The event will be hosted by actress, presenter and comedian Sally Phillips, whilst Dame Judi Dench is to be honoured with Screen International's Outstanding Contribution to UK Film award.
Once again, Screen readers will vote for the winner of the best British film of the year award, with the 10 nominees selected by Screen' s team of critics.