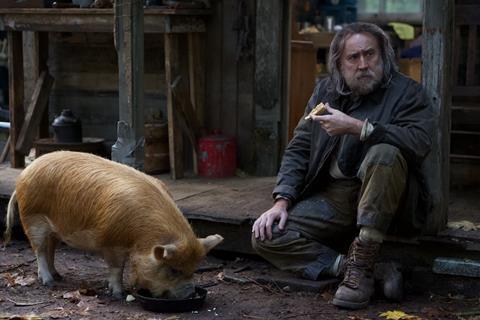 The 74th Edinburgh International Film Festival will open with the European Premiere of Michael Sarnoski's Pig, starring Nicolas Cage.
The film will play as an in-person screening at Edinburgh's Festival Theatre on August 18, with the festival running until August 25 as a combination of in-person and online screenings.
Altitude Film Distribution will distribute Pig in the UK and Ireland on August 20.
Pig is Sarnoski's feature debut; Cage plays a truffle hunter living alone in the wilderness of Oregon, who must return to his past in Portland in search of his beloved foraging pig who has been kidnapped.
Production companies on the title include the UK's Pulse Films and AI-Film, alongside Blockbox Entertainment, Valparaiso Pictures, Saturn Films from the US, in association with Endeavor Content.
Sarnoski has previously directed shorts including Fight Night Legacy and That; and was editor and producer on The Testimony, which was shortlisted for best documentary short at the 2016 Oscars.
As reported by Screen in April, Nick Varley, former CEO of distributor Park Circus, has joined the festival as lead guest programmer, in a temporary role to overseeing this year's edition.