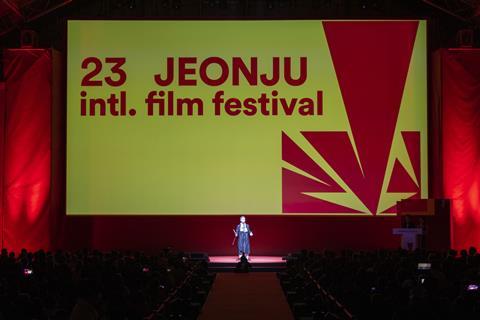 The 23rd Jeonju International Film Festival opened with chairman Kim Seung-su announcing a new cinema centre to be built on the spot of the Jeonju Dome, where the opening ceremony was held last night (April 28).
Stars and filmmakers walked the red carpet to applause from an excited audience as in pre-pandemic years, albeit many with masks on at the ever-safety-conscious film festival.
The Jeonju Dome is a temporary structure traditionally erected for the opening and closing ceremonies and other popular events during the annual film festival. Tickets for this year's opening ceremony sold out in three minutes.
Guests on the red carpet included Justin H. Min, star of director Kogonada's opening film After Yang; master director Im Kwon-taek, here for the Taehung Pictures retrospective; Locarno film festival artistic director Lily Hinstin, who is on the Korean Competition jury; Miss Granny star Na Moon, here with Lee Soon-sung's feature debut My Perfect Roommate, recently picked up by Finecut; and Brazilian actress Mari Oliveira, here with Anita Rocha Da Silveira's International Competition film Medusa.
"This will be the last Jeonju Dome because from next year we will start to build a home for Jeonju cinema here - a sanctuary for films, a sort of cinema centre," said chairman and Jeonju mayor Kim.
"I wanted to preserve Jeonju film festival as a liberated area for free expression. Art and artists could be independent of political power, conglomerate capital, and social norms in Jeonju, even during the painful [years of] blacklisting," he added, referring to impeached ex-president Park Geun-hye's administration and touching upon growing concerns that the incoming conservative government might try to resurrect such actions.
"We've kept our original intentions for 23 years and will maintain them. We love and respect all films and filmmakers," he said, officially opening the festival, which runs until May 7.
Kim also presented a posthumous contribution to Korean cinema award to recently deceased producer Lee Tae-won. His son Lee Ji-seung - also a filmmaker whose producer credits include Socialphobia and Haeundae - accepted on Lee's behalf.
Lee's work is commemorated this year at Jeonju with the Taehung Pictures retrospective of legendary Korean films including Im Kwon-taek's Chihwaseon, which picked up a best director award at Cannes in 2002, and Kim Yoo-jin's 1995 erotic historical drama My Dear Keumhong.