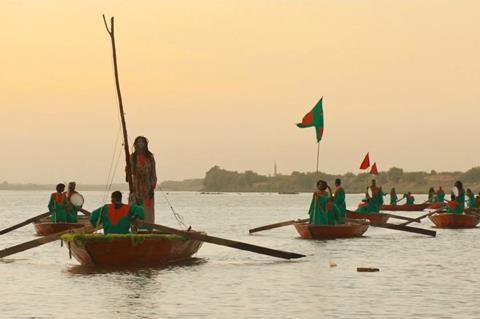 Sudanese drama You Will Die At Twenty has scooped the top prize at the third edition of Egypt's El Gouna Film Festival, the $50,000 El Gouna Golden Star for narrative film. The festival ran in the Red Sea resort from September 17-27.
The debut feature of Dubai-born Sudanese filmmaker Amjad Abu Alala is a contemporary drama about a young man raised to believe that will die at the age of 20-years-old.
You Will Die At Twenty world premiered in Venice where it won the Lion of the Future prize before heading to Toronto to play in the Contemporary World Cinema section.
Further winners at El Gouna included Polish director Jan Komasa's religious drama Corpus Christi, which won the $25,000 Silver Star. The film is Poland's Oscar submission this year and also world premiered at Venice in the Giornate degli Autori section. It won the Edipo Re award and the Europa Cinemas Label award.
The film's star Bartosz Bielenia scooped the El Gouna Star for best actor for his performance as a young man who finds religion while in prison and then pretends to be an ordained priest on his release.
Moroccan director Maryam Touzani won the $15,000 Bronze Star for debut feature Adam, an intense drama about the relationship between an emotionally-suppressed widow and a homeless pregnant girl.
The $20,000 award for Best Arab narrative film when to Algerian filmmaker Mounia Meddour's 1990s drama Papicha about a student who defies a rising tide of religious conservatism by organising a fashion show.
In further key awards, Tunisian-Egyptian actress Hend Sabry on best actress for her compelling performance as a woman trying to escape the grasp of her petty criminal husband to make a new life with another man in gritty Tunisian social drama Noura's Dream.
Fifteen titles competed in El Gouna's main feature narrative competition. Further contenders included Nate Parker's American Skin, Jayro Bustamante's The Weeping Woman and Stéphane Demoustier's The Girl With A Bracelet. Five of the titles hailed from the Middle East and North Africa region.
Best of Arab cinema
Festival director Intishal Al Timimi said he was particularly pleased with the selection of Arab films showing this year.
"I can put my hand on my heart and say I feel we're showing the best and most recent Arab films of 2019, bar one or two titles film, such as Elia Suleiman's It Must Be Heaven, which we wanted to show but couldn't because it is promised elsewhere," said Al Timimi.
"Nearly half of our programme [including both the international and regional titles] is less than three weeks old. The films are either world premieres or have just premiered at Venice, Toronto or San Sebastian," he added. "It's incredibly hard to secure titles so close to their world premieres. The fact we were able to do this is a sign of our solid reputation."
Al Tamimi – who built his reputation as a solid and trusted festival chief on the back of his work at the UAE's defunct Abu Dhabi Film Festival, said he believed El Gouna had come into its own this year on a number of fronts.
He highlighted, for example, the festival's growing attractiveness for Arab stars, a fact that perhaps does not resonate outside the region.
"We had some 120 Arab stars on the red carpet on the opening night, which is huge. Even Dubai didn't achieve this number, he said. "What's also great for people who come to the festival is that the stars are a lot more accessible here, you can bump into them at the festival, in the street, at cafes and restaurants on the marina. It's like Cannes 40 or 50 years ago," he said.
Industry platform
Al Timimi also highlighted the growing track record of the festival's CineGouna industry platform and SpringBoard co-financing market.
"In the first two editions of 2017 and 2018, we showed 10 films at the post-production stage. Seven of these have since gone to world premiere at major festivals worldwide," he said
These range from Egyptian drama, Yomeddine, which premiered in competition in Cannes, and Noura's Dream which has just made a well-received debut at Toronto and San Sebastian as well as playing in El Gouna.
The platform expanded this year to present 12 projects in development and seven in post-production. Its top prizes went to two feature documentary projects by Lebanese directors, Ely Dagher's Harvest and Remi Itani's A Long Breath.
Al Tamimi noted the list of sponsors had diversified this year. In the first year, Egyptian media and property tycoons Samih and Naguib Sawaris, who helped spearhead the festival, covered 85% of costs. In the third edition, they covered 50% of the budget. "The fact other companies want to come on board and see it as an event they want to be associated with is a good sign, both in terms of its reputation and its future," said Al Tamimi.
NARRATIVE FILM COMPETITION
El Gouna Golden Star for narrative film: You Will Die at Twenty (Sudan)
Dir. Amjad Abu Alala
El Gouna Silver Star for narrative film: Corpus Christi (Poland)
Dir: Jan Komasa
El Gouna Bronze Star for narrative film: Adam ( (Morocco)
Dir: Maryam Touzani
El Gouna Star for the best Arab narrative film: Papicha (Algeria)
Dir: Mounia Meddour
El Gouna Star for the best actor:
Bartosz Bielenia, Corpus Christi
El Gouna Star for the best actress:
Hend Sabry, Noura's Dream
FEATURE DOCUMENTARY COMPETITION
El Gouna Golden Star for documentary film: Talking About Trees (iSuan)
Dir: Suhaib Gasmelbari
El Gouna Silver Star for documentary film: 143 Sahara Street
Dir: dir. Hassen Ferhani
El Gouna Bronze Star for documentary film: Kabul, City in the Wind
Dir: Aboozar Amini
El Gouna Star for the best Arab documentary film: Ibrahim: A Fate to Define
Dir: Lina Alabed
Special jury mention: 16 December
Dir: Álvaro Gago Díaz
Cinema for Humanity audience award: Les Misérables
Dir: Ladj Ly
NETPAC award for best Asian film: Kabul, City in the Wind
Dir: Aboozar Amini
FIPRESCI award: 1982
Dir: Oualid Mouaness