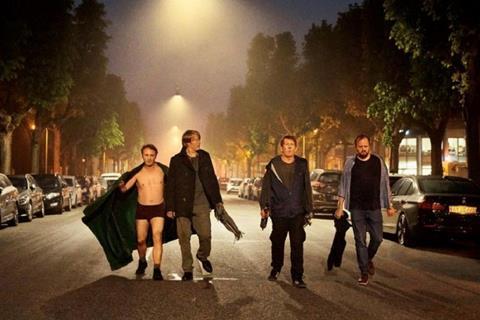 Studiocanal's Another Round will finally make its UK-Ireland bow this weekend, as the box office looks to continue its strong performance since cinemas reopened in the territory.
Thomas Vinterberg's drinking comedy-drama will play in 131 locations from today (July 2). It was originally scheduled for release on November 27, before being put on hold due to the second lockdown. Its date was set for June 25 in March, before being moved back a week to its final spot.
Another Round was selected for the Cannes 2020 label of titles that would have played at last year's cancelled festival; it ultimately took its bow at Toronto in September.
The film has already been released in territories including France, Italy, Spain and its native Denmark, as well as in the US. It received over 1m admissions across Europe in 2020, and has grossed over $8.6m worldwide to date.
Strong buzz since its Toronto launch sustained all the way through awards season, with the film winning the Bafta for best film not in the English language and the Oscar for best international feature film. It also received Bafta nominations for original screenplay, director and actor for Mads Mikkelsen; with Vinterberg nominated in director at the Oscars.
Named Druk in its native Danish (which translates as 'drunk'), the film follows four high school teachers who test the theory that life is better lived with a constant level of alcohol in the bloodstream.
It is Vinterberg's 11th feature film; notable amongst the previous 10 are 1999's Festen (£316,508 gross); 2012's The Hunt (£228,691) and the high-point of 2015's Far From The Madding Crowd (£6.2m).
Universal is releasing another long-delayed title, Christopher Landon's comedy-horror Freaky, about a high schooler who has less than 24 hours to reverse her bodyswap with a deranged serial killer. It will play in 522 locations.
Produced by Jason Blum through his Blumhouse Productions, the film had been scheduled for release on November 13, and then December 26, before being dropped from the release schedules; then reinstated this year.
Sony has Azazel Jacobs' comedy French Exit in 126 locations, starring Michelle Pfeiffer and Lucas Hedges in the story of an ageing Manhattan socialite who moves into a small Paris apartment with her son and cat.
Pfeiffer was nominated for best actress in a musical or comedy at the 2021 Golden Globes.
Film4 programme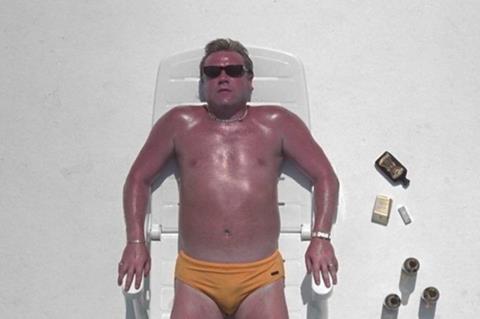 Rep distributor Park Circus is conducting releases of six Film4-backed UK titles from the 1980s, 90s and 00s. The titles are: Gurinder Chadha's Bhaji On The Beach (128 locations), Mark Herman's 1996 Brassed Off (154 locations), Bill Forsyth's 1983 Local Hero (131 locations), Stephen Frears' 1985 My Beautiful Laundrette (135 locations), Jonathan Glazer's 2000 Sexy Beast (154 locations) and Danny Boyle's 1996 Trainspotting (219 locations).
Exhibitors that have booked the titles include Odeon, Vue, Showcase and Everyman, as well as many independent venues.
Signature Entertainment has Ricard Cussó's Daisy Quokka: World's Scariest Animal, an animated family film with a voice cast including Angourie Rice and Sam Neill.
Dogwoof is distributing Nick Broomfield's Last Man Standing in 16 sites. The documentary looks at US record label Death Row Records, and the LA street gang culture that came to dominate its business.
Lady Boss: The Jackie Collins Story is released through Modern Films in eight locations, although has booked for over 100 across its run already. Doc 'N' Roll Films has Mark Archer's music doc Don't Go Gentle: A Film About IDLES in 46 locations, about the Bristol punk band and its place in the socio-political environment. It will have played in 115 sites by the end of July.
Bing's Animated Stories, a U-rated animated title for young children, will play in 89 Vue cinema sites, with a voice cast including Mark Rylance.
Finally, National Amusements is releasing Taichi Ishidate's anime Violet Evergarden: The Movie; and Bulldog Film has a limited release of WITCH: We Intend To Cause Havoc, a doc about a 1970s Zambian rock band.
Key holdovers include the second weekend of box office leader Fast And Furious 9; and ongoing runs for Peter Rabbit 2: The Runaway and Warner Bros' musical In The Heights.