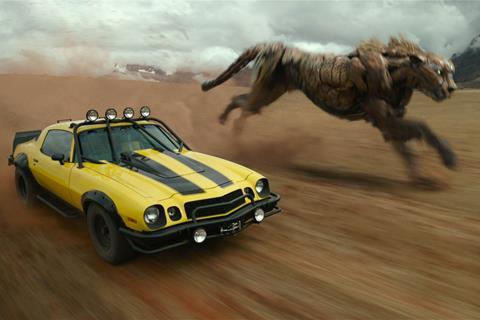 Paramount's action blockbuster Transformers: Rise Of The Beasts will look to dominate the UK-Ireland box office this weekend, as the seventh film in the successful franchise.
Directed by Steven Caple Jr., Rise Of The Beasts is set during the 1990s, when a new faction of Transformers – cars that can turn into robots and back again – join the Autobots as allies in the battle for Earth.
Rise Of The Beasts is the first Transformers film for four-and-a-half years, since Travis Knight's Bumblebee in December 2018. Starting in 595 cinemas, the new title takes the record for widest opening from Bumblebee, which opened in 587 sites.
2011's third title Transformers: Dark Of The Moon remains the highest-grossing of the franchise, having started with £10.7m and closed on £28.1m. Total grosses have dropped since then, with 2014's Age Of Extinction taking £19.5m from an £11.8m start; 2017's The Last Knight doing £9.5m from a £4.6m opening; and only Bumblebee moving takings in the right direction, with £12.8m from a £5.1m opening.
The break in the franchise may have restored interest among audiences; although there remains strong blockbuster competition from Sony's Spider-Man: Across The Spider-Verse, Disney's The Little Mermaid and Universal's Fast X.
It is a third feature for US filmmaker Caple Jr., who started with 2016 Sundance drama The Land, before directing 2018's Creed II for Warner Bros (opened: £3m; closed: £10.1m), to a higher box office than its franchise predecessor.
Chevalier saddles up
Disney is starting Stephen Williams' Chevalier in just under 300 cinemas this weekend. The film is based on the true story of composer Joseph Bologne, Chevalier de Saint-Georges – the illegitimate son of an African slave and a French plantation owner, who rose up French society as a composer before an ill-fated love affair.
Produced by Ed Guiney and Andrew Lowe for Ireland's Element Pictures, the Searchlight Pictures title debuted at Toronto Film Festival last year. Kelvin Harrison Jr. stars in the title role, with the cast also including Samara Weaving, Lucy Boynton and Ronke Adekoluejo.
Director Williams is best known for his television work, on series including Lost – for which he directed 26 episodes – How To Get Away With Murder, and Watchmen.
Picturehouse Entertainment is starting Gina Gammell and Riley Keogh's War Pony in 65 cinemas. The film debuted in Un Certain Regard at Cannes 2022, where it won the prestigious Camera d'Or for best debut feature, previously won by directors including Jim Jarmusch, Jafar Panahi, Naomi Kawase, Steve McQueen and Lukas Dhont.
War Pony shows the interlocking stories of two young Oglala Lakota men growing up on the Pine Ridge Reservation in the US.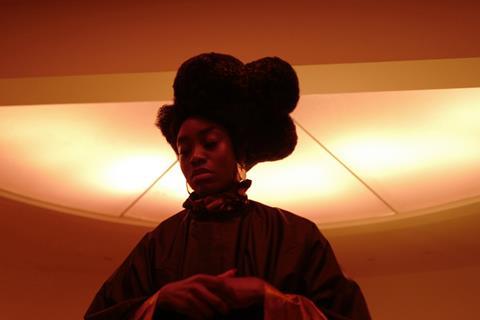 Mubi is starting Thomas Hardiman's Medusa Deluxe in 28 cinemas this weekend. A Screen Star of Tomorrow in 2021, Hardiman's debut feature is a murder mystery set in a competitive hairdressing contest.
Backed by BBC Film and the BFI and produced by Mike Elliott for Emu Films, it debuted at Locarno Film Festival last August. Clare Perkins, Kayla Meikle, Lillt Lesser, Debris Stevenson and Luke Pasqualino are among the ensemble cast.
New Wave Films is opening Patricio Guzman's documentary My Imaginary Country, about protests in Chilean capital Santiago in 2019, in 10 sites, after the film debuted in the Special Screenings strand at Cannes 2022.
Bulldog Film Distribution and producers Hidden Door Productions are releasing romantic drama Love Without Walls in four sites. The film debuted at Manchest Film Festival in March, where it won the jury prize for best UK feature.
Park Circus is putting John Waters' 1988 comedy Hairspray in 184 cinemas across its first week for the film's 35th anniversary.
In addition to Spider-Man, The Little Mermaid and Fast X, holdovers include Disney's Guardians Of The Galaxy Vol. 3 and The Boogeyman, as the summer box office heats up.