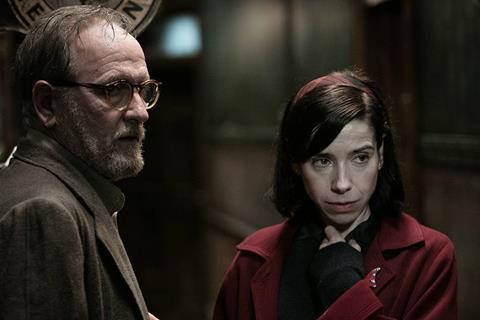 The Shape of Water leads the winners from the Alliance of Women Film Journalists (AWFJ), a international group of female critics and writers.
It won best film and best director for Guillermo del Toro, as well as "bravest performance" for Sally Hawkins.
Greta Gerwig's Lady Bird also won three awards: best supporting actress for Laurie Metcalf and two awards for Gerwig for best woman director and best woman screenwriter.
The Florida Project won two prizes, best supporting actor for Willem Dafoe and best breakthrough performance for Brooklynn Prince.
Agnes Varda won the actress defying age and ageism award as well as best documentary for Faces, Places.
The group's outstanding achievement award went to "Rose McGowan and Ashley Judd and all women who spoke out against sexual harassment."
The Hall of Shame award went to "Sexual Tormentors: Harvey Weinstein, Kevin Spacey, Brett Ratner, et al."
"This year was an important year for women to feel empowered to speak out and be heard," said AWFJ founder and film critic Jennifer Merin. "The need for gender parity and gender diversity in the movie industry is patently clear, and the time to stop sexual harassment in all industries is now. These goals are fundamental to AWFJ's mission and it's core values. I am thrilled that for this year's awards, our AWFJ members voted to honor such a diverse array of talent and to recognize those who are leading with their voices to put an end to long time misconduct making the 2017 EDA Awards particularly relevant when art and film must be the vanguard of social progress."
The full list of winners:
Best Film: The Shape of Water
Best Director: Guillermo del Toro, The Shape of Water
Best Screenplay, Original: Get Out, Jordan Peele
Best Screenplay, Adapted: Call Me By Your Name, James Ivory
Best Documentary: Faces, Places
Best Animated Film (tie): Coco, Loving Vincent
Best Actress: Frances McDormand, Three Billboards Outside Ebbing, Missouri
Best Actress in a Supporting Role: Laurie Metcalf, Lady Bird
Best Actor: Gary Oldman, Darkest Hour
Best Actor in a Supporting Role: Willem Dafoe, The Florida Project
Best Ensemble Cast – Casting Director: Mudbound, Billy Hopkins and Ashley Ingram
Best Cinematography: Roger Deakins, Blade Runner 2049
Best Editing: Lee Smith, Dunkirk
Best Non-English-Language Film: The Square
EDA female focus awards
Best Woman Director: Greta Gerwig, Lady Bird
Best Woman Screenwriter: Greta Gerwig, Lady Bird
Best Animated Female: Parvana, The Breadwinner
Best Breakthrough Performance: Brooklynn Prince, The Florida Project
Outstanding Achievement by A Woman in The Film Industry: Rose McGowan, Ashley Judd and all who spoke out against sexual harassment
EDA special mention awards
Actress Defying Age and Ageism: Agnes Varda, Faces, Places
Most Egregious Age Difference Between The Lead and The Love Interest Award: I Love You Daddy, Chloe Grace Moretz and John Malkovich
Actress Most in Need Of A New Agent: Kate Winslet for Wonder Wheel and The Mountain Between Us
Bravest Performance (tie): Sally Hawkins, The Shape of Water, and Margot Robbie, I, Tonya
Remake or Sequel That Shouldn't Have Been Made: The Mummy
AWFJ Hall of Shame Award: Sexual Tormentors: Harvey Weinstein, Kevin Spacey, Brett Ratner, et al