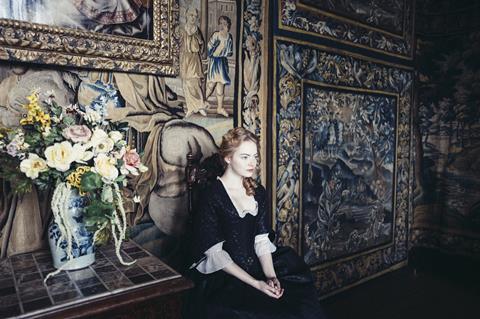 Yorgos Lanthimos' The Favourite has been selected as the American Express Gala at the 62nd BFI London Film Festival (LFF, October 10-21).
The film, which stars Olivia Colman, Emma Stone and Rachel Weisz, will receive its UK premiere on Thursday, October 18 at the Cineworld in Leicester Square.
Further cast include Nicholas Hoult, Joe Alwyn, James Smith, Mark Gatiss and Jenny Rainsford.
Written by Deborah Davis and Tony McNamara, The Favourite is produced by Ceci Dempsey, Ed Guiney, Lee Magiday and Lanthimos.
It is set in the early 18th century when England is at war with France. A frail Queen Anne (Colman) occupies the throne with her close friend Lady Sarah (Weisz) governing the country, when a new servant Abigail (Stone) arrives and charms them both.
An Element Pictures and Scarlet Films production, the film will receive a UK and Ireland release on January 1 2019.
Lanthimos' previous film, 2017's The Killing Of A Sacred Deer, played as a headline gala at last year's festival.
This year's LFF will open with Steve McQueen's Widows and close with Jon S. Baird's Stan & Ollie.