A nine year-old girl is sent to do penance on her aunt's farm in Iceland's northern far reaches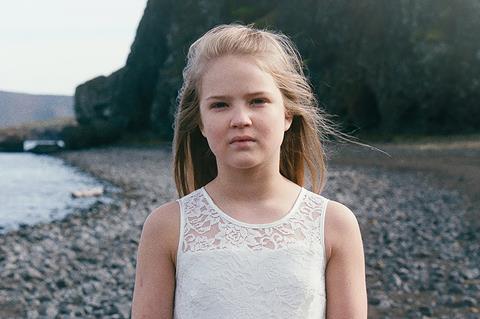 Dir. Ása Helga Hjörleifsdóttir. Iceland/Estonia/Germany. 2017. 91 mins.
A young girl sent to build character through farm work instead gains a more acrid education about the darker corners of adult life in The Swan, a handsomely mounted debut feature that can't help but feel a tad familiar – and not just because it's based on an acclaimed novel. Benefitting from US-trained, Iceland-based filmmaker Ása Helga Hjörleifsdóttir's controlled direction, the film delivers a dark coming-of-age tale through the young lead's uncertain perception, tinged with uneasy implications and poetic flights of fancy.
A hazy film, which for the most part toggles between realism and reverie
As such, this somewhat narratively opaque feature will likely remain along a festival path that kicked off in Toronto and will continue through Goteborg and Santa Barbara in the days to come. Released into Icelandic theatres in early January, the film might have trouble securing international distribution, though its widescreen vistas certainly merit big screen treatment.
Like so many children her age, nine-year-old Sól (Grima Valsdóttir) heads to her island's far northern reaches to spend the nightless summer learning the value of hard work – only in Sól's case, she does so as punishment for shoplifting. She's greeted at her open-air penitentiary by aunt Ólöf (Katla M. Þorgeirsdóttir), uncle Karl (Ingvar Eggert Sigurðsson) and their brooding farmhand Jón (Thor Kristjansson), who shares a room with the young girl and views his time there with equal disquiet, even though he's going into his seventh summer on the farm.
And so begins the elliptical tale, showing glimpses of disturbing behaviour and flare-ups of tensions long existing but never fully vocalised, in keeping with Sól's limited grasp of what is going on. The return of prodigal daughter Ásta (Þuríður Blær Jóhannsdóttir), pregnant and newly single, only adds another combustible element to the mix. Ásta and Jón, it seems, have a history together– one he appears to be grooming Sól for, judging from the nights where he invites his young roommate to share a bed.
If the film never fully specifies the extent of Jón's predations, it also doesn't cast him in a wholly sinister mien. A late in the film voice-over, presumably taken from the source novel, offers a succinct thesis statement for the overall project: "She knew she was witnessing a tragedy," reads the young actress, "that happens to people in this light, where it is neither day nor night… neither good nor evil."
Of course, this clarifying effect says as much about the hazy film that preceded it, which for the most part toggles between realism and reverie, tied together with an ethereal, synth based score by Gunnar Orn Tynes and Orvar Smarason of the Icelandic band MÚM and cinematographer Martin Neumeyer's rapturous evocations of this land of the midnight sun.
Production companies: Vintage Pictures, Junafilm UG, Kopli Kinokompanii OÜ
International sales: m-appeal, ya@m-appeal.com
Producers: Birgitta Björnsdóttir, Hlín Jóhannesdóttir
Screenplay: Ása Helga Hjörleifsdóttir
Cinematography: Martin Neumeyer
Editors: Elísabet Rónaldsdóttir, Sebastian Thümler
Production design: Drifa Freyju-Ármannsdottir
Music: Gunnar Orn Tynes, Orvar Smarason
Main cast: Thor Kristjansson, Blær Jóhannsdóttir, Gríma Valsdóttir, Ingvar Sigurðsson, Katla Þorgeirsdóttir