New partner organisations from Egypt, Nepal and Singapore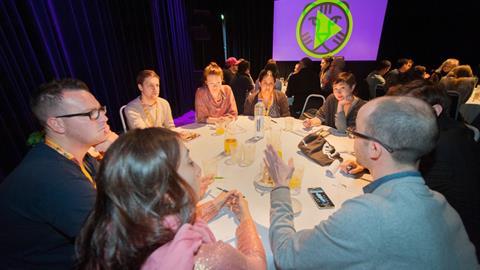 Scroll down for full list
International Film Festival Rotterdam (IFFR) has selected 61 emerging film producers from 26 countries to the 16th edition of Rotterdam Lab.
Rotterdam Lab is organised by IFFR's co-production market, CineMart, in collaboration with various partner organisations involved in the training of young producers, as well as funding bodies.
Rotterdam Lab is a five-day training workshop for emerging producers designed to provide the means to create and expand their international network and boost their confidence and skills to navigate the world of international finance, sales and distribution and markets.
Another aim of Rotterdam Lab is to support its participants setting up or adapting their companies within the quickly changing media landscape. The participants are nominated by the 29 CineMart partners. This year, Rotterdam Lab welcomes Arab Cinema Center (Egypt), Docskool (Nepal) and Singapore Film Commission as new partners.
The Rotterdam Lab programme includes panel discussions on topics such as co-production, development, post-production and film financing, presentations and networking opportunities.
Participants take part in 'speed dating' sessions, during which they have time to personally meet with industry delegates and receive advice on their individual projects.
Rotterdam Lab kicks off on Sunday (Jan 31) with a coaching session by Ido Abram of EYE Film Institute Netherlands on pitching film projects, followed by a 'Practice your Pitch' session.
Pitching experts include Esther van Driesum, Daan Gielis, Ellis Driessen, Helge Albers, Michael Henrichs and Xavier-Henry Rachid.
Themes in the programme include film financing, co-producing between European and non-European states and managing international private equity.
Additionally, The Rotterdam Lab programme includes the session 'Challenges of Western distribution for non US / non-domestic arthouse films' by Guillaume de Seille (Arizona Productions) and the session 'Survival Kit: from Development to Archiving' hosted by EP2C (Belgium).
Rotterdam Lab 2016 (partner organisation, participant, company, country):
3Puertos, Mariana Tejos, Inefable producciones, Chile
3Puertos, Virginia Bogliolo, tarikofilm, Uruguay
ACE / Ateliers du Cinéma Européen, Zora Jaurova, MPhilms, Slovakia
ACE / Ateliers du Cinéma Européen, Sophie Venner, Vennerfilm, United Kingdom
Arab Cinema Center, Aya Al Blouchi, Seat 26 Productions, Egypt
Arab Cinema Center, Hani Osama, The Producers, Egypt
South African Indies, Antoinette Engel, Tezeta Productions, South Africa
South African Indies, Carmen Sangion, Sangsang Entertainment, South Africa
South African Indies, Palesa Mazamisa, Dai Dai Agency, South Africa
South African Indies, Zuko Nodada, Ingomso Film Skills and Youth Development, South Africa
South African Indies, Zwelesizwe Ntuli, Junaid Ahmed Productions, South Africa
Catalan Films, Josep Pi Reyes, Astrolabi Films, Spain
Catalan Films, Marta Cruañas, Lastor Media, Spain
Danish Film Insitute, Lina Flint, Nordisk Film / SPRING, Denmark
Docskool, Rigzin Kalon, Ladhak Films, India
Durban FilmMart, Nathan Magoola, Independent Producer, Uganda
EAVE, Jean-Laurent Csinidis, Films de Force Majeure, France
EAVE, Marina Gumzi, NOSOROGI, Slovenia
Film un Medien Stiftung NRW, Mareike Wegener, Petrolio Film, Germany
Film und Medien Stiftung NRW, Lutz Heineking, eitelsonnenschein, Germany
Film Vast, Alexandra Lind, Dropping Frames, Sweden
Finnish Film Foundation, Jussi Eerola, Elokuvayhtiö Testifilmi, Finland
Finnish Film Foundation, Max Malka, Dionysos Films Oy, Finland
Flanders Image/VAF , Bert Lesaffer, Animal Tank, Belgium
Flanders Image/VAF, Brecht Van Elslande, Animal Tank, Belgium
Gunajuato Film Festival, Edgar Nito, Pirotecnia Films, Mexico
Gunajuato Film Festival, Mauro Mueller, Fidelio Films, Mexico
Independent Filmmaker Project, Jon Coplon, Stayblack Productions, Italy
Independent Filmmaker Project, Katie Stern, Washington Square Films, USA
Irish Film Board, Michela Orlandi, Savage Productions, Ireland
Irish Film Board, Deirdre Levins, Fantastic Films, Ireland
Israel Film Fund, Efrat Cohen, Gaudeamus Productions, Israel
Israel Film Fund, Tony Copti, Fresco Films, Israel
Medienboard Berlin-Brandenburg, Luis Singer, StickUp Filmproduktion, Germany
Netherlands Film Fund, Aydin Dehzad, Kaliber Film, the Netherlands
Netherlands Film Fund, Bas Broertjes, Kaliber Film, the Netherlands
Netherlands Film Fund, Guusje van Deuren, The Rogues, the Netherlands
Netherlands Film Fund, Nathalie van de Burg, Pupkin Film, the Netherlands
Netherlands Film Fund, Steven Rubinstein Malamud, Ijswater films, the Netherlands
Proimages Colombia, David Herrera, Fahrenheit, Colombia
Proimages Colombia, Iván Sierra, Big Sur Películas, Colombia
Proimages Colombia, Luis Villegas, PAVOREAL Colectivo Audiovisual, Colombia
Rio de Janeiro State Secretariat of Culture, Letícia Friedrich, Boulevard Filmes, Brazil
Rio de Janeiro State Secretariat of Culture, Thiago Yamachita da Costa, Estúdio Giz, Brazil
Scottish Film Talent Network, Beth Allan,The Forest of Black, United Kingdom
Scottish Film Talent Network, David Jack, Independent Producer, United Kingdom
Scottish Film Talent Network, Nicholas Crum, Blazing Griffin, United Kingdom
Singapore Film Commission, Kenneth HU, Addiction Design, Singapore
Singapore Film Commission, Suat Yen LIM, Oak3 Films Pte Ltd, Singapore
Skillset, Brian J. Falconer, Out of Orbit, United Kingdom
Skillset, Chi Thai, Independent Producer, United Kingdom
Skillset, Giannina La Salvia, ToyBox Films, United Kingdom
Skillset, Rebecca Mills, Baby Wren Films, United Kingdom
Sundance, Alex Scharfman, Parts & Labor Films, USA
Sundance, Kyle Martin, Electric Chinoland, USA
Swedish Film Institute, Emil Larsson, Dansk Skalle, Sweden
Telefilm Canada, Allison White, Away Films, Canada
Telefilm Canada, Galilé Marion-Gauvin, Productions Unité Centrale, Canada
Telefilm Canada, Jessica Adams, JA Productions, Canada
Trinidad & Tobago Film Festival, Bruno Mourral , Muska Films, Haiti
Wallonie Bruxelle Images, Benjamin Stiénon, Popiul Belgium