As AFM presents its second virtual edition (November 1-5), Screen profiles a selection of key titles that are looking to tempt buyers during the market.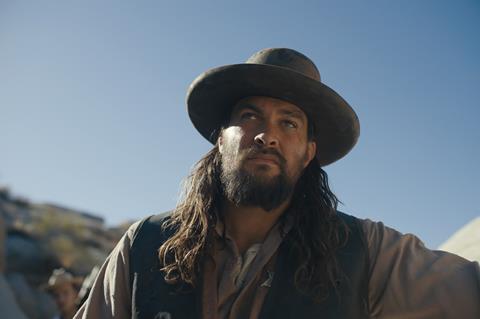 Lionsgate International will kick off talks on John Wick 4. The latest instalment in the action franchise sees Keanu Reeves reprise his role as the assassin alongside Donnie Yen and Bill Skarsgard and is in production. The sales slate includes Wick spin-off Ballerina with Ana de Armas in talks to star. The Cuban actor can be seen opposite her Knives Out co-star Daniel Craig in No Time To Die. Len Wiseman will direct Ballerina and Basil Iwanyk is among the producers.
FilmNation and CAA Media Finance are launching talks with buyers on period thriller Firebrand to star Michelle Williams as Catherine Parr, the only one of King Henry VIII's wives who was neither beheaded nor cast out. Jude Law will portray the notorious monarch and Karim Aïnouz (The Invisible Life Of Eurídice Gusmão) will direct from a screenplay by Killing Eve's Jessica Ashworth and Henrietta Ashworth.
Voltage Pictures turned young-adult property After into a global independent success story, and comes to market with worldwide rights on another YA adaptation, Beautiful Disaster. Roger Kumble (Cruel Intentions) directs the story about a college bad-boy who meets his match. Filming is underway in Bulgaria and producers are Brian Pitt and Mark Clayman alongside Voltage president and COO Jonathan Deckter.
WME Independent has western The Last Manhunt starring Jason Momoa, about two young lovers on the run after the father of one of them is accidently killed. Christian Camargo directs and Momoa leads a largely Native American cast. The story is based on the legend of Willie Boy, cherished by the Chemehuevi tribe in Joshua Tree, California. Filming took place in California.
AGC Studios will be talking up action comedy Freelance from Pierre Morel, starring John Cena as a former special forces operative bored of suburban life who accepts a job providing security for a journalist who is to interview a dictator. When a coup breaks out during the assignment, the ex-soldier has to rely on his skills to save the day. AGC Studios and French director Morel (Taken) are also collaborating on action thriller Blacksmith.
Highland Film Group will be tempting buyers with action thriller Hot Seat starring Mel Gibson, which is about to embark on production in New Mexico. James Cullen Bressack directs the story of a former hacker forced to break into high-level banks by an anonymous man who has planted a bomb under his chair. Gibson will portray the man trying to save the hacker. Grindstone Entertainment holds North American rights. The Highland slate also includes survival thriller The Black Demon, starring Josh Lucas, which will start production in December in the Dominican Republic. The Avenue will release in the US.
STXinternational brings Guy Ritchie's timely action thriller The Interpreter to market. Jake Gyllenhaal will play a US sergeant who returns to rescue his interpreter from a war zone, after the man and his family miss out on safe passage to the US. Filming is set to commence in Spain on January 10. CAA Media Finance and WME Independent represent US rights with STX.
Magnolia Pictures International starts talks on Italian Studies, which premiered at Tribeca earlier this year and will open in the US through Magnolia Pictures in January. Vanessa Kirby stars and Adam Leon wrote and directed the drama from Animal Kingdom, Tango Entertainment and Topic Studios, about an author who loses her memory on the streets of New York and connects with a group of teenagers — in conversations both real and imagined — as she searches for a way home.
Arclight Films has The Portable Door starring Christoph Waltz, Sam Neill, Patrick Gibson and Miranda Otto and will be debuting first footage on the fantasy adventure from The Jim Henson Company and Story Bridge Films. Jeffrey Walker directs the adaptation of the Tom Holt book series about two interns who discover their employers at a mysterious London firm are quietly wreaking havoc in the world of magic.
Myriad Pictures has boarded international sales on comedy India Sweets And Spices from Madison Wells Media and Crazy Rich Asians producer SK Global Entertainment. Writer/director Geeta Malik's story follows an independent young woman who returns to her family's suburban New Jersey home after a year at college and disrupts their well-ordered life. Sophia Ali and Rish Shah star in the film, which Bleecker Street will release in the US on November 19.
Red Sea Media launches talks on $8m action thriller Banshee starring Antonio Banderas, Jaime King and Tommy Flanagan. The story tells of assassins who must fight to keep their loved ones safe when an enemy from their past resurfaces. The project is in post-production.
Premiere Entertainment Group is talking up Black Warrant, starring Tom Berenger as a semi-retired special operations assassin who crosses paths with a DEA agent (Cam Gigandet) on separate missions to stop a cyber terrorist organisation. Jeff Fahey also stars. Tibor Takacs directs theproject from Premiere, which is in post-production.
Epic Pictures has Tiny Cinema, a completed anthology of six short films from Tyler Cornack that takes a twisted and fun look at humanity. The stories feature a mysterious delivery in the desert and a mafia card game. Shelby Dash, Austin Lewis and Olivia Herman are among the cast. Epic and Tiny Cinema produce.
VMI Worldwide has boarded international sales on action thriller Clean starring Adrien Brody. The film is about a former criminal in search of peace who returns to his old ways when a local gang threatens his young neighbour. Paul Solet directed and co-wrote the screenplay with Brody, who produced through his Fable House. IFC Films holds North American rights.
Sublimity Entertainment will talk up international rights on Red Stone starring Neal McDonough and Michael Cudlitz in the story of a crime lord's hitman tasked with hunting down a boy and a mysterious stolen ruby. Derek Presley wrote and directed.
The Exchange has Firebrand's action thriller Section Eight starring Dolph Lundgren, Scott Adkins, Dermot Mulroney and Ryan Kwanten in the tale of a former soldier who avenges the murder of his family and is recruited by a shadowy government agency. Christian Sesma is directing in Los Angeles and Brandon Burrows of Firebrand produces.
Raven Banner will be talking up Emily Bennett and Justin Brooks' Fantastic Fest premiere Alone With You starring Bennett as a young woman who experiences sinister sights and sounds in her apartment as she prepares a romantic homecoming for her girlfriend. Barbara Crampton, Dora Madison and Emma Myles round out the lead cast on the project produced by Andrew Corkin and Divergent franchise star Theo James through their Untapped label. Dark Star Pictures has plans an early 2022 theatrical release in North America.
High Octane commences talks on paranormal thriller The Secret Of Sinchanee from Dallas Buyers Club executive producer Joe Newcomb. Steven Grayhm directs and plays a tow-truck driver who suffers from insomnia and returns to his childhood home, only to discover a paranormal presence in the house.
Motion Picture Exchange (MPX) kicks off sales on Seth McTigue's heist thriller Take The Night about an embittered heir whose plan to kidnap his brother backfires. Also on the slate is horror The Possessed, in which an exorcist must harness a dark gift within his nephew's girlfriend to fight an evil force. Chris Sun directs the film starring John Jarratt of the Wolf Creek franchise.
Film Mode has begun talks with worldwide buyers on The Mob Kid, a comedy about an old school mafia boss who swaps souls with his geeky, bullied son. Film Mode acquired the project at script stage and the producers are out to a director and cast. The Trial Of The Chicago 7 co-EP Jonathan Benefiel is producing and wrote the screenplay.
MSR Media brings romantic comedy Christmas In The Caribbean which is filming on St Kitts and Nevis and stars Elizabeth Hurley as a hopeless romantic whose intended flees on her wedding day. She instead takes the bridesmaids to her Caribbean honeymoon destination where unexpected romance awaits. Philippe Martinez directs and the cast includes Caroline Quentin, Nathalie Cox and Edoardo Costa.
Blue Fox Entertainment launches talks this week on elevated thriller Measure Of Revenge starring Melissa Leo and Bella Thorne. Peyfa directed the story about a New York stage actress who enters the murky underground rock scene to investigate what she believes to be the suspicious death of her rock star son and forges an unlikely alliance with her son's former drug dealer.
MPI Media Group has lined up the market premiere screening of Take Back The Night, a horror thriller about Jane, who launches a vigilante hunt for the beast that attacked her, only for her troubled past to make people – and eventually Jane herself – doubt her story. Gia Elliot directed and co-wrote with star Emma Fitzpatrick.
FilmSharks has thriller Cato starring Argentinian trap music star Tiago PZK in the tale of an aspiring musician from Buenos Aires whose life is upended by a tragedy. Buena Vista distributed the film from Patagonik Film Group and Amada Films in Argentina.
Bleiberg/Dimbort launches international sales on Ireland-set thriller The Land Of Saints And Sinners to star Liam Neeson and his The Marksman director Robert Lorenz. Principal photography is set to start in March 2022 in Ireland on the tale of a retired assassin pulled into a lethal game of cat-and-mouse with three terrorists. Ciarán Hinds also stars in the project and CAA Media Finance and UTA Independent Film Group jointly represent US rights.