Ian Sandwell talks to the filmmaking duo behind Israel's first horror film Rabies about their latest feature, Big Bad Wolves.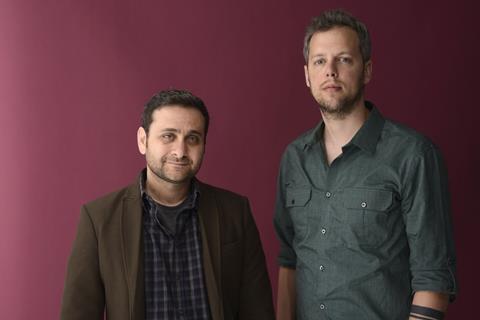 With a Tribeca premiere behind it, Aharon Keshales & Navot Papushado's Big Bad Wolves receives its Canadian premiere today [July 26] at Montreal's Fantasia International Film Festival.
Thrillingly entertaining with a devastating climax, Big Bad Wolves centres on a trio of men who find themselves drawn together by a series of brutal child murders: vigilante cop Miki (Lior Ashkenazi); schoolteacher Dror (Rotem Keinan); and Gidi (Tzahi Grad), the father of the latest victim.
Big Bad Wolves has also recently been announced for Fantastic Fest and will close this year's Film4 FrightFest next month.
Having made the first-ever Israeli horror film (the critically acclaimed festival smash Rabies), Screen spoke to co-writers and co-directors Keshales and Papushado in Montreal about its impact in the local industry and how its follow-up was put together.
What impact has Rabies made on the Israeli film industry?
Aharon Keshales: The biggest thing that happened in Israel is that the government fund opened new channels especially related to genre filmmaking. There's a lot of government funding going towards genre films now, with a lot of new talents starting to explore these kinds of films.
[For example] I know there's the first zombie Israeli film this year that's going to FrightFest, Cannon Fodder, and we got full funding from the government for doing Big Bad Wolves.
Has this led to more local actors wanting to appear in them?
AK: I can say for sure that the problem wasn't with the actors. The actors in Israel are really dying to make these kinds of films as all they do till now is political drama and dysfunctional family dramas. Everybody now wants to work with us on our third and fourth feature and see if they can torture somebody.
Navot Papushado: It's also because the parts are bigger than life. In dramas, you don't play a part, you play something that is more close to who you are in real life. In genre films, you get to play a character. I think actors love that… You can see also really famous actors going into small projects that maybe won't get distributed but it's like 'oh you're doing a little sci-fi film? I'm in'.
Where did the inspiration for Big Bad Wolves come from?
AK: When it came about, we were in Fantasporto and we saw I Saw The Devil by Kim Jee-woon. We said to each other that we'd really like to make a revenge thriller of our own, but to put emphasis on something that is being played out by Kim Jee-woon only in the last 15 minutes: the guilt of the avenger.
We started to come back and forth about the script, and decided to make a film from the point of view of a suspected paedophile. Then we said that's one kind of movie we'd like to make, but are two more: a Dirty Harry film with a douchebag cop and a Korean revenge thriller.
We decided to do all three in one movie. When we pitched the idea to the producers, we said let's do a Dirty Harry movie meets Korean revenge thriller written by the Brothers Grimm. That was the pitch.
NP: The only thing we were asked was can we make it PG-13 and we said no, it's going to be as brutal and violent as we can. The censorship can relax, it's going to be rated R.
Seeing as it was your feature debut, did Rabies teach you any particular lesson to take forward onto the making of Big Bad Wolves?
NP: In all aspects. You grow up and mature and you keep doing mistakes but different mistakes. Rabies was a slasher film, all taking place in the woods and all in available light with handheld cameral ; this is much more cinematic, from the way we play with the camera and the way we light a scene to the mise-en-scene and art, even to the soundtrack which we recorded with a full orchestra.
AK: Story-wise, I think Rabies was a basket case of a movie as it went all over the place. This movie is more mature in the storytelling because you get three male leads and you put all the emphasis on the psychological study of each of their actions [whereas] Rabies was action-reaction.
As film directors, we wanted to develop our ability to work with actors so we decided to make a film where 50% is in one location and when you do that, you push yourself to the limits of what you can do.
Can you tell us a bit about the ending?
NP: For us, it was clear from the start that we had to commit morally to the ending, because you don't approach this subject matter and end with a nihilistic approach or even a light side to it. It's morally wrong to send a viewer home uplifted.
AK: If you give the audience the flashbacks, you make it easier for them. One of the shocking elements at the end is that some of the audience takes more time to work it out. This is more shocking than taking them hand-in-hand with flashbacks like in The Usual Suspects; you let the audience think for itself and then you get the processing.
NP: We were with our producer in Tribeca and it was the first time a mass audience saw the film. We screen it and then there was silence and our producer said 'they're not clapping', we said 'of course, would you like them to clap?!' and then everybody stayed for the Q&A. It's OK to leave the audience shocked and in an emotional state. Maybe it's not a popular choice, but it's the right choice.
With two films done, can you always see yourself working together?
AK: I won't make a film without Navot. I was a film critic and a lecturer and I didn't dream about making a film. I want to be like George Costanza in Seinfeld: That's it for me!
NP: Aharon was my only harsh critic as a film student and I was looking for that. I came with this film with all the professors were shocked by [the quality] as I was just a freshman, and I showed it to Aharon and he said it was rubbish so I thought I could learn from him.
AK: Everybody comes to Tel Aviv and wants to be the next Spielberg, the next Tarantino and when they come out, they want to be Haneke or Fellini. I like these guys also, but you get only this kind of student. Nobody wants to be the Coen brothers so when I saw this change in Navot, I said 'no!'
NP: Aharon and I have this balance between us. We love the same films and we think alike. We complete each other in a very professional way and when you're putting up a project as big as Big Bad Wolves, it's good to have two directors on set and this time around, we also have what Aharon and I believe is the most talented DP in Israel [Giora Bejach].
It's also about having fun together, it's not just professional as there's a whole procedure to making films; you have to sell them, promote them and when you're coming from an industry that doesn't do genre films, that's a challenge.
Any idea what the next project will be yet?
AK: We're working on some scripts. We want to make the Spaghetti Western, Once Upon A Time In Palestine, and we have a lot of different ideas for horror films.
NP: We definitely feel obligated to carry on doing horror films in Israel. We started something with Rabies and they see us as pioneers and it's a heavy weight to carry, but we proudly do that. We wouldn't mind trying to bring our twisted vision into a mainstream American film.
AK: That would be left on the editing room floor but we can try [laughs]