On the eve of its much-anticipated US opening, director Stephen Kijak and producer Mia Bays reveal why an ambitious event theatrical release is the right strategy for their Backstreet Boys documentary.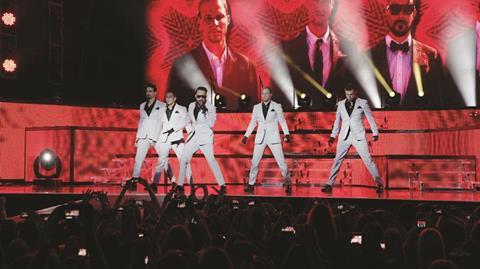 It is fair to say director Stephen Kijak and producer Mia Bays were not the biggest fans of US boy band Backstreet Boys before making the documentary Backstreet Boys: Show 'Em What You're Made Of. "I hated them," says Bays cheerfully.
"I thought I was too cool for the Backstreet Boys," agrees Kijak. "Boy, was I wrong."
Happily, Backstreet Boys, who have sold an astonishing 130 million records during a 20-year career, were not looking for more fans. What they did need was an accomplished, credible team to work with them to make a music film with echoes of band favourites Metallica: Some Kind Of Monster and Beats, Rhymes & Life: The Travels Of A Tribe Called Quest.
Kijak and Bays had made the acclaimed Scott Walker: 30 Century Man in 2006 and Kijak had directed Stones In Exile in 2010 (it screened at Cannes in Directors' Fortnight). The documentary was being produced by UK music and production company Pulse Films, and the company had been hired by the band who were impressed by Pulse's impeccable music documentary credentials, which include 20,000 Days On Earth. Kijak and Bays were quickly won over. "I wasn't interested in a vanity project, but I was interested in 'the Backstreet Boys want to make Some Kind Of Monster'," says Bays.
"Finding a band who were such cultural icons in their day now back in a somewhat humble place was a wonderful way to start a piece of storytelling," Kijak points out.
Filming took two years, with Kijak and Bays dipping in and out of the band members' lives as they prepared for their 20th-anniversary global tour. Los Angeles-based Kijak then relocated to London to cut the film with his Stones In Exile editor Ben Stark for eight months in 2013.
"The shoot was so rewarding. It was about just filming stuff happening," Kijak says. "It felt more alive than some of my other docs. It was nice to just be in the moment and shoot stuff as it happened.
"I enjoy it more when I'm collaborating with the artist. You want them to have as much of a voice as you do. This one settled in a real special groove. It was one of the most agreeable editorial processes I have been through with a band."
Bays, an experienced marketing and distribution executive and the former head of Film London's Microwave ultra-low budget production programme, is now based at Pulse Films, and the company had its eye on an innovative distribution strategy for the film. "We had been paying attention to the event theatrical space for a long time," Bays says. "It made sense to design the film to work in that arena."
Keen to retain as many of the rights as possible, Pulse and Bays rejected deals around a traditional release model. "We're all experienced producers and we thought, 'That model hasn't worked for us before properly in terms of money back.' The only way to do that is to split up the rights, which you can do in the event theatrical space," Bays says.
Sam Sniderman, managing director of film & entertainment at WME and Pulse, adds: "With such a loyal and important international fanbase, we decided to use a non-traditional release strategy, which puts the fans at the heart of our plans. By charting the activity on social media, we were able to map out the 750 venues where the film will screen. These global cinema events will then be followed by DVD and VoD releases in each territory."
Through a deal brokered by WME, North American rights for theatrical, VoD and DVD were sold to Gravitas Ventures. Through online agency Tugg, which books films into North American cinemas according to local demand, Gravitas is offering a 'sneak peek' of the film on January 29 in 70 cinemas (this version will include 20 minutes of additional footage).
On January 30, the feature will open in 15 North American markets and on VoD. Additionally, VH1 has a two-week exclusive pay-TV window. The film's international roll-out is via London-based event cinema specialist More2Screen, which has all international theatrical rights, and begins in the UK and Europe on February 26.
This day-and-date screening will include a live satellite broadcast of a special five-song set performed by the band at London's Dominion Theatre. The rest of the world will follow in waves until the end of May, with More2Screen booking directly into international cinemas. The international version will include the recorded-as-live Dominion Theatre segment.
Bays was impressed by More2Screen's enthusiasm for what will be its first film release. It has previously placed content, such as concerts by Robbie Williams, Adele and the English National Opera, into cinemas around the world.
"We learned a lot from [More2Screen co-founder] Penny Nagle," says Bays. "She told us, 'It is different, the event theatrical space.' We had a lot of offers from other distributors but Penny was the one voice saying, 'You can do 250 cinemas in the UK and I can deliver that.' And she has."
The film's marketing strategy is focused on the fans of the Backstreet Boys via the official band website and the band's personal social media reach. "It's as much their film as it is ours," says Bays. "From their point of view, it's about giving back to the fans."