Japan's Mamoru Hosoda partnered with animators across the world to deliver his vision for awards contender Belle. The filmmaker talks about his global creative mission.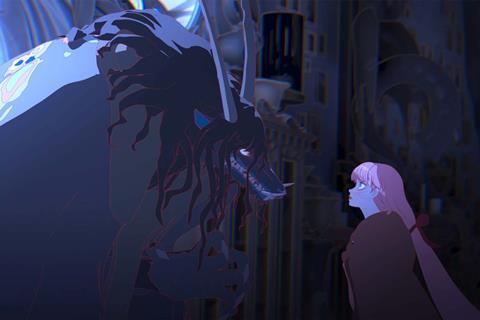 Ask Mamoru Hosoda why Belle is, in his words, "the film I've always dreamed of making" and the Japanese anime master tells a story about a feature from another of the world's great animation traditions.
"I always liked the underlying story of Beauty And The Beast," says Hosoda (through a translator) about the fairy tale on which Belle is loosely based. "But after college I had joined Toei Animation and it was a pretty tough environment and I contemplated quitting the animation industry. This was right when Disney's Beauty And The Beast [the 1991 animated version] was released in theatres. I went to see it and thought, 'Wow, I had no idea such a wide range of expression could be achieved with animation.' It gave me the encouragement to try a little bit harder in the animation industry, which in some sense brought me to where I am today."
Hosoda's reputation began to grow after his stint as an animator and then director at Toei (and after a difficult false start developing the Studio Ghibli project that eventually became the Hayao Miyazaki-directed Howl's Moving Castle).
For Madhouse, a younger rival studio to the venerable Toei, he directed The Girl Who Leapt Through Time (the first of his four Japan Academy animation of the year award winners) and Summer Wars (which screened at the Locarno and Berlin festivals).
Since he and producer Yuichiro Saito launched their Studio Chizu animation company in 2011, Hosoda's international renown has been boosted by 2012's Wolf Children, The Boy And The Beast in 2015 (his first project as writer as well as director), and Mirai, a nominee in 2019 for the best animated feature Oscar.
Partly inspired by Hosoda's fears for his own daughter in her adolescent years, Belle uses spectacular animation and a smart take on social media to reimagine the tale of Beauty And The Beast in modern-day Japan, and in 'U', a fictional virtual world populated by billions of users.
The story follows Suzu, a shy high-schooler from a rural village who, in the real world, loses her ability to sing after the tragic death of her mother but in U becomes globally adored chanteuse Belle. The beast in this version is a mysterious creature chased through cyberspace by vigilantes who helps Belle/Suzu find her true self and cope with her grief.
International acclaim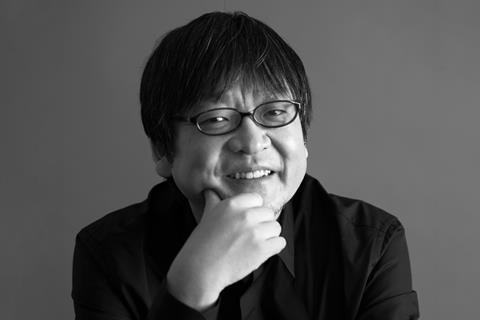 By turns emotional and eye-popping, Belle earned a 14-minute standing ovation at Cannes, where it screened in the new Cannes Premiere section in July, before playing at festivals including New York and BFI London and getting a July release (as Ryu To Sobakasu No Hime) in Japan. GKids bought North American rights from international seller Charades soon after Cannes and has set a full US release for January.
Belle's reception has boosted Hosoda's global standing once again — but realising his vision was not easy and required some help from outside Japan's own animation industry.
More than half of the film's animation — all the scenes set in cyberspace — was computer-generated, by far the most extensive use of CG Hosoda has made to date. So establishing a "unique visual expression" for the story's virtual world using CG "was a key component to making sure the emotional journey was delivered", Hosoda explains.
The director and his team started working on the CG content with some Japanese studios, but "we quickly discovered it was quite hard to nail the visual look we were going for. Unfortunately that skill doesn't quite exist in the Japanese 3D CG industry at the same level it does in the US or perhaps other parts of the world."
So Hosoda turned to international collaborators. London-based architect/designer Eric Wong was brought on board to work on concept illustration for the film's massive online world. South Korean animator and character designer Jin Kim, known for his work in the US on multiple Disney films including Tangled, Moana, Big Hero 6, Frozen and Encanto, came in to design the central character. And Tomm Moore and Ross Stewart, directors of last year's Oscar nominee Wolfwalkers from Irish studio Cartoon Saloon, were recruited to help create the virtual labyrinth through which Belle travels on her quest.
"I wanted it to be more on the abstract side," says Hosoda of the labyrinth section, "but in Japan we as an industry have gradually moved towards more realistic visual expression." Cartoon Saloon, whose work Hosoda says he has been following since 2014's Song Of The Sea, "are able to get this abstract expression, but with a lot of emotional weight that can be carried with it".
Hiring Kim was not an attempt to give Belle a Disney look, Hosoda insists: "It isn't so much that I wanted a Disney-esque expression as I wanted Jin Kim's form of expression. He's a very talented artist who can express a wide range on paper," though "we didn't discuss [the lead character's] exterior appearance as much as what she may be going through mentally, or what kind of strength she has deep down in her soul."
Although he reveals no details of specific future projects, international collaboration in animation appears to be a subject that Hosoda has very much in mind.
Animators and audiences may these days appreciate work from all around the world — this year's animated feature Oscar field promises to be one of the most global ever — but individual animation industries still tend to operate regionally.
"European creators and American creators and Japanese creators don't really exchange ideas or techniques," suggests Hosoda. "Part of it is perhaps the physical distance, but there's also a kind of cultural gap between the mindsets of people in each region. Perhaps the thought is that as long as they can create something for their domestic market, that's okay."
But Hosoda sees the animation world going through "a massive shift, especially with companies like Netflix and how they've made content, even if it comes from different pockets of the world, so much more accessible."
The pandemic has played a part too, he believes, creating a sense of global unity and accelerating the use of an internet-based remote working culture, "so the physical distance between countries has become much less relevant. Because of that, the barrier to collaborating with peers from different cultures or countries has been lowered significantly. I like to think that in some ways Belle is at the forefront, paving the way for more international collaborations."
Studio Chizu could also play a part, Hosoda suggests, maybe by working with a non-Japanese studio on a Hosoda-directed project (the company has so far stuck to projects made by its co-founder).
Developing "a more global filmmaking process will, I think, help us find new values", predicts Hosoda. "Of course, sometimes one region will take the lead and outsource things to a different region, but on a truly collaborative level I feel that discovering these new values together will become possible." And that, he adds, "would elevate animation in general but also benefit the worldwide audience. If Belle and Studio Chizu can contribute to this change, that would mean a lot for me."