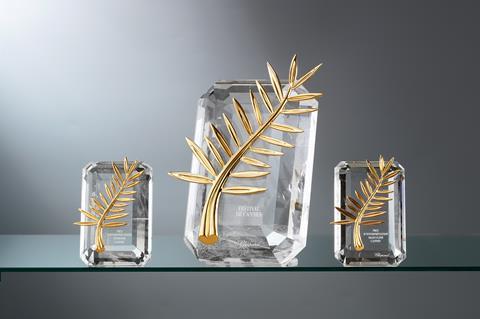 In a normal year cinema professionals across the production, sales, distribution and promotional chain would be in a frenzy of activity this week, gearing up for one of their busiest periods of the year as they finalise arrangements for impending annual trips to the Cannes Film Festival, which was scheduled to kick off on May 12 before the Covid-19 pandemic hit.
Having clung on, hoping against hope, Cannes acknowledged last month that its 2020 edition would not be able to take place in its usual slot or format after a French ban on large cultural or sporting events was extended until mid-July. It has since been extended to the end of August. The festival submission process remains open until June 1, however, and expectations are running high that Cannes delegate general Thierry Frémaux will announce some sort of Official Selection in the coming weeks.
Frémaux said in April that the festival is mulling a Cannes 2020 label, rather than a fully-fledged Official Selection. Details have yet to be announced although professionals with selected films tell Screen they have been told by the festival to expect an update on their plans towards the end of May.
Filmmakers are invariably positive about the label idea.
"I'd appreciate at least being able to claim selection," says Rana Kazkaz, co-director of the submitted Syrian revolution thriller The Translator. "A selection, whether it's Cannes, Venice or Locarno, is so meaningful to filmmakers. It's hard to imagine what it will be like if all these films aren't able to claim selection somewhere. That's how so many of us have been able to bring attention to our work, at least until now."
Distributors, especially those based in France where a Cannes selection has particular resonance for audiences, are also mostly positive about the idea.
"The stamp of approval of a Cannes selection for some films is the make-or-break of their international career," says Fabien Westerhoff, CEO of UK-based sales company Film Constellation. "If Thierry were to announce a 2020 vintage it would be welcomed by filmmakers and distributors alike."
A Cannes 2020 label without a physical festival launch poses more of a conundrum for producers and sales agents, however, as they navigate how to launch films on the market at this complex time.
"The Cannes seal of approval remains a distinction many filmmakers would not dismiss that easily," suggests Westerhoff. "How these films are then presented to the industry would be up to the producers and sales agents, and will be up for experimentation."
"Any cancellation of any festival, and Cannes being the key festival of the world, is a drama in itself," notes Antonio Saura, managing director of Madrid-based Latido Films. "But announcing a selection of films without a physical screening… I do not think would be a good idea. Another thing is if they find a suitable date later in autumn, that could be very welcome."
The reaction of David Grumbach, president of Paris-based theatrical distribution and international sales company Bac Films, encapsulates how a Cannes 2020 seal of approval without a full-blown festival attached could mean different things to different parts of the sales and distribution chain.
"As a French distributor, I would always privilege Cannes, even a virtual selection without a festival, over any other festival because Cannes has the strongest resonance with the audience, the film press and cinema theatres in France. If you ask me as a sales agent, I'll tell you it depends on the film, what you want to do with it and where you think it might find its biggest audience. There's no easy answer… and in the end, the final decision will lie with the director."
Festival ecosystem
A key question swirling around the Cannes 2020 label idea is how it will fit into the wider festival ecosystem and whether it would prevent films from being selected for physical events that are able to go ahead later in the year. At time of writing, nobody claimed to know the answer.
Crucially, in the near term, confusion reigns over whether Venice, if it goes ahead, will agree to show a new film bearing the Cannes palm logo. Venice chief Alberto Barbera and Biennale president Roberto Cicutto have put out mixed messages on whether talks are ongoing between the two festivals.
There is also talk that later festivals such as Toronto, San Sebastian and Zurich may show Cannes selected titles as an act of solidarity but nothing has been confirmed on this score either.
"It's a hard question to answer because I don't think it's only Thierry and Cannes' decision," says FilmNation CEO Glen Basner when quizzed on his thoughts around a potential Cannes label.
"Filmmakers have to decide what they want to do with their films because, as it's now not happening in June or July, they may choose to go onto another film festival and that label may be problematic to attend another film festival," he suggests. "However, if a filmmaker is happy for it, and Cannes is happy to do it, then having a Cannes-branded movie is a very positive thing, and I like the idea of a Cannes 2020 brand, regardless of when and if any type of physical festival takes place."
Steven Bestwick at Helsinki-based The Yellow Affair says securing the Cannes 2020 label would be a huge bonus for a film, giving it "an enormous amount of gravitas in the marketplace."
"But there are issues that need ironing out," he continues. "For example, can future festivals be encouraged to be more flexible with their premiere status? If not, would they class a Cannes 2020 label film as a world premiere still?"
Gaetano Maiorino at Rome-based sales company True Colours fears the label could complicate an already convoluted situation. "The Cannes label wouldn't be useful… On the contrary, it could jeopardise the opportunities for some titles to get a premiere in a fall festival and therefore a prestigious 'physical' opening."
Stephen Kelliher, director at UK sales company Bankside Films, says he has come around to the idea of a Cannes 2020 label.
"The brand of the Cannes Film Festival carries such weight and respect around the world and it enables the festival and its selection to make its mark in this unprecedented time," he says. "In the absence of a physical festival it offers a platform to the selected films, both in terms of distribution and marketing, in a world where a large number of films will be going out into the world without the luxury of a festival premiere."
The question of reviews
Kelliher has questions, however, around how reviews will be managed for films selected for the Cannes 2020 label. "Since Cannes is a review-driven festival, this part of the process for selected films would need careful choreographing," he says.
Sarah Lebutsch, head of sales at compatriot firm Independent Film Company, also emphasises the importance of reviews and asks whether the festival will also set juries and hand out awards, and how this would work if it were to do so.
"Will it be enough to simply announce, 'These would have been the films if we'd had a festival'," she questions. "Or would you then also want to have juries, discussing the film in their own homes, via Zoom or whatever, and press reviews for the films. A hugely important part for us when we sell those festival-driven, arthouse titles is to get a critical response."
She also asks another fundamental question on many people's minds as they try to fathom how a selection might work. "If you do jury awards, and press work around the films, would it then become more of an online version of the festival itself? And will Cannes be interested in doing that? It becomes a bigger thing then."
Neither Bankside nor Independent Film Company had films in the running for Cannes this year but Lebutsch says her company would probably have jumped at the offer of a Cannes 2020 label.
"The Cannes label is still such a big brand, such a big stamp of approval," she says.
She recounts how the company had experienced a similar situation with Gavin Rothery's sci-fi thriller Archive, which was to have premiered at the 2020 edition of SXSW, until the event was cancelled at the eleventh hour due to the pandemic.
"There wasn't time to plan and to come up with different ideas and solutions. They decided that all the films that were invited to the festival could still be SXSW 2020 official selections and could still carry the laurel. I think that is a good thing. We are certainly going to be using that laurel in our marketing materials going forward," says Lebutsch. "But it will depend on the film that we're talking about."
Like many sales professionals, Ioanna Stais, head of sales and acquisitions at Athens-based Heretic Outreach, is still weighing up the situation.
"It is difficult to have a clear stance on the matter as it's the first time the industry is facing a situation of this sort. It's definitely not the dream situation for filmmaker, producer or sales agent to premiere their film without actually being able to premiere it in the usual Cannes circumstances," she says. "The physical premiere is something very hard to recreate virtually. That said, Cannes has a unique strength in the market and in these exceptional circumstances, the industry will have eyes and attention drawn to its selection."
As is the case with his peers, Latido's Saura values greatly the prestige of Cannes and any type of endorsement by the festival, and has been contemplating the most appropriate platform to view selections under current circumstances, and the question of reviews. "But one thing that I love about the team running Cannes is that they always surprise me and come up with brilliant ideas," he adds, "so we have to give them the benefit of our trust."
Scale and format
Beyond the logistics of how the label will work, some professionals question what kind of selection Frémaux and his selection team will be able to pull together.
"I fear there will be a lack of scale because the bigger titles have either been pulled or simply won't be ready as planned. This would detract from the traditional power of the selection," says one Cannes sales stalwart, who preferred to speak anonymously.
Another major question, the sales agent added, was whether a Cannes 2020 selection would group all the titles under one banner, or whether it would be announced with all the traditional sections such as Competition and Un Certain Regard intact.
"If they don't announce sections this could be a deterrent. I'm not sure a blanket label will be enough for people to accept it, especially for those aiming for Competition, unless they can guarantee a place in Competition in 2021," the agent explained, adding that the offer of a 2021 invite could come with a fresh set of financial challenges for filmmakers and producers.
"Production loans generally need to be paid when a film is delivered and even if banks are willing to defer repayment due to the current situation, interest will keep accruing. It's one thing accruing interest over a month or two, another thing doing that for more than a year."
Against this backdrop, many sales companies specialising in lower budget arthouse festival titles – for which a Cannes selection can be a game-changer – are putting their Cannes hopefuls on ice until festivals are physically up and running again.
"We did have a film with Cannes potential but we're not pushing the director to pull out all the stops to finish post-production, which is what we would have done in a normal year," says one indie sales agent. "Not only would it be extremely difficult, if not impossible, right now, but the sorts of films we sell need festival screenings, reviews and engagement with audiences. They are community films."
Martin Gondre at Brussels-based Best Friend Forever had a trio of first feature films he was hoping to launch at Cannes this year, either in Official Selection or one of the parallel sections, but he has put them to one side for now. He is eager, however, to participate in the online Cannes Marché du Film, which will run from June 22-26 in place of the cancelled physical event.
"It wouldn't make sense to launch the first-time features in the market. We might tease them with a promo but what I am looking for now is a new completed film by an established filmmaker with a fan base or with niche market potential that we can sell instead."
Ending uncertainty
Regardless of whether they're in favour or against the idea of a Cannes 2020 selection, nearly all professionals stress the need for the festival to indicate its plans as soon as possible.
"The uncertainty is crippling," notes Bankside's Kelliher.
The general consensus is that it would make most sense for the festival to announce a selection in the lead-up to the online Marché du Film.
"It would inject much-needed enthusiasm into the marketplace to discover a selection in June," says Film Constellation's Westerhoff.
Alexandre Moreau, VP sales and marketing at French sales company Memento Films International, concurs: "We're in favour of a selection of films being announced with a Cannes 2020 label before the online market, but we think it should be an announcement only with the films showing later in the year when the conditions are better."
"The Official Selection is usually a month before the actual event so in this case a month before the online Marché du Film would make sense," says Yohann Comte at Paris-based sales company Charades. That suggestion would make for a May 22 announcement, which would likely be too early given the festival will remain open for submissions until June 1.
Anick Poirier and Lorne Price at Canadian sales company WaZabi Films said they had hoped Cannes would unveil an Official Selection back on April 16, the date that had been set for the announcement before the May dates were cancelled.
"It could have served as a vehicle to give the impression of some sense of normalcy. We do understand why that was not necessarily possible," they say. "It would be great to know sooner rather than later about the status of the festival and the plans moving forward, but everything was and remains a question mark. We think Cannes is doing the best they can with the hand we have all been dealt."
FilmNation chief Basner says he would like to see some sort of selection announcement on the festival's abandoned original start date of May 12. "As a sentimental person, I would like them to do it on the first day of the festival as originally planned. I think that would be a nice moment to announce it," he says.
"We didn't have any films submitted this year," he continues. "We had four or five films in Sundance – that's just the way that our line-up shook out. What I would say is, if I had a proper European arthouse movie and I could get it branded before we went to the market in June, then I would want to have that branding public, so I can use that to drive people to watch the films we have."
In the meantime, some professionals are expressing frustration over the fact that Cannes has yet to make its intentions known. Others call for calm and patience.
"I understand that people are getting frustrated with Cannes but we need to put ourselves in the place of the people running the festival who are dealing with a situation that changes day to day," says Bac Film chief Grumbach. "It's easy to say, 'It's a catastrophe, we're sitting it out until Sundance or Berlin 2021', but I think it's worth waiting, even if it's stressful and the uncertainty is upsetting a lot of people psychologically."
Basner is equally sympathetic. "Everyone's looking for certainty in a world where there's very little certainty," he notes. "I think Cannes is trying to do everything possible to have a festival this year. And I think it's well-meaning and it's not really impacting people's decisions as to what to do with their films.
"If people want to say, 'Thank you for your invitation but we're going to take part in another film festival as a world premiere', they're entitled to do so. I don't think they're really creating much uncertainty at this point. I applaud them for just plugging away to figure to how to have their festival."
Ben Dalton, Wendy Mitchell and Gabriele Niola also contributed to this report.