Celebrating its 10th anniversary, Film Bazaar (Nov 20-24) has made South Asian indie cinema accessible by curating the vast range of film-making styles and languages on offer.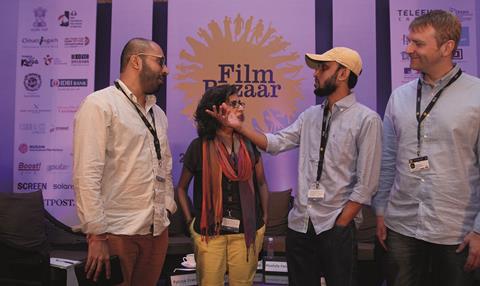 In 2007, when India's National Film Development Corporation (NFDC) launched Film Bazaar, Indian independent film-making was in a very different space. Few indie films made it to international film festivals and, for most people, Indian cinema was synonymous with the mainstream Hindi-language films being produced in Mumbai.
Fast-forward 10 years, and hardly a festival goes by without an Indian indie making it into the official selection or winning awards. And not all of these films are made in Hindi - festival programmers are now just as likely to consider works in Tamil, Punjabi, Marathi or one of India's other 150 languages, as well as titles from other South Asian nations such as Pakistan, Bangladesh, Sri Lanka and Nepal.
Several of the South Asian films making waves on this year's autumn festival circuit - such as Konkona Sen Sharma's A Death In The Gunj, Haobam Paban Kumar's Lady Of The Lake, Alankrita Shrivastava's Lipstick Under My Burkha and White Sun from Nepal's Deepak Rauniyar - started their journey either at Film Bazaar or through the NFDC's year-round development initiatives.
A Death In The Gunj, which premiered at Toronto, was mentored at NFDC's National Script Lab, while Lipstick Under My Burkha, which premiered at Tokyo, attended Film Bazaar three times at different stages of development and production. Meanwhile, Shubhashish Bhutiani, director of Venice title Hotel Salvation, met his executive producer at Film Bazaar last year, although he was pitching another project at the time.
"Before we launched Film Bazaar, South Asian independent cinema was not so well-recognised globally," says Film Bazaar director Raja Chhinal. "But over the years we've seen a steady stream of films such as The Lunchbox, Titli and Qissa that all came out of the Bazaar. It's had a huge impact on independent cinema as far as globalisation and pushing the boundaries is concerned."
The brainchild of NFDC managing director Nina Lath Gupta, who was inspired by a visit to Rotterdam's Cinemart, Film Bazaar draws international festival programmers, sales agents, distributors and producers - attendees this year include Focus Features, The Weinstein Company and representatives from festivals including Venice, Sydney and Cannes.
Over the years, attendees have realised that, in addition to the relaxed setting at the Goa Marriott Resort, Film Bazaar takes the pain out of understanding a complex market in which films are made in scores of different genres, styles and languages. Navigating this relatively new and vibrant film-making scene can be bewildering without some local guidance.
Selecting success
For the past decade, Film Bazaar has played this curatorial role by selecting projects across three different stages of the film-making process: Screenwriters' Lab (SWL) for scripts in development, Co-production Market (CPM) for projects that are seeking finance and Work-in-Progress (WIP) Lab for films at the rough-cut stage.
Projects selected for this year's CPM include new titles from directors including Paban Kumar, Geetu Mohandas and Bangladesh's Abu Shahed Emon, while projects in WIP Lab include Gitanjali Rao's animated feature Bombay Rose and Dipesh Jain's UK-Germany-India co-production In The Shadows, starring Manoj Bajpayee and Laura.
Film Bazaar will also present 202 films in the Viewing Room, a video library focusing on titles seeking finishing funds, festivals and distribution. Among these, 32 films in 14 languages have been selected for the Film Bazaar Recommends section, including Amit Masurkar's second film, Newton, a timely drama about the electoral process and democracy.
"What we're seeing is that film-makers who came to previous editions of Film Bazaar with their debut films are returning with their second features and are eagerly looking to network with the experience they have gained," says Deepti DCunha, who curates both the WIP Lab and Viewing Room sections.
"There is content for every kind of buyer and festival," she continues. "This is a definite sign that Film Bazaar has achieved the vision it began with 10 years ago, to provide much-needed infrastructure and a platform for independent talent from all over India, as well as South Asia."
Film Bazaar co-director Manas Malhotra adds that the event has seen a big increase in submissions this year across all sections. Viewing Room has been expanded from 150 to more than 200 titles, while the Industry Screenings, which take place in temporary screening halls at the Marriott, has grown from 36 to 50 this year. "Both the Work-in-Progress Lab and Film Bazaar Recommends have had high rates of success as far as festivals and releases are concerned, so more film-makers are realising this is a good platform for them," Malhotra says.
Knowledge factory
In addition to presenting and mentoring projects at all stages of production, Film Bazaar plays an educational role, both through the Producers' Lab - which is designed to fill a long-acknowledged gap in India for creative producers - and seminar and masterclass programme the Knowledge Series. As part of the 10th anniversary celebrations, Film Bazaar is also hosting a virtual reality (VR) sidebar and lounge, featuring sessions with VR producer Michel Reilhac, WeMakeVR founder Avinash Changa and Mirjam Vosmeer of Amsterdam Creative Industries Network.
"We want to look at whether VR will redefine film-making in the long term," explains Malhotra. "Michel will be busting a few myths around whether VR will change the way we tell stories, while Mirjam will present research about what kind of storytelling works in VR and what doesn't. Along with the VR lounge, we want to explore this new technology within the storytelling space."
Elsewhere in Knowledge Series, Indian director Imtiaz Ali, whose credits include mainstream Hindi titles Rockstar and Highway, will be in conversation with producer Nasreen Munni Kabir, while Hong Kong producer Philip Lee, who executive produced The Revenant, will give a masterclass. Sessions will also be held on alternative distribution models, VoD, short film-making and regional cinema, while YouTube and Facebook will give presentations about the tools they offer film-makers and building communities online. Knowledge Series will also host an Open Pitch for the CPM projects and an Investor Pitch for the projects in Film Bazaar Recommends.
Outside of Film Bazaar, NFDC continues to run a year-round programme of distribution and training activities, and from late last year has also been housing India's first film commission, the Film Facilitation Office (FFO), in Delhi. Officers appointed to handle filming activities in several Indian states will attend Film Bazaar for a one-day workshop conducted by international producers who have an interest in filming in India.
On the distribution front, NFDC has released several films that it has either produced or co-produced over the past year, including Gurvinder Singh's The Fourth Direction in August and Ruchika Oberoi's Island City in September. "We've established a distribution system where each NFDC-produced film travels through film festivals, Indian theatrical release and syndication across pay-TV, digital and other ancillary platforms," explains NFDC head of distribution and syndication, Awadhesh Kumar.
NFDC has also been licensing its library of classics to broadcasters such as Zee Entertainment and Times Television Network, while talks are underway with digital and DTH players such as Amazon, Netflix and Tata Sky.
Back at Film Bazaar, the recent entry of both Netflix and Amazon into the Indian market, along with their recent acquisitions of indie films, is likely to be a constant topic of conversation in Goa. "Most debut independent films are financed by friends and family, but with Netflix and Amazon buying up film content in the past year, many film-makers who were unable to start off their second projects now see a ray of hope and some finances as well," says DCunha.
It's a far cry from 10 years ago, when Indian indies found it difficult to get even their first projects off the ground and then struggled to be seen.
WORK-IN-PROGRESS PROJECTS
The Bioscopewala (India)
Dir Deb Medhekar
Lang English, Hindi, Bengali, Dari
Bombay Rose (India-Fr)
Animation
Dir Gitanjali Rao
Lang Hindi
The Gold-Laden Sheep & The Sacred Mountain (India)
Dir Ridham Janve
Lang Pahadi
In The Shadows (UK-Ger-India)
Dir Dipesh Jain
Lang English, Hindi
Nimmo (India)
Dir Rahul Shanklya
Lang Hindi
Once Again (India-Ger-Aust)
Dir Kanwal Sethi
Lang Hindi
The Tetrahedron (Pratibhasam) (India)
Dir Vipin Vijay
Lang Malayalam
CO-PRODUCTION MARKET PROJECTS
The Biryani Seller (India)
Dirs Rajdeep Paul, Sarmistha Maiti
Lang Bengali
Bhonsle (India)
Dir Devashish Makhija
Lang Hindi
Calorie (Can-India)
Dir Eisha Marjara
Lang English
The Cineaste (Chin-Neth)
Dir Aboozar Amini
Lang Persian
Dastaan-e-Awaargi (India)
Dir Ankit Kothari
Lang Hindi
The Dragonfly (Ram Ji Ka Ghoda) (India)
Dir Bishnu Dev Halder
Lang Hindi
A Foolish Man (Apodartho) (Bang)
Dir Abu Shahed Emon
Lang Bengali
Ink (India)
Dir Pratim Gupta
Lang Bengali, Hindi
Insha'allah (India)
Dir Geetu Mohandas
Lang Malayalam, Hindi
Joseph's Son (JosephKi Macha) (India)
Dir Haobam Paban Kumar
Lang Manipuri
Man From Kabul (Kabuliwala) (India)
Animation
Dir Soumitra Ranade
Lang Hindi
Punyakoti (India)
Animation
Dir Ravi Shankar
Lang Sanskrit
The Return (Wapsi) (India)
Dir Asad Hussain
Lang Hindi
The Salt In Our Waters (Nonajoler Kabbo) (Bang)
Dir Rezwan Shahriar Sumit
Lang Bengali
Season Of Dragonflies (Jhyalincha) (Nep)
Dir Abinash Bikram Shah
Lang Nepali
The Sunshine (India)
Dir Leena Manimekalai
Lang Tamil
Three Curve Bent (Tribhanga) (India)
Dir Renuka Shahane
Lang English, Marathi
The Umesh Chronicles (India-Swe)
Dir Pooja Kaul
Lang English, Hindi