Screen's senior US critic, LA-based Grierson has written for the publication since 2005.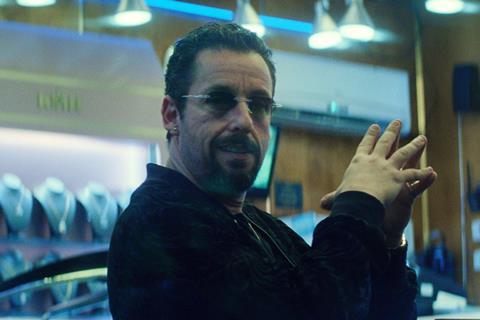 Top five
1. Uncut Gems (Dirs. Benny and Josh Safdie)
A searing character study that doubles as a nerve-jangling thriller, the latest from the Good Time directors is a suffocatingly tense look at a New York jewellery-store owner whose life spirals out of control. Adam Sandler gives a career-best performance, and the film is shot with such focused chaos that it is like watching an exquisitely choreographed panic attack. Contact: Netflix
Read Screen's review here
2. Parasite (Dir. Bong Joon Ho)
This Palme d'Or winner showcases Bong's juggling of genres and his skill at marrying disparate tones. Plus, Parasite was 2019's best — and most unexpectedly touching — examination of class warfare. Contact: CJ Entertainment
Read Screen's review here
3. Little Women (Dir. Greta Gerwig)
A trickier achievement than her Lady Bird, Gerwig's take on Louisa May Alcott's March sisters is a bittersweet but life-affirming tale of growing up and holding onto what really matters. Contact: Sony
Read Screen's review here
4. The Irishman (Dir. Martin Scorsese)
Haunted by regret and mortality, this funereal gangster epic strips away the genre's swagger so that a group of old pros can do some of their finest, most emotional work in years. Contact: Netflix
Read Screen's review here
5. Marriage Story (Dir. Noah Baumbach)
Can love survive divorce? Adam Driver and Scarlett Johansson astound, and Baumbach — usually a master of caustic behaviour — reveals a tenderness toward his flawed characters he has never dared before. Contact: Netflix
Read Screen's review here
Best documentary
Leaving Neverland (Dir. Dan Reed)
Wade Robson and James Safechuck were children when they separately became friends with Michael Jackson, the world's biggest pop star. Leaving Neverland chronicles their accusations and what happened afterwards. Reed crafts an unforgettable examination of sexual assault and its repercussions, illustrating in heartbreaking detail how these men — and their families — still carry the scars of their experiences.
Contact: Kew Media Group
Read Screen's review here
Overlooked gem
Ghost Tropic (Dir. Bas Devos)
While the premise is simple — a cleaning woman walks home alone late at night in Brussels — Belgian writer/director Devos weaves a beautifully immersive and enigmatic look at a city's nocturnal rhythms and a seemingly nondescript character's attempt to navigate its pre-dawn denizens. Saadia Bentaieb's performance is a gem of minute gradations — every look, pause and reaction matters. Contact: Rediance
Read Screen's review here

Based in the United States.