With more than 50 screen credits, Wunmi Mosaku has her first major film acting nomination with refugee-themed genre tale His House. She tells Screen about her journey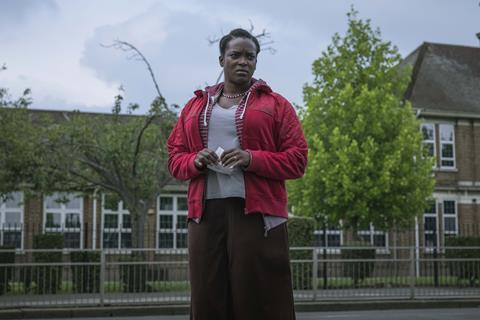 Twelve years after Screen International proclaimed her a Star of Tomorrow alongside Holliday Grainger and Daniel Kaluuya, Nigeria-born, Manchester-raised and now Los Angeles-based Wunmi Mosaku is finally having her moment, scoring a best actress Bafta film nomination for Remi Weekes' His House and critical plaudits for her HBO show Lovecraft Country. "I feel very lucky. I feel very blessed," she says. "But I've worked really hard."
In fact, since leaving the Royal Academy of Dramatic Art in 2008, Mosaku has rarely stopped, spending her first year mainly treading the boards before landing a starring role in the BBC's Moses Jones. She has gone on to appear in Capital, Black Mirror, Luther, Batman v Superman: Dawn Of Justice and Fantastic Beasts And Where To Find Them, winning a TV Bafta in 2017 for Damilola, Our Loved Boy. A few years ago, Mosaku moved to Los Angeles for personal reasons (her husband is from there), continuing to commute back and forth to the UK for work. "It was a big move, but it wasn't going to be detrimental to my career," she reflects. Although it "took a while for me to get Lovecraft Country".
Mosaku was working on Luther when her agent sent the script for His House, in which she and Sope Dirisu play Rial and Bol, a married couple who escape war-torn South Sudan only to end up in a grotty (and haunted) English council house. "I'm not a horror fan," she admits. "I read it and I could feel my heart pounding with pressure. But I also felt this emotional pressure. I was bawling. It really moved me. It really mattered that this story was told, and I wanted to be a part of it in any capacity."
Indeed, the combination of His House and Lovecraft Country, in which she stars as shape-shifting singer Ruby Baptiste, has affected Mosaku in profound ways. "I was someone who used to avoid talking about pain," she begins. "I had this need to make other people feel comfortable, instead of telling them the truth. So I wouldn't talk about racism, white supremacy and patriarchy, because my instinct was to survive, and now my instinct is to tell the truth. Because, in playing someone like Ruby, someone like Rial, you can see what immigrants, refugees, black people, black women have been through. That's the topic of the show. That's the topic of the film.
"And now I have to talk about it with people I would never talk about it with. It's made me be bold, and not shy away," she continues. "I've changed and grown through this process. A lot. I realised my goal can't be just to survive anymore. Part of that was playing nice and taking what I was given with absolute gratitude. But it's taken me 34 years, a pandemic and a global movement against white supremacy to feel emboldened, to be able to speak up."
When Mosaku, who will next be seen in Marvel's Loki, picked up her TV Bafta, she became only the second black actress in 62 years to win, a shocking statistic that makes her Bafta film nomination, alongside three other black actresses — Rocks' Bukky Bakray, The Forty-Year-Old Version's Radha Blank and Clemency's Alfre Woodard — even more of a watershed moment.
"It feels right," Mosaku says. "Bafta did a good job of making sure people saw everything. Because it's very easy to just see the shiny things that come from Holly­wood. And it's not a shiny list, it's great stories.
"I was really moved by Bukky's performance," she continues. "If I could have watched [that] story growing up, maybe I would have found my voice earlier, by just seeing someone who looked like me, sounded like me, seeing her family eating the same food as me. Every story matters."