Ahead of its Venice world premiere, A Bigger Splash director Luca Guadagnino talks to Screen about secret loves and the need for erotic tension with his actors.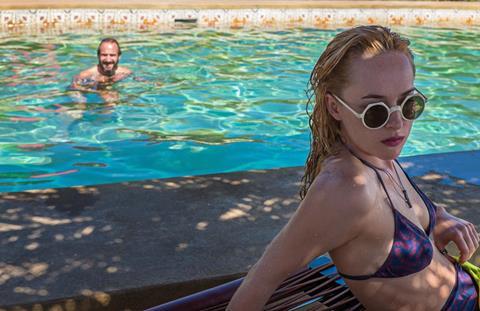 When StudioCanal first approached director Luca Guadagnino about refashioning Jacques Deray's 1969 classic La Piscine the Italian was not without misgivings.
"I only had the faded memories of a screening that I saw when I was young, on TV on a summer night," recalls the 43-year old, who plays in competition sixteen years after debuting on the Lido with crime-thriller The Protagonists.
"My instinct was to understand why they wanted me to revise that kind of loungey, soft, erotic film that had been made in order to exploit the star power of the 'couple of the time', Delon and Schneider."
Romy Schneider and Alain Delon – a 60's 'couple mythique' of near-Burton and Taylor proportion - had separated some years before, but their casting opposite each other in the steamy story of a couple whose holiday is unsettled by the arrival of a friend and his beautiful daughter, caused quite a stir, even before they were joined in the cast by the iconic Jane Birkin and celebrated French actor Maurice Renet.
Guadagnino saw inevitable dangers in taking on a known quantity: "I think it was Jean Renoir who said 'You need to leave the door open to reality when you make a film, otherwise you risk making a product.'"
Indeed, the film had already proved a major influence on Francois Ozon's 2003 drama The Swimming Pool.
So the aim was to "move away from La Piscine with grace and with freedom," says the director who prefers to term A Bigger Splash 'apres La Piscine' rather than a remake.
But Guadagnino also made connections between the source material and themes that have permeated his own films, including his most recent feature drama, the Oscar and BAFTA-nominated I Am Love (2009).
"Basically, I realised that in it lied the ground to explore topics that are very close and very dear to me, such as the power of desire as a subconscious force that navigates people in life, creating conflict, regrets, obsession and distraction, just as much as creativity."
Erotic tension
The film's taut scenario, originally devised by Deray, Jean-Claude Carriere and Alain Page but updated by David Kajganich (The Invasion), would in fact afford Guadagnino an enviable canvas on which to navigate his own desires, in particular through an eclectic and in-demand quartet of actors: Ralph Fiennes, Dakota Johnson, Matthias Schoenaerts and the director's long-time collaborator and muse Tilda Swinton.
"We didn't cast the film by thinking 'who could best embody the 1969 cast', he explains.
The director was instead motivated by a deeper urge. "In general the people I want to work with – the players - are people I need to feel an incredible erotic tension toward. And because, for me at least, to direct, to interact with people, and to collaborate with people, has to do with desire and it has to do with the capacity of being driven by the strong force of wanting to be with them."
"When the movie finishes, great friendships are started, and you relax your eroticism towards your actors, but it's important that you feel for them," he continues.
"Imagine Scorsese and De Niro if there wasn't such a tension," he expands. "Or Almodovar and his actresses. I'm not comparing myself to such masters but I'm talking about the secret love that underlies the relationship between actors, actresses and directors."
The selection of Johnson [for the role once played by Birkin] – who had recently shot soft-core sensation 50 Shades of Grey – was a case in point, playing out something like a whirlwind romance.
After following her career for some years, Guadagnino was advised to meet the young actress by her 50 Shades director Sam Taylor-Johnson. He called Johnson while she was holidaying with some musician friends in Europe.
"Immediately when I spoke on the phone with this very snappy, very clever, very direct girl, I felt 'oh my god! This woman has a very strong personality'."
The next day, the actress left her holiday and friends in France to meet the director in person at his home in Italy.
"Dakota embodies cinema with a capital c", enthuses the director. "Not only because of her background [Johnson is the daughter of actors Don Johnson and Melanie Griffith] but she herself has such a sharp focus, such an intelligence, irony, and total confidence that to work with her has been phenomenal. And I am proud that something has started with her that is going to be a long, beautiful relationship."
Wild landscape
The theme of desire would motivate a number of production decisions, not least the commitment to transpose the film from the south of France to the Italian island of Pantelleria.
"When I think of the concept of the 'policies of desire', I see in front of me a wild violent landscape," says the director.
"I felt you had to have a sort of fifth character –the landscape – which could resonate that policy of desire, and could in a way embody it, reflect it, in a way struggle with it."
"I couldn't find anything more precise or timely than the powerful, brutal violence of the African landscape that Pantelleria represents, even if it's geopolitically Italian. The idea that this is Europe, but it's also Africa, is very strong to me. It magnified the brutal contradictions that western society encounters when it has to confront the 'otherness' of the other."
Rock and Roll
The film's aural texture would take on a more familiar - if not eclectic - tone, but one that would complement its rock and roll casting.
"Another character in the movie is the music of the Rolling Stones," says Guadagnino. "When I met Oliver Courson [Studiocanal CEO] and Studiocanal I told them 'I want this to be a rock and roll film.'"
"The songs of the Rolling Stones are going to have a great role in the film, both in terms of listening to them but also in the spirit of what is going to resonate in the film. The movie is really rock and roll."
The soundtrack ranges from the Stones to Harry Nilsson, Antonio Carlos Jobim to John Adams.
Intimacy
But if the filming process is one of chemistry and 'chaos' for the high-energy Guadagnino, the edit ultimately represents a more sedate affair, an opportunity for revision and reflection, and a welcome pause: "For me, the editing means that you are writing the movie another time and directing the movie another time."
"Actually, it is the moment and process I most enjoy, because it's the moment in which you have intimacy," he admits. "You are in front of your material, with one person you trust. That's a beautiful process for me."
A Bigger Splash has it world premiere in Venice on Sunday, September 6.