US production powerhouse CEO talks to Jeremy Kay about the impact the company's new deal with Lionsgate International will have on its strategy.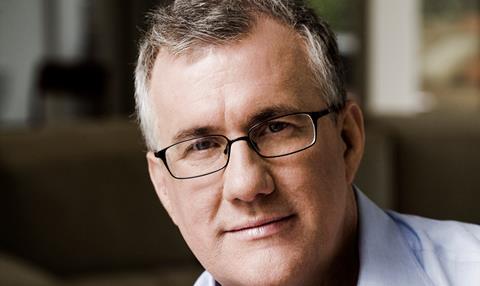 It feels only right that less than 18 months after David Linde was named CEO of Participant Media, the company has made its first concrete moves in the international distribution arena. As the former Universal Pictures chairman and the man who helped established Good Machine with partners James Schamus and Ted Hope — before it morphed into Focus Features — Linde knows as well as anyone the value and importance of reaching a global audience.
Participant, founded by US philanthropist and entrepreneur Jeff Skoll to effect social change, announced its sales pact with Lionsgate International in January. The deal covers Participant films in all territories outside North America, including all available non-output territories for the features that fall under Participant's deal with Amblin Partners as a co-investor alongside Reliance Group, eOne and Alibaba Group.
Universal or Focus will distribute the Amblin features in the US and Participant will continue to work with other domestic distributors on non-Amblin titles.
The arrangement is kicking off at the European Film Market (EFM) in Berlin with an untitled Entebbe project and sci-fi Captive State, and represents a dove-tailing of corporate sensibilities and a mechanism that will enable Participant to build a consumer-facing brand whose films engage global audiences.
"We work with NGOs and foundations to galvanise real action," says Linde. "There's no social impact if nobody sees your movie, and consistent distribution increases the ability to build an ongoing relationship with your audience."
The deal with Lionsgate marks the culmination of a long-term relationship between the two companies. "[Participant was an] investor in Summit and we've made a lot of movies together, so they understand our work," says Linde. "Their ability to provide us a comprehensive approach to placing our content around the world was convincing."
Given that Participant operates on a dual-mission mandate to promote social change and entertain, the potential benefits of the relationship are mutual. The untitled Entebbe project, directed by Brazilian filmmaker Jose Padilha, who shot the Elite Squad franchise and episodes of Netflix's Narcos, just wrapped. The film recounts the 1976 rescue mission by Israeli commandos after pro-Palestinian forces hijacked a passenger jet.
"We have a history of work in the Middle East, like Zero Days, and it's a conversation we feel to be important," says Linde. "It's a nail-biter of an action thriller and is about a defining moment in Israeli and Middle Eastern politics, and that's a pretty contemporary conversation."
Timely reminder
Rupert Wyatt, whose credits include Rise Of The Planet Of The Apes, is scheduled to start shooting Captive State later this month. It is a sci-fi film — a genre Linde appreciates, having earned a best picture Oscar nomination as a producer on the global hit Arrival — about an alien invasion that creates stark divisions among humans.
It is another timely conversation, especially in the early days of Donald Trump's US presidency. "We're building walls and building divisions between us, and this is a movie about what happens when we do that," says Linde.
The goal is to give Lionsgate International five or six narrative features a year. As well as the Entebbe film and Captive State, Patrick Wachsberger and his team could target a Cannes sales launch on Participant's untitled Mexican family drama from Alfonso Cuaron.
Linde and his team will send "up to a couple" of documentary features to Lionsgate each year too. This is a critical part of the company's output — consider the profile and success of films such as Food, Inc., He Named Me Malala and An Inconvenient Truth.
"We're committed to documentaries because we believe in them as having commercial audiences," Linde says, having just witnessed the euphoric Sundance world premiere of An Inconvenient Sequel last month.
Former US vice president Al Gore's second environmental call to arms does not involve Lionsgate — Paramount holds worldwide rights and was on board immediately when Skoll, Participant head of documentary Diane Weyermann and Gore decided to make a follow-up to 2006 global hit An Inconvenient Truth.
An Inconvenient Sequel shot under the codename 'Project Rainbow' for 18 months and nobody suspected a thing. Some 200,000 people watched Gore's Q&A after An Inconvenient Sequel's world premiere, which illustrates the deep following Participant's social-impact group develops among audiences and plans to build on with its acquisition of short-form content creator SoulPancake.
The social-impact team will expand now the international deal is in place. Linde says Participant is considering a London office and there will be a gradual increase of its involvement in television. Meanwhile an in-house international unit will co-ordinate with Lionsgate's team and attend all the major markets.
Once the films have secured international distribution, the audiences kick in. "With our movies there's a fourth act," Linde says, "and the fourth act is the audiences' action to support an issue intrinsic to the film itself."