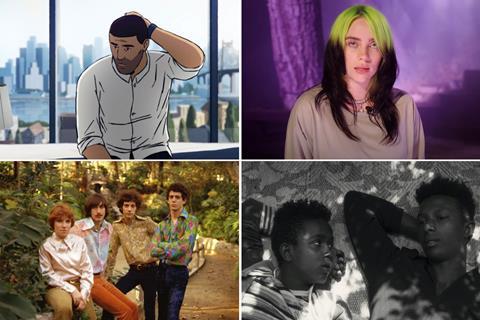 The Independent Spirit Awards can rightly claim to be aligned with the taste of the US Academy documentary chapter, with all five of the Spirits' nominees for best documentary – Ascension, Flee, In The Same Breath, Procession and Summer Of Soul – landing on the Oscar shortlist.
This quintet is joined by other high-profile contenders such as The Rescue (from Free Solo Oscar and Bafta winners Jimmy Chin and Elizabeth Chai Vasarhelyi) and Todd Haynes' The Velvet Underground.
There's a notable international flavour to this year's Oscar documentary shortlist, particularly in terms of subject matter, with the aforementioned Ascension (about work life in modern China), Flee (an Afghan refugee) and The Rescue (the Thai cave rescue mission) joined by In The Same Breath (China's response to the Covid pandemic), Simple As Water (a portrait of Syrian families), Writing With Fire (Dajit female journalists taking on India's establishment) and two films with African subjects: Faya Dayi (the stimulant khat in Ethiopia) and President (Zimbabwe's 2018 presidential election).
There's an even gender split among the directors on the shortlist, with six films solely directed by women (including a pair of women in the case of Julie Cohen and Betsy West's Julia), six solely directed by men, and three with a male-female team.
Last year only seven films were common to the Oscar documentary shortlist and the equivalent 15-strong Bafta longlist – and we are likely to see the lists once again pulling in different directions this year. For a start, only 10 of the 15 films on the Oscar shortlist are submitted to the Bafta Film Awards this year.
When it came to picking the winner, the tastes of Oscar and Bafta voters aligned last year (as they did across virtually all categories), with My Octopus Teacher winning both documentary prizes. It's early days, and all to play for, but awards tipsters will inevitably be running their rulers over the below 15 titles, measuring them for uplift and emotional catharsis – qualities that were deemed to be pivotal to the My Octopus Teacher win last time around.
Ascension
Dir. Jessica Kingdon
Billed as "an inside perspective on modern China from the bottom up", Kingdon's feature debut impressionistically examines what the tireless pursuit of the 'Chinese Dream' means for the country's working-class wage slaves, middle-class aspirants and wealthy elites. The MTV Documentary Films title was first shown at Tribeca, winning two prizes, and it has been picking up plaudits ever since – including a best documentary nomination at the Independent Spirits. MTV Documentary Films released in the US in October, and offers to UK cinemas in January.
Submitted for this year's Bafta Film Awards (MTV Documentary Films)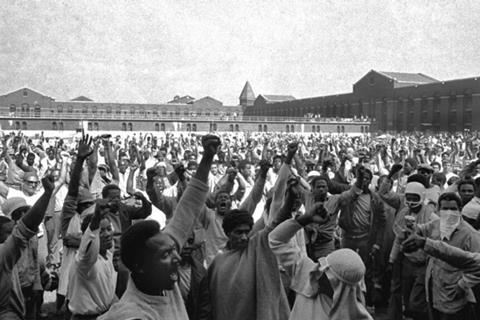 Attica
Dirs. Stanley Nelson, Traci A Curry
Veteran documentarian Nelson may be a three-time Emmy winner but he has yet to be Oscar-nominated. That may well change with this archive- and interview-based account of the 1971 uprising at the Attica Correctional Facility in upstate New York, a violent five-day stand-off between law enforcement and its mostly Black and Latino inmates that brought the issue of prison reform into the national consciousness. The Showtime title, which Nelson co-directed with producer Curry, debuted at Toronto ahead of its Showtime Networks premiere in November.
Not submitted for this year's Bafta Film Awards
Billie Eilish: The World's A Little Blurry
Dir. RJ Cutler
Eilish's title track from No Time To Die is on the best song Oscar shortlist, and she appears on the documentary shortlist as well thanks to Cutler's intimate portrait of her meteoric rise to fame. Following the singer and her brother Finneas as they record and promote the debut album that will change their lives, Cutler's camera captures Eilish at home, on the road and backstage as she creates, among other things, that James Bond title song. Launched on Apple TV+ in February, the film went on to pick up four Emmy nominations.
Submitted for this year's Bafta Film Awards (Apple Original Films)
Faya Dayi
Dir. Jessica Beshir
Premiered at Sundance and seen at numerous festivals since, Beshir's feature debut explores the hold that khat exerts on the people of Ethiopia as both the country's biggest export and a stimulant consumed by millions. Shot in black and white, her film employs visual and aural devices to convey khat's psychoactive properties while also highlighting its impact on those who use and produce it. Nominated for the BFI London Film Festival's Grierson Award for documentary feature, Beshir's film has also made the shortlist for the Independent Spirit Awards' Truer Than Fiction prize. Janus Films released in the US in September, while Mubi has international rights.
Not submitted for this year's Bafta Film Awards
The First Wave
Dir. Matthew Heineman
Heineman's 2015 documentary Cartel Land received an Oscar nomination the following year and gave him enough cachet to make his dramatic directing debut with Marie Colvin biopic A Private War. The war against Covid is the subject of this feature, which follows emergency medical responders in New York as they tackle the virus's devastating initial onslaught. First shown in October at the Hamptons International Film Festival, the film, a product of National Geographic's Documentary Films strand, was seen soon after at London and Busan and was released into US cinemas by Neon.
Submitted for this year's Bafta Film Awards (National Geographic)
Flee
Dir. Jonas Poher Rasmussen
Coming off a festival run that brought it kudos including Sundance's world cinema documentary jury prize and Annecy's best feature Cristal, Flee is a triple-threat contender in documentary, international feature and animated feature categories – and could even contend in best picture. Writer-director Rasmussen and a multinational producing team tell the story of a man who, on the verge of marriage to his boyfriend, reveals the secrets of his journey from Afghanistan to Denmark as a child refugee. Neon released in the US in early December.
Submitted for this year's Bafta Film Awards (Curzon)
In The Same Breath
Dir. Nanfu Wang
Launched at Sundance ahead of a limited theatrical release by HBO Documentary Films and broadcast debut on HBO in August, Wang's documentary recounts the early days of the coronavirus outbreak and how its initial spread was tackled in China and the US. Its focus is not just on the virus's devastating human cost, conveyed via first-hand accounts and on-the-ground footage, but also on how those countries' respective regimes sought to shape public perception of the escalating crisis. Wang's earlier effort One Child Nation attracted significant awards attention in 2020.
Not submitted for this year's Bafta Film Awards
Julia
Dirs. Julie Cohen, Betsy West
Julia Child, the best-selling cookbook author and eccentric TV celebrity that Meryl Streep got an Oscar nomination for playing in 2009's Julie & Julia, gets the documentary treatment from the directing duo who received Oscar nominations themselves for 2018's RBG. Their follow-up has heavyweight backers in Imagine Entertainment and Sony Pictures Classics, and played at Telluride and Toronto ahead of a boutique US release in November. Cohen and West also had biographical documentary My Name Is Pauli Murray in contention for awards this year, but it didn't make the Oscars shortlist.
Submitted for this year's Bafta Film Awards (Sony Pictures Classics)
President
Dir. Camilla Nielsson
Having previously surveyed Zimbabwe's political landscape in her 2014 feature Democrats, Nielsson returned there following Robert Mugabe's removal from power to chronicle Nelson Chamisa's charismatic if ultimately unsuccessful campaign to defeat Mugabe's anointed successor in the country's 2018 general elections. Following its premiere at Sundance, where it won a special jury award for verité filmmaking, President was seen at various 2021 festivals before receiving a limited US release in December via Greenwich Entertainment.
Not submitted for this year's Bafta Film Awards
Procession
Dir. Robert Greene
Greene used dramatic reconstruction as a tool in such previous documentaries as Bisbee '17 and Kate Plays Christine, and deploys it again to help six male survivors of sexual abuse cope with the trauma they suffered from Catholic priests as children. First shown at Telluride, the Netflix title received a limited cinema release before debuting on the platform in November. Awards attention so far includes nominations for best documentary at the Critics Choice Awards and the Independent Spirits.
Submitted for this year's Bafta Film Awards (Netflix)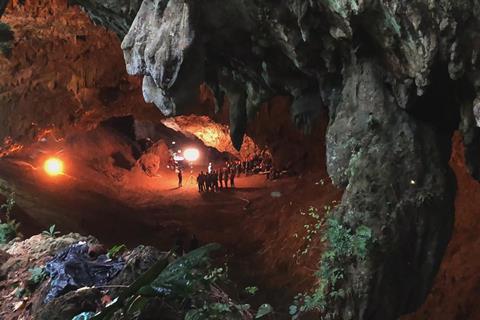 The Rescue
Dirs. Elizabeth Chai Vasarhelyi, Jimmy Chin
Vasarhelyi and Chin won the documentary Oscar and Bafta for Free Solo and they reteamed with National Geographic to chronicle – using new and archive footage plus some reenactment – the 2018 rescue of 12 boys and their football coach from a flooded cave in Thailand (an operation already dramatised in a Thai film and subject of at least one upcoming US feature). The new film, which won Toronto's People's Choice documentary award before getting a platform US release in October via Greenwich Entertainment (grossing $1.1m), could particularly resonate in the UK thanks to its focus on the British cave divers involved.
Submitted for this year's Bafta Film Awards (National Geographic)
Simple As Water
Dir. Megan Mylan
First seen at Tribeca in June ahead of an HBO premiere in November, Mylan's film – shot over five years in five different countries – follows members of four Syrian families as they individually grapple with separation, immigration and displacement. Billed as "a love story celebrating the bonds of family", it could earn Mylan her second Oscar nomination – following her documentary short win in 2009 with Smile Pinki, her film about an Indian child undergoing surgery for a cleft lip.
Not submitted for this year's Bafta Film Awards
Summer Of Soul
Dir. Questlove
The winner of both the grand jury prize for best documentary and the audience award at Sundance, Questlove's rousing film about the now legendary 1969 Harlem Cultural Festival is a strong contender for documentary nominations, where its feel-good credentials and cultural timeliness could stand it in good stead. Subtitled (…Or, When the Revolution Could Not Be Televised), Summer Of Soul was released theatrically in the US by Searchlight Pictures and digitally by Hulu, and is nominated at both the Critics Choice Awards and the Independent Spirits.
Submitted for this year's Bafta Film Awards (Searchlight Pictures)
The Velvet Underground
Dir. Todd Haynes
With his first feature documentary, Haynes creates an impressionistic portrait of New York's coolest ever band, using period avant-garde film and audio as well as new interviews with the likes of founding member John Cale. Screening at Cannes, Telluride, San Sebastian and elsewhere before launching in cinemas and on Apple TV+ in mid-October, The Velvet Underground landed four nominations at the Critics' Choice Documentary Awards – for music doc, archival doc, editing and first feature – but was passed over at the Independent Spirits.
Submitted for this year's Bafta Film Awards (Apple Original Films)
Writing With Fire
Dirs. Rintu Thomas, Sushmit Ghosh
A film about crusading female journalists reporting the news in the face of ingrained sexism, a rigid caste system and powerful vested interests, Writing With Fire presents a view of India that is both rarely seen and quietly revolutionary. The film has been impressing juries and audiences alike since launching at Sundance, where it won two prizes, and its extended tour of the festival circuit includes an audience award win at IDFA. Music Box Films released in the US in November.
Submitted for this year's Bafta Film Awards (Autlook Films)