A combination of dedicated infrastructure and excellent locations tempted Starz back to south-west England for new costume drama The Spanish Princess.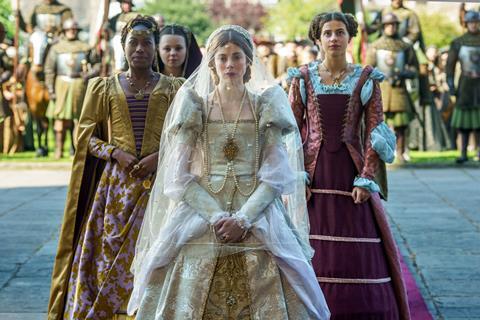 In the end, it was the obvious decision for US cable channel Starz to return to south-west England for its new Tudor costume drama The Spanish Princess, which tells the story of Catherine of Aragon's romance with Henry VIII. Based on Philippa Gregory's novels, the series is a follow-up toThe White Princess and, like its predecessor, is being made at Bristol's The Bottle Yard Studios and on location throughout the region.
"What we needed for this project to work was a lot of medieval buildings, whether it be castles, country houses or cathedrals," explains production designer Will Hughes-Jones of the lure of a region rich in historical buildings.
These include Gloucester Cathedral ("the most beautiful cloisters in the country," says Hughes-Jones), Berkeley Castle, Wells Cathedral (doubling for Westminster Abbey), Caerphilly Castle and Salisbury Cathedral. The production found these buildings to be surprisingly versatile, with gardens, battlements and rooms that can be used as menageries or armouries. Another plus was that "the south-west offers breathing space around the buildings", says line producer Kate Dudley.
"When we find somewhere, we use it to its maximum," Hughes-Jones says of several locations utilised by The Spanish Princess in both the south-west and close neighbour Wales, which included UWC Atlantic College, a functioning educational college on the site of a 12th century castle in south Wales.
And the region is not only rich in locations and buildings. "There are some really good crews," Hughes-Jones says of the local technicians. With travel from Bristol to London along the M4 motorway being only a couple of hours, he notes that, in addition to crew local to the studio, "quite a lot of the crews live in the west corridor anyway, out toward Pinewood and Slough". Indeed, Hughes-Jones was so keen on the crew members he has found in the region that he employed several of them on his latest high-end TV series, TNT's period drama The Alienist.
Palatial set
For their version of the Palace of Westminster — a maze of 17 interconnecting rooms — the production made use of The Bottle Yard Studios. Early on during shooting, HRH the Duke of Kent came to see the set and was startled by the accuracy of the recreation; albeit surprised to see how much polystyrene and timber were being used.
"We have a good relationship with The Bottle Yard. They managed to move things around so that we could have their biggest build space," says Hughes-Jones. "It's a fantastic facility in terms of [construction] space, workshops and office space, and in creating a hub for us to go out to places such as Wales and Gloucester."
"It has evolved from something that started from scratch to something that has fantastic build spaces," agrees Dudley of the facility. "It [helps] make your money go further. It also benefits from being run by a team who come from a filmmaking background. [Site director] Fiona Francombe is an ex-location manager and so she understands what productions are looking for."
The Spanish Princess is broadcast on Starz in the US.