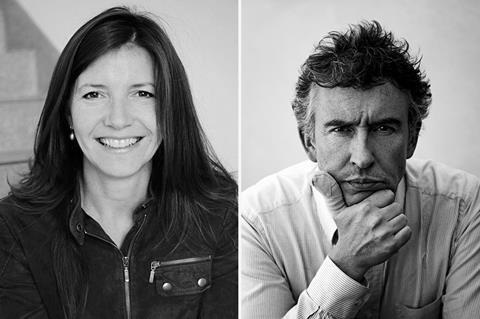 Need to know: Baby Cow Productions was set up by writer-comedians Steve Coogan and Henry Normal in 1999. BBC Worldwide became majority shareholders in 2016, the year Christine Langan departed BBC Films to join as chief executive. Baby Cow works across film, television and radio. Its roots are in comedy, but it has also made documentaries and dramas. In 2013-14, it achieved international success with Stephen Frears' Oscar-nominated Philomena, and successfully brought Coogan's Alan Partridge to the big screen in Alpha Papa. Baby Cow aims to have one or two feature films in production each year alongside its other work.
Key personnel: Steve Coogan, founder; Christine Langan, CEO.
Incoming: Julie Delpy's My Zoe, produced by Baby Cow's regular partner Gabrielle Tana of Magnolia Mae, is in post-production. It has projects in development with Pathé, Film4, BBC Films and Lionsgate. Coogan and writer Jeff Pope, who collaborated on Philomena, are working together on new feature scripts. The company is developing Zadie Smith's novel Swing Time and Deborah Levy's novel Hot Milk, and also has projects from writers Rebecca Lenkiewicz and sisters Henrietta and Jessica Ashworth on the boil as well as a comedy from Simon Farnaby.
Christine Langan says: "You have to let the project dictate its own destiny. You may have an agenda about what you want but material will let you know where it is best served. Being flexible is important. The immersive quality in film — the refreshing experience of having an end in sight — is appealing."
Contact: info@babycow.co.uk