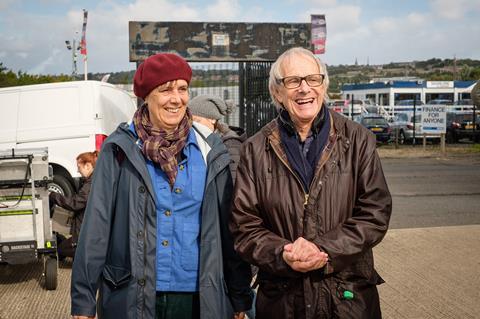 Need to know: Director Ken Loach and producer Rebecca O'Brien founded Sixteen Films in 2002, and have produced all of Loach's films since, including both his Palme d'Or winners, The Wind That Shakes The Barley and I, Daniel Blake, as well as other projects including Louise Osmond's Versus: The Life And Films Of Ken Loach. It also co-produced Lynne Ramsay's You Were Never Really Here, Tom Harper's War Book and Jim Loach's Oranges And Sunshine.
Key personnel: Ken Loach, director; Rebecca O'Brien, producer; Paul Laverty, writer; Habib Rahman, COO; Jack Thomas-O'Brien, development executive.
Incoming: Loach is now shooting contemporary drama Sorry We Missed You in and around Newcastle, about a family struggling in the gig economy after the financial crisis (eOne has UK rights and Wild Bunch handles international sales). Projects in development include Gaza-set comedy drama Catch The Moon written by Anne Koski-Wood and directed by Sameh Zoabi; Snowbird to be written and directed by Louise Osmond; Harvest, which is adapted from Jim Crace's book about a late-medieval village and is being co-developed with Joslyn Barnes; feature documentary Jailbirds to be directed by Kes Glozier; and TV series This Is How It Ends, to be directed by Tim Fywell and written by Regina Moriarty.
Rebecca O'Brien says: "I think the stories we are telling are more overtly political than most and we are very committed to that social agenda… We have our own small niche. Over the past 25 years we have been consistently making European co-productions, which has consolidated sales for our films in that market. Brexit is very concerning as it's difficult to predict how we will have to change our model, but we will certainly have to change. I am keeping everything crossed that we will find a way to remain part of Creative Europe and I also hope we will rejoin Eurimages so that we can retain some decent links with what, to us, is far and away our best group of territories."
Contact: jack@sixteenfilms.co.uk