It took 16 years to make Mel Gibson's epic war film, with the $40m budget one of many stumbling blocks.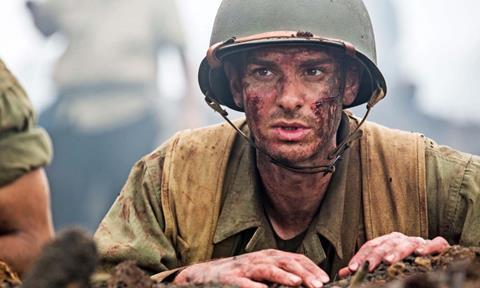 If you hadn't heard of Desmond Doss before watching Hacksaw Ridge, you are in good company. Producers Bill Mechanic and David Permut had not heard of him either, much before they began the journey to bring Doss's story to the big screen.
Doss was a Seventh-day Adventist who enlisted to serve in the Second World War but refused to carry a weapon, instead becoming a US Army medic at the centre of the ferocious Battle of Okinawa.
He became the first conscientious objector to receive the Medal of Honor - the US's highest military honour, awarded by the president to military personnel for acts of valour above and beyond the call of duty - after he saved the lives of an estimated 75 soldiers during the vicious conflict.
Despite his incredible endeavours, Doss was not interested in seeing his story immortalised on film.
Hal B Wallis, the famed producer of Casablanca and the 1969 version of True Grit, failed to acquire life rights from Doss after he returned from the war, and the unassuming hero also resisted approaches by legendary producer Darryl F Zanuck and Audie Murphy, the star of The Red Badge Of Courage who had himself been awarded the Medal of Honor.
The early draft
Decades passed, and Doss lived out his quiet life.
Around 2000, Permut, whose producing credits include John Woo's Face/Off, heard about him through a stuntman on set and made an approach.
"He was a very modest and humble man who never considered himself a hero," says Permut, whose latest production The Polka King has just premiered in Sundance.
Doss's friends at the protective Seventh-day Adventist congregation had encouraged him to allow filmmaker Terry Benedict, the writer/director/producer of a 1997 indie drama called Painted Hero, to make a documentary: 2004's The Conscientious Objector.
Off the back of that, Permut commissioned Benedict to write an early draft of what would become Hacksaw Ridge, an account of Doss's enrolment in the US Army and subsequent heroics in the Pacific.
Permut and Benedict then brought the project to Pandemonium Films founder Bill Mechanic, producer of Terrence Malick's The New World and Henry Selick's Coraline who had just left Fox Filmed Entertainment after six years as chairman.
Mechanic loved the idea and negotiated to buy life rights.
He brought on Pulitzer Prize winner Robert Schenkkan to write the script and, in 2002, made the first of what would become three approaches to Mel Gibson, with whom he had made Braveheart.
"It seemed to me Desmond Doss and William Wallace are the same guy," says Mechanic.
"One's violent and one's not violent, but they're both men of principle who are prepared to die for what they believe in. It made sense to see if Mel was interested."
Gibson's company Icon liked the script but initially passed.
Mechanic was eager to press on, and sold Hacksaw Ridge to Walden Media in 2003.
"That's when we got into prison of sorts," he says with a wry smile.
He has kind things to say about Walden but recalls a mounting frustration when the project languished at Philip Anschutz's faith-based, family-friendly company for more than a decade.
Initially, however, Mechanic and Walden had believed they had a "go" movie. The production team got the budget down to $40m, while Mechanic found a director (who eventually moved on) and hired Randall Wallace to take another pass at the script.
At that stage, however, the project hit a roadblock.
While Mechanic, Permut and Schenkkan were willing to highlight Doss's faith, they were not prepared to water down the story and baulked when Anschutz proposed a PG-13 version.
"When I sold it to [Walden], it was Saving Private Ryan - the most violent battle in the Pacific [where some] 300,000 people died," explains Mechanic. "So I didn't understand how it could be a PG-13. [Doss] was a medic and you have to see him tend to people to see if he believes in what he believes in. Will he pick up the gun or not?"
Such creative differences kept Hacksaw Ridge in limbo for years.
Mechanic admits he almost gave up on the project until he was able to buy it back in 2014. This was also the year Gibson, who had passed on directing for a second time in 2010, finally said yes.
"It went to my heart," says Gibson of the decision. "I found it a very moving and compelling story. It ticked all the boxes, and I climbed aboard willingly with Bill and David."
Missing pieces
Icon was not interested in financing the project, however, so Mechanic had to find the missing pieces in the jigsaw.
"I thought I'd get the money out of Australia and we'd do foreign sales and do it independently," he says. "We had two actors in the mix and I thought Andrew [Garfield] would be great.
"I flew back to Australia to make sure I could qualify the picture with a subsidy and the only way I could do this was for it to qualify as an Australian picture. Because I'd made two movies there, I had the support of the government [and] they deemed Mel to be Australian. Screen Australia approved, which allowed us to go for foreign sales.
"Any doubts about Andrew and the noise surrounding Mel [after his DUI arrest and notorious outbursts in the mid-2000s] went away. Cross Creek Pictures came on board to put in the equity and that was it. IM Global had been chasing the project [as sales agent]. I'd met with Stuart [Ford] and he liked the project."
Cross Creek underwrote it and eventually split the equity 50-50 with Los Angeles-based Demarest.
After three months of pre-production, Hacksaw Ridge filmed over 59 days in and around Sydney in late 2015.
"It was a killer. We ended up squeezing another couple of days out of it," says Mechanic, who funded those final few days with Gibson out of their own pockets.
The budget was set at $40m - an extraordinary figure given the epic scope captured on screen.
"Braveheart was $70m and it's incredible that 23 years later we had to make this for that [amount]," says Mechanic.
"We were under the gun and we had to go as fast as I've ever gone," adds Gibson, whose daily resourcefulness drew admiring comments from those around him.
"Mel might be in the tent but, if something wasn't working, he'd run out, throw himself on the ground and demonstrate what he wanted," says effects supervisor Chris Godfrey. "It's hard to say no to a man who is willing to literally throw himself into the action for his art."
The battle sequences are brutal, yet Gibson remained unperturbed.
"It was ultimately very do-able," says the director, who took pains to stitch together the "chaos and the madness" with a through-line that allowed viewers to follow the characters.
"I wanted the audience to get put in a foxhole a little bit so they could appreciate what it would take for a guy to stay up there and do what he did."
To recreate the 350-ft Maeda Escarpment, over which Doss winched dozens of wounded men to safety, the crew shot in Goulburn, a site Mechanic had first scouted in 2003.
They earmarked a plateau for the battlefield, but relocated to a nearby farm at the eleventh hour when authorities blocked their first choice.
"We needed a 360-degree view and we had 270 because one corner wasn't great, but we worked around that," says Mechanic.
"Then environmentalists blocked us from cutting down half the trees we were supposed to cut, so we ended up with 180 degrees and had to keep resculpting the battlefield. The fact you can't see it in the movie is a testament to the production design and to Mel, who wasn't happy about it but was undaunted and kept looking for solutions."
Sound and fury
While all the weaponry in Hacksaw Ridge was authentic to the period, the film's re-recording mixer and longtime Gibson collaborator Kevin O'Connell, explains that the sounds were embellished to make them richer.
"Any time you're working on a Mel film, they're sonically challenging," he says. "His movies are usually fairly intense."
He recalls how the director would often shriek unexpectedly through a megaphone to enhance a sequence.
To save time, O'Connell pre-mixed dialogue in Sydney at the same time as sound designer Rob Mackenzie and supervising sound editor Andy Wright pre-mixed sound effects nearby. They all decamped to Los Angeles for the final mix.
Ultimately, everything came together. Hacksaw Ridge is an AFI and National Board of Review top film of 2016, and has earned six Oscar nominations including best director for Gibson and best picture, alongside five Bafta nominations and three Golden Globe nods. Global box office stands at more than $157m through international licensees and US distributor Lionsgate.
Mechanic cites Hacksaw Ridge as one of the crowning achievements of his career. Permut recalls everyone had tears in their eyes at the sole test screening in early 2016, long before the premiere at Venice Film Festival.
"It's been worth every moment of this 16-year journey to have put it in the rights hands of Mel Gibson," he says.