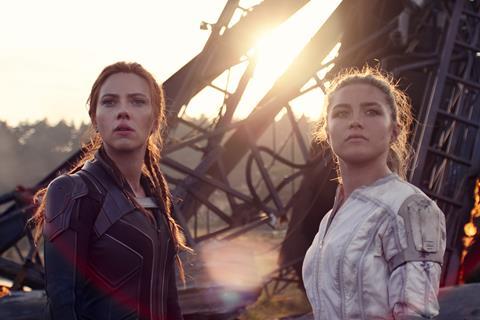 To say UK and Ireland cinemas began 2021 in less-than-confident mode would be an understatement: 2020 had ended with box office for the year totalling just £323m (around $437m) — 76% down on the previous year. Cinemas had been ordered shut once again, following a cautious reopening in July 2020, and a series of tiered and national restrictions severely disrupted operations.
The Covid-19 pandemic continued to impact the UK and Ireland exhibition industries throughout 2021 — and especially in the first two quarters, with venues not permitted to reopen until May 17, initially with capacity limits applying (regulations varied throughout the various nations of the English-speaking box-office territory).
Given all this, the £576m ($780m) UK and Ireland box office reported by data gatherer Comscore for 2021 (to December 30) must be seen as a positive outcome. It is a 78% increase on 2020, and achieved from just seven-and-a-half months of trading. In 2020, after the pandemic hit in March, no film grossed more than £20m ($27.1m) in the territory — Tenet was the top title post-pandemic with £17.5m ($23.7m). In 2021, five films — No Time To Die, Spider‑Man: No Way Home, Dune, Shang-Chi And The Legend Of The Ten Rings and Peter Rabbit 2 — made at least £20m, and the top two titles are £60m-plus. A healthy 17 films grossed at least £10m ($13.5m), spreading the wealth across a range of titles including family animation The Croods 2: A New Age and genre sequel A Quiet Place Part II (see top 30 chart).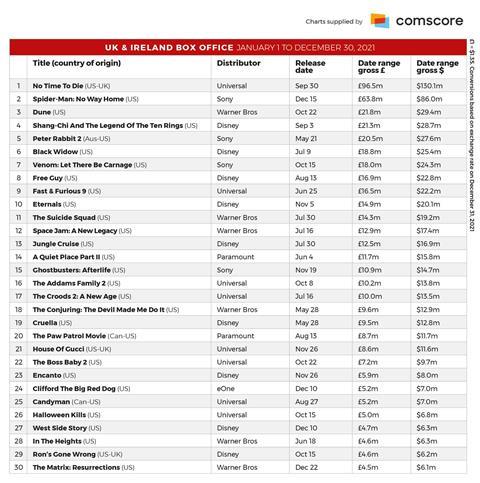 UK Cinema Association CEO Phil Clapp and Film Distributors' Association CEO Andy Leyshon — speaking respectively on behalf of the UK's exhibition and distribution industries — are keen to see the positives. "We have to be very happy with the UK box-office recovery since mid-May when cinemas were allowed to start reopening," says Leyshon. "After a stop-start, misfiring 2020, if anybody had offered these kinds of numbers for 2021, we would have bitten their hand off."
Despite the welcome upturn from the doldrums of 2020, UK and Ireland cinemas still have a long way to go to achieve full recovery. Total box office for 2019 — the last full year before the pandemic — was £1.35bn (around $1.8bn), and 2021 is 57% down on that number. The lopsided nature of the box office in 2021, with the top two titles accounting for 28% of annual ticket revenue, suggests that an overall weakness is being camouflaged by the extraordinary success of a couple of films featuring James Bond and Spider-Man.
Six films released in 2019 reached £50m (£68m), and collectively those titles grossed £401m ($543m). That year, 16 films reached £20m — compared to just five in 2021. Even allowing for the fact cinemas were closed until mid-May, there has been a lack of depth in the 2021 line-up of hits. Clapp agrees the paucity of titles pushing very far past or even reaching £20m is a concern. "Almost no matter how well critically reviewed they were, they weren't breaking through in the way you probably would have expected pre-Covid."
But Leyshon resists the word "lopsided" to describe the 2021 box office, as well as comparisons to 2019. "The yearly results and pattern of sustained box-office success pre-pandemic was astonishing, so you cannot expect to immediately be back in that rarefied air," he suggests.
Studios on top
After a 2020 when the traditional dominance of US studios in distributor market share was shaken, 2021 saw a return to a more-familiar pattern. In 2020, eOne Films achieved top market share in the UK and Ireland, thanks largely to one film — 1917 — released before Covid struck. No company achieved more than 16% share, and nine companies secured at least 4% of the box-office market.
In 2021, Universal, Sony, Disney and Warner Bros dominated the territory, with a combined 87% share, and no other company managed as much as 4%. Those four studio distributors plus Paramount were the only ones to exceed 2% share. Among the indie distributors making the top 10 by market share in 2021, re-release specialist Park Circus and event cinema leader Trafalgar Releasing notched up their box-office totals through notably high numbers of titles.

After 2020, in which original intellectual property staged a revival with 1917, Tenet, Parasite and Guy Ritchie's The Gentlemen among the year's 10 biggest hits, 2021 saw existing IP thoroughly dominate, just as it had done in 2019 (when Quentin Taran­tino's Once Upon A Time In Hollywood was a rare original story achieving blockbuster numbers). In 2021, the top original-IP films were Ryan Rey­nolds-starrer Free Guy (ranked number eight for the year), and Ridley Scott's House Of Gucci (in 21st place). It could also be argued Jungle Cruise, in 13th place, did not much rely on the fame of the pre-existing Disney theme-park ride for its success.
Few women were entrusted by studios with directing major tentpole releases in 2021, with Disney's Marvel being a notable exception. Cate Shortland's Black Widow (£18.8m; $25.4m) and Chloé Zhao's Eternals (£14.9m; $20.1m) were the only two female-directed titles among the year's top 10 hits in UK and Ireland.
House Of Gucci, with £8.6m ($11.6m) by year's end, was a rare example of an adult drama connecting with broad audiences, and the lack of breakthrough indie hits was notable.
Nomadland (£2.2m; $3m) and The Father (£2.1m; $2.8m) were both released while cinemas were operating with capacity restrictions, and the former was available simultaneously on Disney+, so allowances must be made. More concerning are the outcomes for recent awards season titles such as King Richard (£1.5m; $2m) and Spencer (£2.8m; $3.8m), and ditto the weak performance of Steven Spielberg's West Side Story, which took £4.7m ($6.3m) to December 30.
While older audiences were evidently slow to return to cinemas after the mid-May reopening, they did show up for No Time To Die in October, and Clapp reveals data showing that for audiences taking advantage of Meerkat Movies' two-for-one ticket offer, the Bond film was the first time back to the cinema in the pandemic era for 37% of them. "Bond was the hinge point to get people back in," says Clapp. "That said, one of the challenges we face having captured that audience is to persuade them to come back in repeatedly."
For Leyshon, "It is hard to call how older or vulnerable audiences will return, and we likely expect a slower recovery, but this is also dependent on how we navigate the pandemic and the slate mix. Older audiences came out for the four-quadrant Bond movie, so we have to believe they will be there for the right films again."
Charts: £1 = $1.35. Conversions based on exchange rate on December 31, 2021