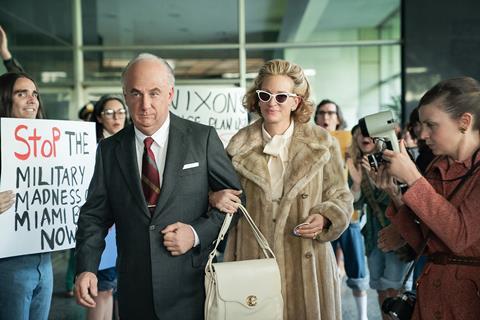 Books have a long track record for inspiring TV dramas, providing the storylines and characters for countless screen adaptations — and handsome paycheques for authors when their work is adapted. Yet the printed word is facing stiff competition, with the booming podcast industry emerging as a popular source of material for scripted TV producers.
Podcasts have inspired many of this year's highest-profile TV dramas. Starz's Watergate break-in series Gaslit, starring Julia Roberts and Sean Penn, drew inspiration from Slate Plus's history podcast Slow Burn. Hulu's The Dropout, starring Amanda Seyfried as Theranos founder Elizabeth Holmes, and Apple TV+'s WeCrashed, with Jared Leto playing WeWork's charismatic founder Adam Neumann, were based on the eponymous podcasts by ABC News and Wondery respectively.
Amazon Music-owned podcast network Wondery has emerged as a key source of material for TV. Its true-crime podcast The Shrink Next Door also inspired the Apple TV+ show of the same name, starring Paul Rudd and Will Ferrell. Two recent Peacock series — neurosurgeon crime drama Dr. Death and Tiger King scripted show Joe Vs. Carole — were both adapted from Wondery podcasts.
Wondery was an early pioneer in this field: its true-crime podcast Dirty John was adapted back in 2018 by Bravo. And Marshall Lewy, chief content officer at Wondery, says the company has several more of its podcasts in TV development. These include two for FX: Gladiator: Aaron Hernandez And Football Inc on the rise and fall of the NFL superstar, for Ryan Murphy's new scripted anthology series American Sports Story; and Dying For Sex, the true story of a terminally ill woman who left her husband to explore her sexuality.
Explaining why so many podcasts are now being adapted for television, Lewy says they are more than just source material. "They are proof of concepts," he says. "They are episodic shows that provide the basis for a structure that might work [in TV], even though it's a different medium." On top of that, he points out, successful podcasts have a built-in audience that can follow the adaptation to TV.
Podcast producer Campside Media, which is part of independent studio group Sister (Chernobyl, The Power), is only two years old but has seven of its podcasts under option for TV, according to co-founder Adam Hoff. These include true-crime tales Chameleon: Hollywood Con Queen with eOne and Run, Bambi, Run for Apple TV+. The company also has a first-look deal with Sister, which has optioned The Bering, about the rescue of 47 crew aboard a sinking Alaskan fishing boat.
Hoff reckons that podcasts' ability to "emotionally connect" with audiences is another reason why so many are picked up for adaptation. Showrunners and actors "fall in love with these shows", he says and become determined to make them work. "There's an intimacy to them — people can't shake these things."
Successful podcasts also build in plenty of twists and turns as well as cliffhangers, to keep audiences tuned in from episode to episode. They are bingeable in a way that TV dramas must also be to succeed.
Audience preference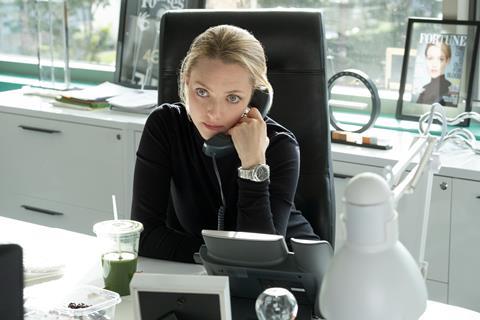 Hoff links podcasts' growing popularity to the observation younger generations are reading less and less these days. That even applies to scripts. "It's much harder to take a script out and to get all the dominoes to fall because people aren't going to read that script," he says. "But a podcast is much more exciting for them to listen to."
Actor Nikolaj Coster-Waldau recalls listening to several different podcasts during the pandemic lockdowns. He says he has loved audio ever since he started as an actor in the early 1990s, working in radio drama in Denmark.
Now, the Game Of Thrones star has co-­created his own podcast series, Audible Original crime drama Radio­man, written by Joe Derrick. Set in a fictional town in northern England, the story follows a former radio DJ who starts a podcast as part of a mission to investigate a series of gruesome murders, working alongside his police inspector friend, played by David Morrissey. Television drama indie Big Light (Leonardo, The Man In The High Castle) produced alongside podcast firm Vespucci, and Coster-Waldau and Derrick's Ill Kippers. The team has focused on producing "the best podcast possible", says Coster-Waldau. But he is frank in his hope that it might be adapted as a TV series too.
Podcasts, says Big Light Productions creative director Emily Feller, allow TV producers to explore the "peaks and troughs" of the story and the arc of the characters. At a time when top TV writers are frantically busy, "if you've found a story that works, it just helps to push forward an idea quicker because everyone is just so hectic." Feller says Radio­man has "laid the seeds for a lot of the elements that we want to allow to grow into television".
One of the reasons so many podcasts are being adapted for TV, Coster-Waldau believes, is that "you can almost see it when you hear it — even though it's not a visual medium, you almost have a visual experience when you listen to a great podcast". Another reason, he adds, is because of the sheer volume of podcasts now being produced — giving TV producers plenty of choice.
The figures bear out his point. The defining year for podcasting was perhaps 2014, when NPR launched Serial, the true-crime series that became a global phenomenon. It was the fastest podcast to reach 5 million downloads on iTunes and triggered a wave of wannabes. That same year, Apple installed the podcast app into its operating system — suddenly iPhones had podcasts on the home screen. Now there are more than 2 million titles on Apple Podcasts, while Spotify boasts 3.2 million podcasts.
These break down into two very different kinds of podcasts. On the one hand, there is the daily or weekly interview, chat and news shows, such as The Joe Rogan Experience and The Daily. Some of these 'always on' shows make good money from advertising. The Interactive Advertising Bureau and PricewaterhouseCoopers recently projected the industry will generate $2bn in revenue this year and $4bn by 2024.
Then there are narrative-driven fiction and non-fiction shows. Limited runs mean they find it more difficult to attract attention, and can therefore be tricky to monetise through advertising. So, a "lifecycle outside of audio" is an important consideration for investors, says Campside's Hoff. "When we set up the company, factoring in what the IP value might be and what the TV rights might turn into was a big part of our modelling," he says.
Option fees alone are not enough to build a business on, however. So it is important to get TV shows made and, in this respect, scale counts. "You can use the same logic that film financiers used to use — if you have a slate of 10, you hope that two [successes] will pay for the other eight," says Hoff.
At Wondery, TV is "an important part of our business because podcasting is still a nascent media," says Lewy. It is an opportunity to make returns on investment, but also to bring more audiences to original podcasts. "It's about much more than the dollar figure we make on one project," says Lewy. "It's about the whole opportunity."
Top-tier talent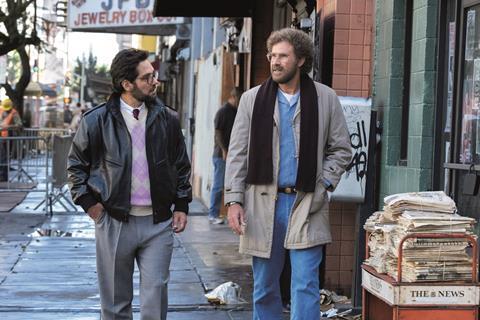 Explaining its strong podcast-to-TV hit rate, Lewy says that Wondery tries to set up its podcasts for TV success by working with top-tier talent on the adaptation. Notably, Wondery partnered with Rudd and Ferrell on The Shrink Next Door, Kate McKinnon for Joe Vs. Carole, and New Girl creator Liz Meriwether for Dying For Sex. "These are relationships that we made based on them hearing the podcast," he says. "So we're working with this great talent before it is even getting in development at various platforms and streamers."
Wondery's head of film and TV Aaron Hart is responsible for spearheading the development of its podcasts for the screen. Hart and Lewy will also act as non-writing executive producers on its shows, and remain involved creatively throughout the process. Yet the possibility of a TV deal is never the first consideration when Wondery decides what to greenlight as a podcast, says Lewy — it is all about the quality of the podcast.
"If you're making podcasts because your goal is then to turn it into a TV show, you're almost destined to fail," he insists. But a lot of its decision-­making around podcasts naturally applies to TV too. "We want great characters, a story that nobody has told before, and [podcasts] that are compelling and carry our listeners from episode to episode."
Hoff says that Campside's conversion rate from podcast to TV option is about 80%. The reason, he explains, is that Campside "works in lockstep" with showrunners and directors at the earliest stages of podcast projects. Campside might have six ideas on its slate that it is passionate about. If there is one that a well-known showrunner is keen on, that is the one it will press ahead with. It is not about the tail wagging the dog, says Hoff, but making "smarter choices".
Timing is important too. Podcast firms hoping for TV interest cannot wait until a podcast is released to hunt for that deal. "By the time you go to the network, they're like, 'Oh, that old podcast,'" says Hoff. Campside aims to have a podcast pitch ready early on so it can introduce studios, producers and platforms to each of its shows.
Despite their headline-grabbing success, however, podcasts are not a quick route to a TV drama commission. Big Light's Feller says one of the things she learned making Radioman was "just how high-end you make podcasts these days". The Radioman team focused on creating a "completely immersive experience in a fiction world", working with songwriter, composer and producer Benbrick whose credits include award-winning Have You Heard George's Podcast. "I'm not sure I had ever appreciated just how layered and complex one can create sound until we worked with Benbrick," says Feller.
While development and production can be much quicker than a TV series, the smaller budgets for podcasts are a challenge. During production, the Radioman team focused on using studio time efficiently with the many actors who would come in to record their parts. "When you have the studio, you have to keep recording every second," says Coster-Waldau. "It was intense but, creatively, incredibly inspiring."