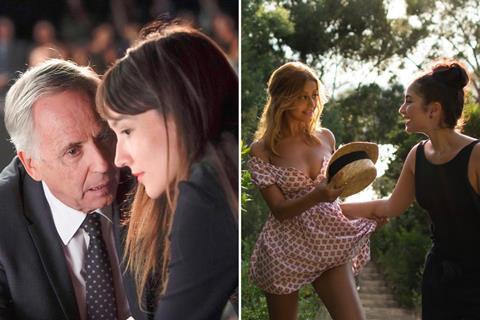 Nicolas Pariser's drama Alice And The Mayor and Rebecca Zlotowski's An Easy Girl have scooped the top prizes at Cannes Directors' Fortnight.
The selection is non-competitive but there are a number of partner prizes.
Pariser's intelligent comedy-drama, starring Veteran French actor Fabrice Luchini as a jaded mayor, who seeks the advice of a brilliant young philosopher, played by Anaïs Demoustier, won the Europa Cinema Label for best European film.
It was decided by a jury of four exhibitors from the pan-European network.
"Our selection of Alice And The Mayor was a unanimous one," the jury said in a joint statement. "It is a timely and relevant look at the direction of European politics and policies – but never dry or didactic."
The feature received a warm response from reviewers in Cannes, with Screen critic Lisa Nesselson describing it as "talky in the best possible way" and "a classy but accessible piece of entertainment which is also food for thought."
It has also proven a hit with buyers with Paris-based Bac Films selling it to Spain (Alfa), Benelux (Athena), Italy (Movie Inspired), Canada (MK2 Mile End) and Taiwan (AV-Jet) ahead of its premiere.
Zlotowski's An Easy Girl won the SACD Prize for best French-language feature.
The filmmaker's fourth feature, it stars newcomer Mina Farid as a teenager whose eyes are opened to love, sex and relationships during a holiday with an older cousin, played by former French glamour girl Zahia Dehar.
The prize was awarded by the film commission of French writers guild SACD, comprising filmmakers and screenwriters Laurent Tirard, Marie-Castille Mention-Schaar, Arthur Joffé and Dominique Sampiero.
Sampiero said that in feting An Easy Girl it was also celebrating the role and performance of Dehar as "the suggestive figure of a [Marguerite] Duras reading escort girl who carries the story towards being a contemporary morality tale."
Sold internationally by Wild Bunch, the film was described as "eminently watchable" in Screen's review. CAA Media Finance represents US domestic rights for the film.