Projects from Italy, Ireland, Hungary and Poland were the winners at this year's edition of the When East Meets West (WEMW) co-production market.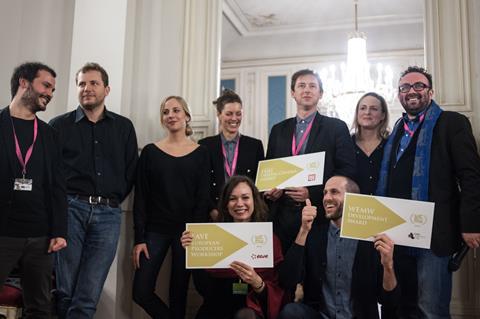 The market featured 22 international projects, comprising 12 fiction feature films and 10 documentaries from 29 countries.
Carlo Zoratti's La Vita Nuova, a mix between documentary and fiction about a group of people re-enacting their dreams as a form of spiritual healing, received the WEMW Development Award at an awards ceremony in Trieste's Palazzo del Governo on Tuesday evening (Jan 20).
The €1.4m production by Zoratti's own Udine-based production outfit Alpis has Germany's DETAiLFILM onboard as a co-producer again after they worked together on Zoratti's previous film, the feature documentary debut The Special Need.
A documentary was also the winner of the new EGG Digital Cinema Award which was given to Dublin-based Jeremiah Cullinane of Planet Korda Pictures for his production of Lithuanian-born writer director Olga Cernovaite's Butterfly City.
This creative feature documentary will focus on the Lithuanian city of Visaginas which was created out of the forest from nothing in the 1970s to service a Soviet nuclear power station. However, the city's future was put into question when Lithuania joined the EU and decided to close the power plant as the reactors are identical to those in Chernobyl.
In addition, this year's EAVE producers' workshop scholarship went to Hungarian producer Julianna Ugrin of Éclipse Film for the documentary Afterglow by Noémi Veronika Szakonyi.
Meanwhile, the newly created HBO Europe Award for the best project in the brand new Last Stop Trieste showcase of documentary 'work in progress' was presented to Polish writer-director Wojciech Staron's Brothers by a jury composed of the new DOK Leipzig director Leena Pasanen, CAT&Docs' Catherine Le Clef, and broadcaster Claudia Schreiner of MDR.
Participants at this year's edition of the co-production market included film funders from the guest countries UK, Ireland and Canada as well as from Poland, Hungary, Croatia, Slovenia and France; sales agents Sasha Wieser (EastWest Filmdistribution), Ivo Fiorenza (Amadeus Entertainment), Diana Karklin (Rise&Shine World Sales), Katarzyna Siniarska (New Europe Film Sales), Manuela Buono (Slingshot Films), Gabor Greiner (Films Boutique) and Laurent Danielou (formerly of Rezo Films and in Trieste with his new production and sales outfit Locofilms); and producers Miroslav Mogorovic (Art&Popcorn), Danijel Hocevar (Vertigo), Paolo Spina (Revolver), and András Muhi (Focusfox Studio).
Finally, looking forward to the market's next edition, WEMW's head Alessandro Gropplero revealed that Spain, Portugal and Latin America will be the guest region in January 2016.
Supporting co-development
Speaking at a panel on co-development funds, Chiara Fortuna of the Italian national film body MIBACT revealed that 28 projects had been supported by the Italian-French Co-Development Fund which was launched in 2013.
She said that she believed the co-development fund established with Germany in Rome last November will be ¨just as fruitful.¨
Fortuna added that a meeting is being planned for August's Locarno Film Festival to take stock of how many of the supported projects have since gone into production.
Meanwhile, next year's edition of WEMW in 2016 will see the announcement of the first raft of projects supported by the RE-ACT co-development fund which was set up by the Croatian Audiovisual Centre, the FVG Audiovisual Fund and the Slovenian Film Centre in collaboration with the TorinoFilmLab.
Trieste briefs
Expanding Ties
The sixth edition of the Ties That Bind - Asia/Europe Co-Production Workshop is casting its net wider this year to accept up five European professionals interested in working with Asia or producers without a project in addition to 10 Asian and European producers with projects .
Sales agents, financiers, distributors, festival programmers or co-production market representatives will be invited to apply, along with European producers without projects, who want to establish long-term creative and business relationships with Asia.
As in the previous five editions, Ties That Bind is targeted at 10 experienced feature film producers from Asia (15 countries from Japan and China through Mongolia and Myanmar to the Philippines and Indonesia) and Europe (the 28 EU member states and countries eligible to apply for actions in the MEDIA sub-programme) with a feature film project at the development stage.
The initiative's two workshops are organised by the Udine-based FVG Audiovisual Fund with EAVE, the Udine Far East Film Festival and the Busan International Film Festival/Asian Project Market, with the first one held at the festival in Udine in April.
One of the most recent Ties That Bind projects was Flapping In The Middle Of Nowhere, directed and produced by Vietnamese graduate Diep Hoang Nguyen and co-produced by graduate David Lindner (Filmallee), which won Best Film at the Venice Critics' Week last year.
Lindner was in Trieste this week with a rough cut of Anca M. Lazarescu's feature debut That Trip We Took With Dad which was one of three projects selected for WEMW's new initiative, the First Cut Lab (FCL).
Together with the other two FCL projects, Rusudan Pirveli's drama Sleeping Lessons and Dariusz Gajewski's social drama Strange Heaven, Lazarescu's drama received a free DCP awarded by Belgium's Flow Post Production.
Munich-based Lindner had previously worked with Romanian-born Lazarescu on her short film Silent River which received more than 70 awards at international festivals.
Moreover, another project developed at Ties That Bind was Vietnamese film-maker Di Phan Dang's Big Father, Small Father and Other Stories which has been selected to screen in the Berlinale's Official Competition next month.
Ovashvili looking for finance
German production company 42film is to be reunited with Georgian film-maker George Ovashvili for his new feature project after serving as a co-producer on his Oscar shortlisted Corn Island.
Ovashvili, who was in the Trieste Film Festival's competition with Corn Island, told Screen Daily that he is now raising the finance of the psychological drama Khibula about the fate of Georgia's first president, which was also presented as a project in Cannes's L'Atelier in 2011.
42film's Eike Goreczka was also in Trieste along with Polish producer Krzysztof Szpetmanski of Monternia.Pl looking for co-producers for the new feature project by Robert Glinski (42 Film had co-produced Glinski's 2009 drama Piggies).
Loznitsa and Kilmi premieres
Latvian producer Antra Gaile of Mistrus Media confirmed that Sergei Loznitsa's 20-minute documentary The Old Jewish Cemetery, dedicated to the memory of Riga's Jews, will premiere at this week's Rotterdam International Film Festival.
The short is part of a 140-minute omnibus entitled Over The River, Over The Road with contributions by seven European film-makers including Rainer Komers, Audrius Stonys, Bettina Henkel and Jaak Kilmi.
Jon Bang Carlsen's Cats In Riga premiered at IDFA last November and has been selected for the Short Films Official Competition of the 32nd Environmental International Film Festival in Paris.
Kilmi and Gaile were at WEMW in Trieste this week to present his documentary People From Nowhere in the public pitching forum.