Norwegian writer/director Camilla Strøm Henriksen makes her feature directorial debut with Phoenix, which will have its world premiere in TIFF Discovery on Sept 7.
Screen can exclusively reveal the trailer for the film above.
The drama is about two kids having to grow up too soon because their mother is mentally ill; their father's visit provides a temporary respite. Yet it's not a kitchen-sink drama, there are elements of fantasy as seen especially from the daughter's point of view.
Strøm Henriksen has been a successful actress for many years and started directing with TV's Hotel Caesar and Hvaler. She graduated from London Film School in 2004 with an MA in directing and made two shorts around that time.
It has been her passion for 12 years to get Phoenix made. "I've always wanted to make this kind of film…you have to have stamina and you also have to find the right people who believe in the story, you can't do it on your own."
Those collaborators include executive producer David Yates (of Harry Potter fame), producer Gudny Hummelvoll of Hummelfilm, and actress Maria Bonnevie who signed on to play the mother about six years ago.
The $2m (17m NOK) film has backing from the Norwegian Film Institute, Swedish Film Institute, TV2, Seymour and Olso post-production house Shortcut Oslo. No sales company is attached yet.
Throughout the 12 years, Strøm Henriksen stuck to her vision to make a unique film the way she wanted to; she feels like those creative decisions have paid off now that the film is invited to Toronto. "It's recognition as my first feature and also doing a film that I felt like I didn't compromise on. I stuck with my belief keeping this film as a kind of hybrid – that was always the nature of this film, and Toronto embraced that."
The fantastical elements emerge from the mind of the daughter, Jill. "It's a subjective story from her point of view. I felt like all these elements were rooted in her feelings. For a child to acknowledge that their mother is mentally ill is too brutal, in order to make sense of it, you have to make it into some sort of externalisation, there is an evil or disgusting creature in the house. And then she idealises the father's world which is also not reality in a way. So she is living in two polarized worlds."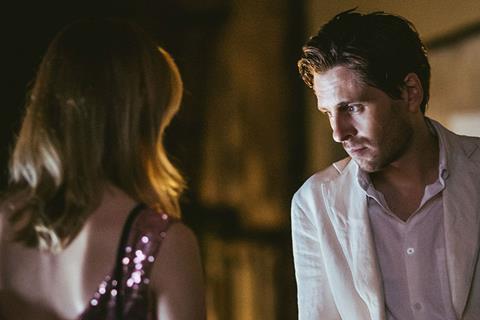 The writer/director spent two and a half years auditioning young actresses to play Jill, and met Ylva Thedin Bjørkaas, then aged 14, several months before the shoot was set to commence. "She has this wonderful openness and curiosity, and a maturity beyond her years," Strøm Henriksen adds.
The father is played by Sverrir Gudnason, who Toronto audiences will recognize from his star-making role as Bjorn Borg in last year's TIFF opener Borg Vs McEnroe. Casper Falck-Løvås plays the younger brother Bo.
As an experienced actress herself, she enjoyed working with her cast. "I don't have a fear of actors, like some directors do," she explains with a laugh. "I approach them with this understanding of their process, while also knowing that each process is individual…I feel like we were really part of it together."
In working with the child actors who hadn't been on a film set before, Stroem Henrikssen sought advice from New Zealand acting coach Miranda Harcourt (who has worked on films like Lion, The Lovely Bones and Top Of The Lake) about best dealing with young performers. One idea that came out of those Skype advice sessions was to have the younger and older cast spend some time together as a "family." She explains, "Maria and the kids went shopping together, cooked dinner in my flat, and she read to them."
Stroem Henrikssen says she was inspired to make the film as her first feature because "It's a personal story I drew from my own experiences…. I felt I had an insight in the dynamics of this family and also a curiosity about what happens in this dynamic. In order to be interested in a project for 12 years, you have to have something that intrigues you. Not knowing all the answers, you still keep that interest."
She is already busy on other projects, writing two episodes for the new series of Norwegian TV hit Occupied, and developing a a TV historical adventure and a feature film that will be another family story.