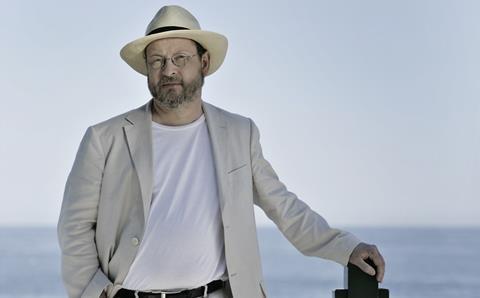 Lars von Trier was the talk of Copenhagen on Thursday (March 22) – and for once not because of a film he's directed but for a documentary that turns the cameras on him.
Producer Sigrid Dyekjaer of Danish Documentary unveiled footage at CPH:FORUM of The Missing Films, a portrait of von Trier directed by two of his long-time collaborators, Tomas Gislason and Jacob Thuesen.
Attending industry experts were buzzing about the footage shown, demonstrating an unprecedented level of intimacy and access to von Trier that among other sequences shows him in production on his new serial killer story, The House That Jack Built.
The feature documentary is still in production and will continue shooting with von Trier wherever Jack has its world premiere – either in Cannes or at a later festival.
"The film is about brotherhood, friendship, love for cinema," Dyekjaer said, adding that the film will cover von Trier's childhood as well as his love for cinema over the decades. Both the directors have known von Trier for many years and have edited some of his films.
She added that after seeing The Missing Films, "I can't promise that you will love Lars but I can promise you [that] you will understand him and that will help you understand his films." The Danish Film Institute and TV2 are backing the film, which is expected to premiere in late 2019 or early 2020. No sales company is attached yet.
CPH:DOX's CPH:FORUM hosted filmmakers from 25 projects to present their projects to industry.
The Eurimages Co-Production Development Award of $18,400 (€15,000) for the best pitch of this year's CPH:FORUM went to Journey To Utopia. The Danish-Norwegian co-production, which showed a lively teaser full of humour, follows director Erlend Eirik Mo's family as they leave behind a comfortable family home to join a new self-sustainable community. Mo said the film is "a family drama with tears and laughter… and a sort of organic disaster movie."
Some of the other buzzed-about pitches included Guy Davidi's Senseless, about the personal impact of mandatory military service in Israel.
Davidi (5 Broken Cameras) said the film is about "growing up in a society where you are born to become a soldier… whether you fit to it or don't fit to it." The director has gained access to letters and diaries from dead soldiers and said the film looks at "struggles and inner lives of these young soldiers as they reflect on the life they had."
Lee will tell the story of Lee Miller, the model, artists' muse and war photographer which, as director Teresa Griffiths said, is "a film of two halves, of how she was seen by other people and how she saw the world." The team is working with Miller's son and has access to thousands of her photographs, some of which have never been seen before.
Griffiths added that there was "an amazing bravery and boldness to Lee's life and work and I hope that will set the tone for the film… she defied anyone who tried to pigeonhole her or pin her down."
Maxim Pzodorovkin's How To Rob Banks For Dummies is about Joe Gibbons, an MIT professor who robs banks to film them as an art project. "I was instantly fascinated by his work and his wit," said Pzodorovkin, who was Gibbons' former student. This film "excavates his body of work and introduces this singular artist to a wider audience." How To Rob Banks For Dummies will be delivered for an early 2019 premiere.
Grant Gee's The Gold Machine is a genre-blurring film that the director described as "a cinematic film about creative imagination and colonial exploitation, coffee and cocaine and the legend of Eldorado," among many other themes.
Other strong pitches included Shosh Shlam and Hilla Medalia's Leftover Women, about educated Chinese women being pressured to marry young; housing crisis doc Push by Fredrik Gertten; and a personal approach to the refugee experience in Afghan filmmaker Hassan Fazili's Midnight Traveler.
The full list of pitches:
Senseless, Guy Davidi (Den)
The Cost of Prohibition, Fritz Ofner, Eva Hausberger (Austria)
The Chocolate War, Miki Mistrati (Den-Nor)
Journey To Utopia, Erlend Eirik Mo (Den-Nor)
Transnistra, Anna Eborn (Swe-Den-Bel)
What We Believe, Nick Aldridge (UK)
Lee, Teresa Griffiths (UK)
I Call Myself Desire With Fast Wings, Narimane Mari (Fr)
Riotsville, USA, Sierra Pettengil (US)
The Hottest August, Bretty Story (Can-US)
Leftover Women, Shosh Shlma, Hilla Medalia (Isr-Ger)
How To Rob Banks For Dummies, Maxim Pzodorovkin (US)
Singapore In Africa, Camilla Nielsson (Den) [not publicly presented]
Piraya 2013-6, Ola Waagen (Nor-Den-Swe)
The Devil's Rope, Florian Weigensamer, Christian Krones, Christian Kermer (Austria)
The Gold Machine, Grant Gee (UK)
Aleph, Iva Radivojevic (Hun-US)
Psychic, Tova Mozard (Swe)
As Far As We Could Get, Ivan Argote (Fr)
The Missing Films, Tomas Gislason, Jacob Thuesen (Den)
The Greener Grass, Peter Mettler, Stephanie Barbey (Swi-Can)
Utopia, Phie Ambo (Den)
Coccyx, Ursula Mayer (UK-Austria)
Climb Into My Skin (Walk Around In Me), Phillip Warnell (UK)
Push, Fredrik Gerten (Swe-Can)
Midnight Traveler, Hassan Fazili (Ser-Afg-US).
Earlier in the day the Science Film Forum presented eight pitches:
Artificial Life, Pernille Rose Gronkjaer (Den)
Red Heaven, Lauren Defilippo, Katherine Gorringe (US-Ger)
Hwangsa (Yellow Dust), Claire Sandord (Can)
Internet vs. Humanity, David Borenstein (Den-Swe-Can)
Life Of Lines, Diego Galafassi, Fredrik Wenzel, Jesper Kurlandsky (Swe)
The Thin Grey Line, Fabio Lucchini (Fr-Ger)
My Irresistible Man, Mette Korsgaard (Den)
The Animated Mind Of Oliver Sacks, Dempsey Rice (US-UK).