EXCLUSIVE FIRST LOOK: Thriller stars Emily Hampshire and Eric Roberts. Marina Cordoni among producers.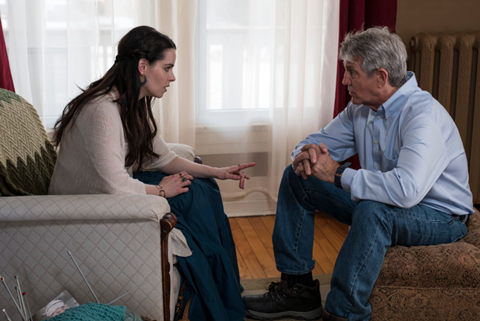 Principal photography has wrapped in Sudbury, Ontario, on Never Saw It Coming.
Gail Harvey directed the thriller based on Linwood Barclay's book about a young woman who passes herself off as a psychic.
When the charlatan targets the family of a missing woman, she becomes entangled in the dark secrets of the husband and daughter.
Emily Hampshire and Eric Roberts star alongside Katie Boland, Shaun Benson, Tamara Podemski, Nick Serino, Diane D'Aquila, Maria Del Mar, Jeff Clarke, and newcomer Keegan Hedley.
Producers Marina Cordoni of MCE Inc, Harvey, and Boland of Straight Shooters Productions Inc aim to complete Never Saw It Coming by late summer in time for an autumn festival run.
Executive producers are Barclay, Jay Firestone and Steven Pasternak of Prodigy Pictures, and Michael Forsey of Rolling Pictures.
The thriller was made with the financial support of Telefilm Canada, the Northern Ontario Heritage Fund, Prodigy Pictures, Rolling Pictures and the Federal and Provincial tax credits.
Prodigy Pictures holds worldwide rights excluding Canada.