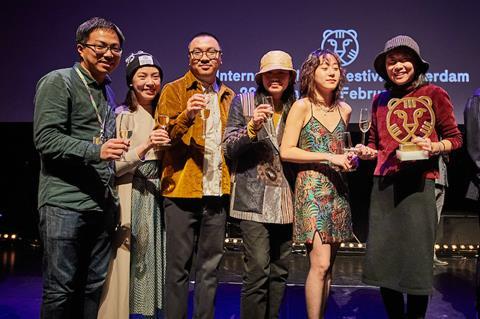 International Film Festival Rotterdam (IFFR) has announced the winners of its 49th edition, with Zheng Lu Xinyuan's The Cloud In Her Room winning the Tiger Award and accompanying €40,000 prize.
Scroll down for full list of winners
The Tiger jury, comprised of Hany Abu-Assad, Emilie Bujès, Kogonada, Sacha Polak and Hafiz Rancajale, praised the film for how it "gracefully portrays a certain global generation paralysed by modern alienation and capitalism."
The film tells the story of a woman who returns to her hometown for Chinese New Year and embarks on a relationship with the father of her half-sister's classmate. Beijing-based Rediance picked up international rights ahead of the festival.
It marks the third consecutive year that a Chinese-language film has won the top IFFR prize, with Zhu Shengze's documentary Present. Perfect. winning last year and Cai Chengjie's The Widowed Witch taking the Tiger Award in 2018.
Asian features dominated the awards ceremony this evening, with a hat-trick of prizes for South Korean films, including a black-and-white version of Bong Joon Ho's Oscar-nominated Parasite, which won the IFFR audience award.
Also from South Korea, Kim Yonghoon's crime thriller Beasts Clawing At Straws won the special jury award while Yoon Dan-bi's family drama Moving On was honoured with the Bright Future prize.
Arun Karthick's Nasir won the NETPAC Award for best Asian film premiering at the festival. Speaking earlier this week, the Indian director said he is "ready to fight and go to court" to secure the uncensored release of the film in his home country. The story charts the day in the life of a Muslim living in a predominantly Hindu city.
The VPRO Big Screen Award was awarded to A Perfectly Normal Family from Danish filmmaker Malou Reymann. The win means that the film has a guaranteed release in Dutch theatres and will be broadcast on Dutch public television channel NPO 2. The drama follows a girl whose relationship with her father changes when he transitions from male to female.
The FIPRESCI Award from international film critics went to coming-of-age drama Only You Alone by Chinese filmmaker Zhou Zhou. The KNF Award, presented by the Circle of Dutch Film Journalists, went to Kala Azar by Greek-born, Dutch-based director Janis Rafa.
The awards saw wins for nine female directors, topping the seven male filmmakers named on the night (including special and honourable mentions).
IFFR wraps on Sunday (Feb 2) following a screening of closing film A Beautiful Day in the Neighborhood on the previous night (Feb 1). It marks the fifth and final edition of festival director Bero Beyer, who is handing over to Vanja Kaludjercic.
IFFR winners 2020
Tiger Competition award – The Cloud In Her Room, Zheng Lu Xinyuan
Tiger Competition special jury award - Beasts Clawing At Straws, Kim Yonghoon
VPRO Big Screen award - A Perfectly Normal Family, Malou Reymann
Bright Future award - Moving On, Yoon Dan-bi
Bright Future (special mention) - A Rifle and a Bag, Isabella Rinaldi, Cristina Hanes, Arya Rothe
IFFR audience award – Parasite (B&W Version), Bong Joon Jo
Voices short award – Tabaski, Laurence Attali
FIPRESCI award - Only You Alone, Zhou Zhou
NETPAC award for best Asian feature world premiere – Nasir, Arun Karthick
KNF award for best Dutch film - Kala azar, Janis Rafa
Honourable mention: Mother, Kristof Bilsen
Honourable mention: Drama Girl, Vincent Boy Kars
IFFR Youth Jury award - Les Misérables, Ladj Ly
Found Footage award - My Mexican Bretzel, Nuria Giménez