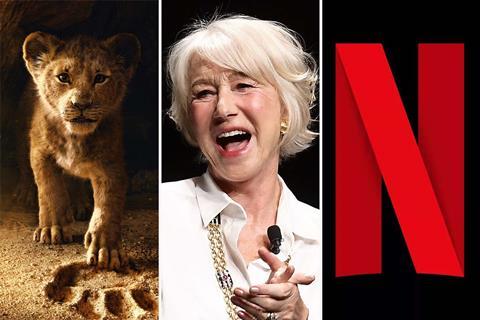 It was not the most eventful CinemaCon on record, but several themes emerged from the week's activities at the annual exhibitor convention in Las Vegas.
Everyone remains obsessed with Netflix
"I love Netflix, but fuck Netflix." Not a careless aside from a theatre chain CEO, but the words of none other than British insitution Dame Helen Mirren, whose spontaneous utterance on stage at CinemaCon this week nearly blew the roof of the Colosseum theatre in Caesars Palace. It also summed up rather nicely the industry's love-hate relationship with the global streaming giant.
In a year when there was no brand new talking point in Las Vegas, everybody went back to their favourite old one. In previous iterations of the show the elephant in the room has ranged from premium VOD, to MoviePass, to Sean Parker's The Screening Room, to Saudi exhibition (see below). However this year CinemaCon attendees fell back on their default discussion topic, and not without good reason. Motion Picture Association of America chief Charles Rivkin said the body was all the better for having Netflix in it; panellists on International Day opined variously that Netflix's local-language production initiatives could open up an audience for theatrical local-language releases, and posited that were the streaming platform minded to open more films theatrically, that might contribute to incremental growth in its subscriber base. The US department of justice warned the Academy Of Motion Picture Arts & Sciences that any move to block streaming services from Oscar eligibility could be viewed as anti-competitive. Plenty of talk, then, about Netflix. By this time next year Disney, WarnerMedia and possibly NBCUniversal will have launched their platforms, ensuring this is a conversation that will keep on running.
US exhibitors are pushing ahead with site growth in Saudi Arabia
National Association of Theatre Owners president John Fithian put it succinctly at a press conference when he said industry did not have the same duty to address a matter like the murder of Saudi journalist Jamal Khashoggi in the way that governments did. Despite the "tragic, awful" event last October, Fithian noted that several exhibitors are investing in the country, although he declined to name them. AMC is one. Twelve months after it opened the first site in the kingdom following the end of a decades-long ban on theatre-going, the world's largest chain is forging ahead with expansion plans and expects to open 40-50 cinemas in Saudi Arabia over the next three to five years. IPic Entertainment is another, and confirmed to Screen it plans to open 25-30 locations throughout Saudi Arabia. Vox Cinemas is active in the territory and CEO Cameron Mitchell told a panel he will grow the footprint substantially in the Middle East (although he did not elaborate where). Vue International, however, is reining in its earlier ambitions for the territory and is stepping away, although it will monitor the situation. Despite reports that the CIA believes the Khashoggi killing at the Saudi consultate in Turkey last October was carried out at the behest of crown prince Muhammed bin Salman, Saudi authorities have rigorously denied the claim.
Exhibitors love stars
The most entertaining studio presentation did not come from Disney, where executives possibly felt it would be impolitic to fly in battalions of A-listers after they recently laid off a swath of senior Fox executives following the $71.3bn acquisition. Disney showed some extraordinary work on The Lion King, but it was Warner Bros, Paramount, Universal and Lionsgate who put the broadest smiles on faces. They paraded the likes of Dwayne Johnson, Tiffany Haddish, Charlize Theron, Arnold Schwarzenegger, Seth Rogen, Jessica Chastain, Kevin Hart, Octavia Spencer, La Mirren, and Jennifer Hudson. Star power is on the decline in the eyes of audiences, but as far as the theatre owners who gathered each day in the Colosseum are concerned, they still make for an unbeatable two-hour presentation.
Disney could cross $10bn at the global box office this year
Total North American box office in 2018 reached $11.6bn, This year, films released by Disney alone could generate $10bn. It's never been done before, but then again, no studio has ever had a slate like this: Avengers: Endgame, Star Wars: Episode IX, Toy Story 4, The Lion King, Frozen 2, Maleficent: Mistress Of Evil, and Captain Marvel (already on $1bn-plus worldwide). Who knows – even Aladdin could take off (unlike Dumbo), while Fox import and X-Men spin-off Dark Phoenix could help, too. Once Disney and Fox crack the code on how to get their superheroes to play nicely together, and Fox tentpoles like Avatar 2 are ready to rock and roll, it is hard to see anybody beating Disney for years.
Paramount Pictures is (not so) quietly building back up
Led by wise steward Jim Gianopulos, aligned more closely with the various units and brands under the Viacom stable (Nickelodeon, Paramount Players to name two) and benefitting from the decision by David Ellison's Skydance Media two years ago to renew the co-fi partnership, Paramount is assembling quite the pipeline. Terminator: Dark Fate, Top Gun: Maverick, the Coming To America and A Quiet Place sequels, a G.I. Joe reboot, a new Spongebob Squarepants animation, several Hasbro properties, and one-offs that could score like Rocketman, Ang Lee's Gemini Man, and female-led spy thriller The Rhythm Section, point to an invigorated environment at the studio.
Music rocks

In the wake of Bohemian Rhapsody's four Oscars, Hollywood can't get enough of a song and dance. Of course these things are cyclical and happen to be coalescing at this point in time, but if an upcoming release has music in it, it has buzz. There's Paramount's Rocketman, which looked good from the footage and could land an out of competition slot in Cannes. Tom Hooper and his cast are working away on Universal's Cats adaptation, which executives hope will be on song when the year-end holiday season comes around. Director Danny Boyle introduced footage from Working Title's upcoming Tribeca Film Festival closing night world premiere Yesterday and treated the audience to a live rendition of the title song by the film's star, relative unknown Himesh Patel. Warner Bros and New Line screened Gurinder Chadha's love letter to family and Bruce Springsteen, Blinded By The Light. STX made much of its first animation, the upcoming UglyDolls featuring Kelly Clarkson, who belted out a number. And Jennifer Hudson mesmerised the crowd when she sang 'Memory' from Cats. All that was missing was a Broadway standard from Hugh Jackman.