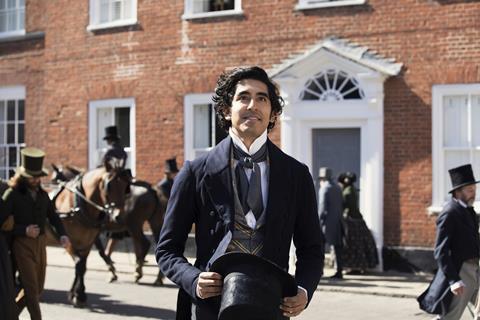 Armando Iannucci's The Personal History Of David Copperfield is the prominent new title this weekend, as the latest Charles Dickens adaptation looking to make a mark with UK audiences.
Dickens' oeuvre has inspired over one hundred film adaptations across theatrical, TV and streaming releases. His most frequently adapted book is his 1843 novel A Christmas Carol, which has formed the basis of almost 50 screen works.
Iannucci's film, which launched at Toronto 2019, marks the ninth time Dickens' 1849 book David Copperfield has been reproduced on screen. It takes its name from the novel's full title, The Personal History, Adventures, Experience and Observation of David Copperfield the Younger of Blunderstone Rookery.
Previous versions include a 1935 black-and-white feature directed by renowned literary adaptor George Cukor; a 1969 television film with Laurence Olivier and Richard Attenborough among the cast; a 1993 animated musical in which John Lennon's son Julian voices the lead role and the human characters take the form of cats; and a 1999 two-part BBC television drama with pre-Harry Potter Daniel Radcliffe as young David Copperfield.
This is Iannucci's third feature film as director. His first was 2009 The Thick Of It spin-off In The Loop, which opened to £468,954 and ended on £2.2m, securing Iannucci a best adapted screenplay Oscar nomination in the process.
In 2017 he directed historical satire The Death Of Stalin, which opened to £994,912 and ended on £5.2m, as well as winning four Bifas and achieving Bafta nominations for outstanding British film and best adapted screenplay.
Screen Star of Tomorrow 2008 Dev Patel takes the titular role, with fellow Stars of Tomorrow Anna Maxwell Martin (2004), Aneurin Barnard (2009), and Morfydd Clark (2016) also on the cast.
Patel's highest-grossing title is still his breakthrough role, 2008's Slumdog Millionaire, which opened to £1.8m and ended on a huge £31.7m.
Horror show
Two major studio horror titles hit UK cinemas this weekend, as counter-programming options to a large number of awards season holdovers.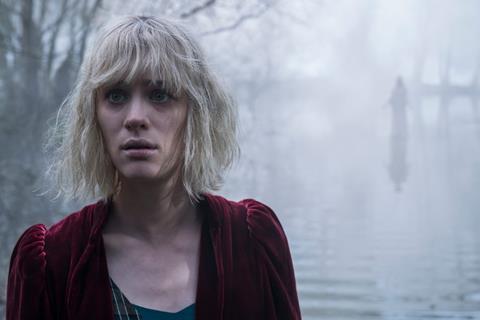 Floria Sigismondi's The Turning is an adaptation of Henry James' 1898 novella The Turn Of The Screw, produced by Universal Pictures and released by eOne in the UK.
The film is Canadian-Italian Sigismondi's second feature after 2010 rock biopic The Runaways, which opened to £59,443 and ended on £166,369. She is best known as a director of music videos for artists including David Bowie, Rihanna, Katy Perry, The Cure and Dua Lipa; and has worked on TV series including American Gods and The Handmaid's Tale.
Sony has Nicolas Pesce's The Grudge, an adaptation of Takashi Shimizu's 2004 Japanese horror about a vengeful ghost which causes violent death to those who encounter it.
Pesce's debut The Eyes Of My Mother grossed £4,808 on a limited release in 2017; he followed this with horror-thriller Piercing last year, which took £809.
MusicFilmNetwork is distributing Simon Sheridan's documentary Everything – The Real Thing Story, about 1970s Liverpool soul group The Real Thing.
Dogwoof has Zhu Shengze's Present.Perfect., a documentary about human interaction told exclusively through live-streaming. The film received the Tiger award at the 2019 International Film Festival Rotterdam, the following edition of which is recently underway.
Cinestaan has Remo D'Souza's dance drama Street Dancer 3D; Disney has Bollywood romance Panga; Alipur Films has Ashvin Kumar's diaspora drama No Fathers In Kashmir; while Paramount is screening a feature-length episode of CGI animated series Paw Patrol called Ready, Race, Rescue.
Holdovers
eOne's 1917 held well on its second weekend with £6.2m, and with few big-name openers, it will look to maintain its crown for a third week. Other strong holdovers include the second weekend of Bad Boys For Life, plus well-performing films Little Women, The Gentlemen and Jumanji: The Next Level.