Joanna Hogg, whose credits include the acclaimed Archipelago and Unrelated, is now shooting her third feature in London.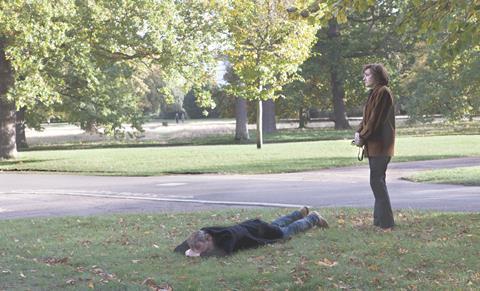 This first image shows Liam Gillick (an artist who has been Turner Prize nominated) as "H" and Viv Albertine (the former guitarist of The Slits) as "D" in scene shot in Kensington Gardens. Tom Hiddleston is in the supporting cast.
The film has had development and production funding from the BFI Film Fund; other partners are BBC Films and Rooks Nest Entertainment. Gayle Griffiths produces for Wild Horses Film.
The team also includes DP Ed Rutherford, editor Helle le Favre and production designer Stephane Collonge. Artificial Eye will distribute in the UK and the team is in discussions with international sales companies.
Plot details are mostly under wraps for the as-yet-untitled film, but Hogg says: "I continue to be fascinated by the blurred line between the comic and the horrendous - but depicting this in an ordinary, everyday context which is closer to home, and therefore more terrifying."
For full production credits visit