A May-December love story between a movie star and a young young actor played by Annette Bening and Jamie Bell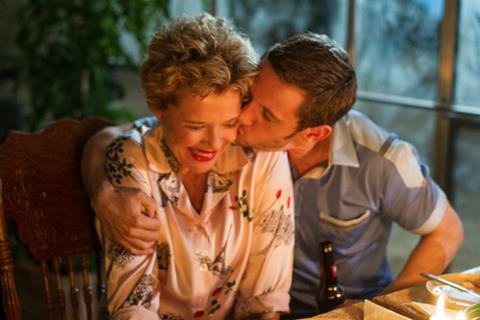 Dir. Paul McGuigan. UK. 2016. 105m
This sympathetic adaptation of a memoir by Peter Turner (played here by Jamie Bell, at one point parlaying his Billy Elliot hoofing skills into an exuberant disco hustle sequence) tells of the late-blooming romance between Oscar-winning movie star Gloria Grahame (Annette Bening) (then in her mid-fifties) and Turner, then a hungry, sporadically employed, young actor in his twenties.
Although there's a lot going on on screen, our attention is focused on Bening's central performance
The film covers a period from their initial meeting in 1979 to her death from cancer in 1981 and while their real-life May-December relationship is persuasively full-blooded and vital, the terminal disease narrative is — perhaps appropriately in this case — given a flattering Hollywood gloss. While the balance between the two sections might have benefitted from being skewed slightly more to the former than the latter, first rate performances from the two leads, and a fine supporting cast, confirms this as an awards season contender.
We are introduced to Gloria in 1981 as she pieces together, with the ease of practise, her now somewhat tattered Hollywood persona. She's backstage at a provincial British theatre, minutes away from her entrance in a production of The Glass Menagerie. She sips milk from a champagne glass, and chirrups her way through a set of vocal exercises. From a cassette player next to her mirror, a tinny approximation of Elton John's Funeral For A Friend – a recurring musical motif in the film – plays out.
The song fleshes out onto the score proper at the same moment when, lashes glued and lipstick applied, the careworn middle-aged lady vanishes, and Gloria Graham, movie star, delivers a screen-melting pout to the mirror. But the star power flickers, and she collapses. Discharging herself from hospital, her best chance for recuperation, she decides, will be at the terraced Liverpool home of her former lover Peter, submitting to the no-nonsense ministrations of Peter's straight-talking mum (a cherishable, irascible turn from Julie Waters).
Gloria's affliction is rather more serious than the 'gas' she admits to, although, aside from a dry, papery cough, unbrushed hair and the occasional wince, it's a relatively benign version of stage four cancer. The timeline of her decline is elegantly woven, through edits laced into 360 panning shots, with the start of her relationship with Peter in 1979.
It's in the flashbacks that the fun is to be found. In the forthright physicality of Bell's performance (a well-toned torso is deployed, perhaps more frequently than is strictly necessary); in Bening's crackling sass and sizzle – it's abundantly clear that these are lovers who enjoy each other. A couple of scenes stand out: an early date watching Alien is a joy, with Gloria cackling appreciatively and Peter flinching in fear. And there's a caustic, all too brief scene which introduces Peter to Gloria's family, and the skeletons in her closet, over one abortive dinner. Vanessa Redgrave's lavish theatricality as Gloria's mother would steal the whole sequence, were it not for Frances Barber, playing Gloria's sister, stewing poisonously at the edge of the frame.
The production design is the kind that declaims itself through wallpaper which is every bit as dramatic as the temperamental movie star it surrounds. The cinematography, with its snaking pans, and the sensuous caress of the cherished mementos of the relationship – shoes, a locket – also tends towards showy flourishes.
But although there's certainly a lot going on on screen, our attention is focused on Bening's central performance. The pout and the poise, not to mention the Mae West-style one-liners ("I love habits, especially bad ones") charge the earlier scenes with unpredictable energy. But even when the character is bed bound and failing, there are a couple knock out moments when Gloria, through sheer force of will, tries to muster what remains of her faltering star wattage.
Production company: Bad & Beautiful Productions
International Sales: IM Global info@imglobal.com
US Distributor: Sony Pictures Classics
Producers: Barbara Broccoli, Colin Vaines
Screenplay: Matt Greenhalgh
Cinematographer: Urszula Pontikos
Editor: Nick Emerson
Production design: Eve Stewart
Music: J Ralph
Main Cast: Annette Bening, Jamie Bell, Julie Walters, Vanessa Redgrave, Stephen Graham, Frances Barber