For his second feature, Wei Shujun serves up a satricial exploration of the pursuit of authenticity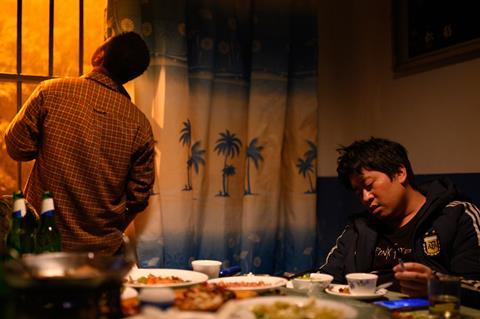 Dir: Wei Shujun. China. 2021. 123 mins
Swiftly delivering on the promise of his freewheeling, semi-autobiographical debut feature Striding Into the Wind (2020), director Wei Shujun returns with Ripples of Life, a dexterous rumination on the pursuit of authenticity. Divided into three chapters, it revolves around the production of a highbrow film in a remote town and courts comparison with the meta-comedies of Hong Sang-soo to the extent that one character is even complimented on her resemblance to the South Korea auteur's muse Kim Min-hee. Regardless of his openly acknowledged art-house influences, Wei is very much developing his own idiosyncratic sensibility. Ripples of Life sees the fledgling auteur continuing to draw candidly on his own immediate experiences while questioning the role of cinema in an increasingly fragmented Chinese society.
Satirically notes how China's rural areas and the lives of their residents have been aestheticized by filmmakers seeking credibility
Premiering in the Director's Fortnight at Cannes, Ripples of Life looks set to make waves as the kind of cineaste's delight which goes down a treat on the festival circuit. Although films about filmmaking usually have niche appeal, international specialty sales could prove fruitful since Wei offers a particularly inspired deconstruction of the solemn regional portraits which have become a staple of Chinese independent cinema.
The first chapter observes the pre-production process from the perspective of bored waitress Xiao Gu (Huang Miyi), who regularly serves the team at her in-laws' restaurant and begins dreaming about a more glamorous life. Gu attracts the attention of the making-of director (Yang Pingdao) and is delighted to bag a minor role in the film, but is brought back down to reality when the star arrives on location.
In the second chapter, actress Chen Chen (Yang Zishan) receives a warm welcome from the community, as she grew up in the town before leaving to pursue a bright future in the dramatic arts. Although eager to reconnect with old friends, Chen finds that they either want to exploit her fame for publicity purposes or lifestyle differences are impossible to overcome, leaving her wondering if one can ever truly 'return home'.
The third chapted focuses on the project's embattled creative nexus with a director (Liu Yang) emboldened by critical success pushing an insecure screenwriter (the film's actual screenwriter, Kang Chunlei) to complete the final draft as the start date looms. It's essentially a two-hander which pits the director's proclamations of aesthetic brilliance against the screenwriter's more earnest manner as they disagree on every aspect of the material from story to theme.
Structurally, the film flows smoothly from capturing mundane everyday existence, to evoking nostalgia to depicting a flailing attempt to capture its very essence. Parallel lives are presented in the first and second chapters. Gu's mundane responsibilities (shopping at the wholesale market, recommending dishes from the menu, nursing her baby) and naïve fantasies of stardom are pointedly contrasted with Chen's realisation that being the "pride of her hometown" will deny her slipping back into easy interactions with old classmates, despite her apparent humility.
If these chapters are characterised by canny observation, the third is infinitely more voluble in its meta commentary with Wei launching into a self-reflexive takedown of artistic pretentions (the film-within-a-film is also titled "Ripples of Life"). In dramatising the process of making a certain type of Chinese cinema – the director here aspires to make a "Checkovian tragedy" in a place where "time is frozen" – Wei satirically notes how rural areas and the lives of their residents have been aestheticized by filmmakers seeking credibility.
These shifts in tone are subtly navigated within the consistent visual framework afforded by Wang Jiehong's elegant cinematography and Matthieu Laclau's typically precise editing. Wei favours wide shots but discreetly modifies his style from the static compositions of Striding Into the Wind with steady pans and tracking shots to cover the circus that ensues when a film crew sets-up in a small town.
This also gives his actors room to play scenes in revealing long takes, Perfectly cast as striking counterparts, relative newcomer Huang has moments of natural poignancy while Yang adroitly riffs on her star image as an actress entering a new stage of her career. Also playing opposites, Liu and Kang throw themselves into a heated interplay which swings so wildly from camaraderie to resentment that it's a blessed relief when the shock of an international news event transcends their artist bottleneck.
Whatever creative differences they may have experienced, Wei and his screenwriter certainly enjoyed a more productive collaboration than their exasperated alter-egos as Ripples of Life is an exceptionally accomplished sophomore feature.
Production companies: Factory Gate Films, Inner Self Films
International sales: Rediance, info@rediancefilms.com
Producers: Huang Xufeng, Liang Ying
Screenplay: Kang Chunlei, Wei Shujun
Editing: Matthieu Laclau
Cinematography: Wang Jiehong
Main cast: Yang Zishan, Huang Miyi, Liu Yang, Kang Chunlei