Danish animation sets sail for 100 territories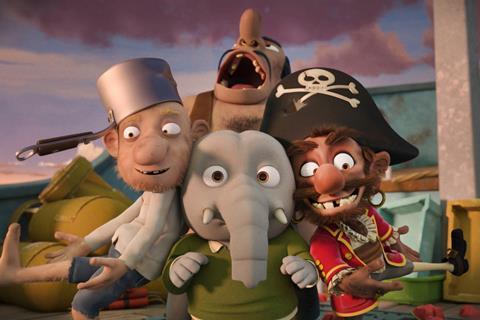 Dirs: Philip Einstein Lipski, Amalie Næsby Fick, Jørgen Lerdam. Denmark. 2017. 79 mins.
Bright, bouncy and busy from start to finish, Danish animation The Incredible Story Of The Giant Pear lends its buoyant exuberance to a likeable, broadly amusing and engaging-enough adventure that also doubles as an ode to loyalty and ingenuity.
There's a significant amount of story for young viewers to navigate, but it's all as light, breezy and jovial as the overall tone
As its soft and rounded visual style makes plain, this is firmly for younger rather older audiences. Sold to more than 100 countries (and set for UK release in May), Pear has been a box office hit at home before opening Berlinale's Generation Kplus programme. Adapting Jakob Martin Strid's children's book of the same name, it's the type of perfectly watchable fare that kids the world over will happily view on repeat, with streaming another possible avenue to success.
Directed collaboratively by Philip Einstein Lipski (Ronal the Barbarian), Jørgen Lerdam (The Olsen Gang in Deep Trouble) and Amalie Næsby Fick — the former and the latter also scripting with Bo Hr. Hansen (Word of God) — The Incredible Story Of The Giant Pear anchors its antics in the rather literally named coastal village of Sunnytown. Populated by people and anthropomorphic animals living in harmony, the hamlet is as glowing as its name suggests until its beloved mayor, JB (Henrik Koefoed), vanishes.
Last seen by best friends Sebastian (Alfred Bjerre Larsen), an elephant, and Mitcho (Liva Elvira Magnussen), a cat, his disappearance enables diminutive deputy Twig (Peter Plaugborg) to not only rise to power, but to construct a towering town hall that blocks out the sunshine.
Enter the titular piece of fruit, which comes into play when Sebastian and Mitcho fish a message-filled bottle out of the ocean, finding a note from the stranded JB and a seed that he advises them to plant. When the sprouting pear grows to giant proportions, the animal duo enlist the help of Professor Glucose (Peter Frödin), who turns it into their new home. Then, after a chaotic roll down a few streets, chased by Twig, a tank and much of the town, into a boat as well.
The vessel instantly comes in handy. With the deputy's ascension to mayor imminent, he's not interested in locating the missing mayor, but Sebastian and Mitcho are determined to chart a course to find JB on Mysterious Island. Sebastian's seafaring great-grandfather (Bjarne Henriksen) was once lost on the same landmass, providing all the additional motivation they need to face pirates, dragon boats and more on their journey.
While that's a significant amount of story for young viewers to navigate, it's all as light, breezy and jovial as the overall tone, and they'll eagerly laugh at the ample slapstick silliness along the way. As for its imagery, the film's look is warm and undemanding, but it's in the use of visually striking cross-sections — cutting through Sebastian and Mitcho's initial home, the floating pear, the dragon vessel and eventually Mysterious Island itself — that the animation is at its best. Alas, it's only glimpsed briefly, a rare inclusion of the kind of detail adults will admire more than their offspring.
Production companies: Nordisk Film Production, A. Film Production
International sales: LevelK, niklas@levelk.dk
Producers: Thomas Heinesen, Trine Heidegaard
Executive producers: Henrik Zein, Anders Mastrup, Malene Ehlers, Lena Haugaard
Screenplay: Bo Hr. Hansen, Philip Einstein Lipski, Amalie Næsby Fick
Editors: Hans Perk, Anders Sørensen
Music: Fridolin Nordsø
Main cast: Alfred Bjerre Larsen, Liva Elvira Magnussen, Peter Frödin, Søren Pilmark, Henrik Koefoed, Peter Plaugborg, Jakob Oftebro, Peter Zhelder, Peter Aude, Bjarne Henriksen