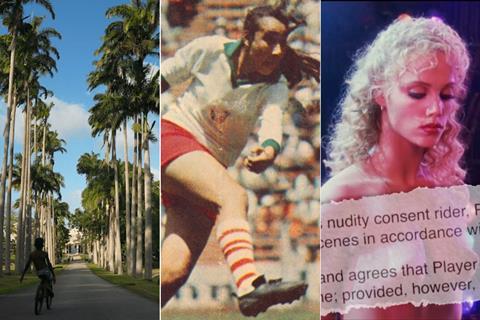 CPH:Forum, the financing and co-production market that forms the centrepiece of the CPH:DOX industry offering, has presented 43 projects to industry delegates this week.
Each project has pitched to an audience in Copenhagen, with pitches also streamed online for accredited guests. Following the pitches, the teams have received feedback on stage from leading documentary professionals, including representatives from Dogwoof and Fremantle.
Screen showcases 10 key projects.
The Gospel According To Matthew (Neth-Den-Ger)
Dir: Renzo Martens
Danish producer Sigrid Jonsson Dyekjær scored an international hit with Feras Fayyad's Oscar-nominated The Cave in 2019 and won the audience and special jury awards at Sundance this year for Alex Pritz's The Territory, which she produced through her new company Real Lava. Her latest unites a powerhouse European team: producers Frans Van Gestel of the Netherlands' Topkapi Films, who co-produced Another Round and Benedetta, and Heino Deckert, founder of Germany's Deckert Distribution, with Dutch artist-filmmaker Martens, known for his provocative artistic critiques of contemporary geopolitics.
The Gospel According To Matthew is set to be a film-within-a-film: the team will shoot a feature in the Congo about the arrival of Jesus as a Black plantation worker in 1921, based on predictions by 17th-century Congolese prophetess Kimpa Vita. Meanwhile, they will make a documentary about the production itself, in which Congolese lead actor Matthieu Kasiama – playing Jesus – demands that it be the white Martens who is crucified on film, instead of a Black actor.
Teaser footage shown in Copenhagen of Martens being wrestled to the ground suggests a typically outré work from the director; the project is in development, and looking to raise €1.2m.
Contact: Sigrid Jonsson Dyekjær
The First Plantation (US)
Dir: Jason Fitzroy Jeffers
Barbadian filmmaker Jeffers is looking at his homeland in The First Plantation, the story of the Americas' oldest continuously-operated sugar plantation Drax Hall. UK member of parliament Richard Drax recently inherited the site, and will continue to profit from an operation built on the backs of slaves. Jeffers' debut feature will consider whether the Drax family should overturn the plantation to the people of Barbados.
Timing is everything: interest in the project is increasing following Barbados' recent removal of Queen Elizabeth II as head of state, and the controversial Caribbean tour of her grandson Prince William and his wife Catherine. Look At Me: XXXTentacion producer Darcy McKinnon is producing through her New Orleans-based Gusto Moving Pictures, with Guyanese producer Romola Lucas. The project is in development with backing from Doc Society's New Perspectives Fund, and looking for just over €1m.
Contact: Darcy McKinnon
The Total Trust (Ger-Neth)
Dir: Jialing Zhang
By exploring the relationship between the watched and the watching, The Total Trust looks to uncover the trauma and hope engendered by an all-surveilling state and lends a voice to those that stand in resilient defiance of such blatant abuse of power. Zhang's One Child Nation, co-directed with Nanfu Wang, won awards at Sheffield DocFest, Film Fest Cologne and Belgium's Docville. With Cinephil attached for sales, The Total Trust is currently in production, and looking for €365,000 of a €1m budget.
Contact: Knut Jaeger (producer)
Copa '71 (UK)
Dirs: Rachel Ramsay, James Erskine
Ahmir 'Questlove' Thompson has gone all the way to Oscar glory by spotlighting an event that bypassed public attention in Summer Of Soul. Copa '71 is similarly looking to shine a light on the 1971 Women's World Cup in Mexico – 20 years before the first official FIFA women's tournament – and the so-called 'greatest show on Earth' of which many people will never have heard.
Dogwoof boarded the film earlier this month; the UK filmmakers have sporting screen pedigree, through Ramsay and Erskine's Amazon series This Is Football, and producer Victoria Gregory's Bafta-nominated Maiden, about pioneering female sailor Tracy Edwards. Currently in development, Copa '71 is looking for €1m in backing.
Contact: Victoria Gregory
Climate In Therapy (Swe)
Dir: Nathan Grossman
Director Grossman and producer Cecilia Nessen's previous film I Am Greta, about climate activist Greta Thunberg, screened out of competition at Venice and won best documentary at Sweden's Guldbagge awards. The duo return to ecological action with Climate In Therapy, which shows a group of climate scientists undergoing group therapy to process their feelings around the impending global catastrophe. The film is in development, aiming for a September 2023 debut; it is looking for €524,500, with the Swedish Film Institute and Film Stockholm already on board.
Contact: Cecilia Nessen
Body Parts (US)
Dir: Kristy Guevara-Flanagan
Currently in post-production, US title Body Parts explores the making of American 'sex' scenes, addressing the way film is featuring intimacy and sex, and its impact on rape culture. Over 25 Hollywood insiders are interviewed, including Jane Fonda, Karyn Kusama, David Simon and Rose McGowan, on topics including intimacy coordinators, sexualised abuse and what happens when actresses are pressured to say 'yes'. The film is over 60% funded with backers including the Sundance Institute; a release is expected for June 2022.
Contact: Helen Hood Scheer (producer)
Untitled art documentary (Den-Fr)
Dir: Andreas Dalsgaard
This feature will focus on a Swiss art dealer and a Russian oligarch caught in a web of secrets, lies and mad money – a game where power is the ultimate currency. Director-producer Dalsgaard of Denmark's Elk Film, producer Christoph Jorg of France's Pumpernickel Films and producer Kasper Lykke Schultz previously collaborated on Andreas Koefoed's art-centred title The Lost Leonardo, which played at Tribeca, Stockholm and Rome. The new title is in development, and looking for just over €1.2m.
Contact: Pumpernickel Films
Sink Or Swim (US)
Dirs: Carl Deal, Tia Lessin
Currently in development, Deal and Lessin's Sink Or Swim looks at how the wealthiest people and corporations in the world are profiting from the current and impending climate crisis, and how they plan to weather the storm ahead. The duo work through their US company Elsewhere Films, with credits including 2008's Oscar-nominated Trouble The Water, while they also produced Michael Moore's sequel doc Fahrenheit 11/9. Sink Or Swim is looking for €1.2m, with a projected January 2024 launch.
Contact: Carl Deal
Untitled Mistress Dispeller Project (US-China)
Dir: Elizabeth Lo
A 'mistress dispeller' is a profession in China through which operatives are hired to break up affairs by any means necessary. Teacher Wang is one such worker, and is the subject of this documentary about how class, money and culture collide to shape romantic relationships in contemporary China. Lo has screened work at Sundance, IDFA and Tribeca, while her 2021 feature Stray won Hot Docs' top jury prize and was nominated for an Independent Spirit Award. The untitled feature is in production ahead of a July 2024 debut, and is looking for €763,000 additional funding.
Contact: Elizabeth Lo
So Called Sisterhood (Switz-Pol)
Dir: Hanka Nobis
With a separate project Brotherhood looking at the white supremacy movement in Poland, Hanka Nobis is taking on homophobia in her homeland in So Called Sisterhood. The film focuses on a queer collective who fight against Poland's oppressive norms but, in their success, bring unwanted attention upon themselves. Swiss producer Esther Van Messel, who has credits including a-ha: The Movie, is producing through her First Hand Films. The film is in development, with Zurich Film Fund backing, and is after a further €370,479 in finance.
Contact: Esther van Messel