David Abraham, Amazon and MUBI to speak at event, held at BAFTA on May 10-11.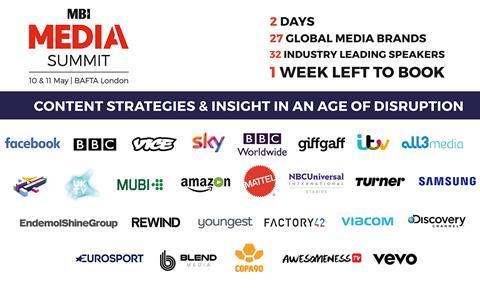 It's only a couple of weeks before MBI, publisher of Screen International, Broadcast and Shots, hosts its annual Media Summit and we have a fantastic line up of speakers.
If you're in the business of commissioning, producing or distributing content, then there's only one place for you to be on May 10 and 11 when some of the world's biggest media brands and content companies will be joining this year's MBI Media Summit at BAFTA in London. Here's what to expect…
For more information go to: www.media-summit.co.uk
Generation Z: The rules of engagement
'Generation Z' demand content where they want and when they want, and are as used to creating content as well as consuming it. And if you get it wrong (think Pepsi's recent ad) you can face global embarrassment.
An expert panel will look at audience trends and attitudes and what they mean for both content and advertising. Speakers include Laura Jordan Bambach, CCO for Mr President, Guy Bisson, Research Director, Ampere Analysis and Richard Chambers, head of Zoomin Studios.
Beyond the Tube; What's the right platform for content?
What are the different models for finding and monetising video content online – and what platforms should companies be using? The session involves brands including Copa90, Turner, and Awesomeness and will look at the next generation of content and viewers.
Vice's view on branded content
Ben Oliver, associate creative director of Vice Media joins a panel including Facebook and Giffgaff to debate the future of branded content and say what it takes to make it work.
Does VR have a clear vision?
Virtual Reality is the buzz phrase of the age with media and brands investing in the next wave of content and communications – but will it deliver on its promises and what are the opportunities in the market? Speakers include Sol Rogers from Rewind, Marvin Harrison from Samsung, Damian Collier from Blend Media.
How Mattell is creating a global kids' content company
Catherine Belsam-Schwaber, chief content officer at Matell on its content and interactive strategy.
How Sky's responding to new competition in the SVOD market
Sky's Managing Director Content, Gary Davey will give his view in a session looking at Sky's strategy and take on the future of SVOD. This is a rare opportunity to hear straight from Sky's most senior content executive on their thinking and planning.
What role data and AI can play in the creative process
With the rise of artificial intelligence and data to inform key decision making in the media space, how much can it drive creative judgements?
Our session 'Can A Robot Win a BAFTA?', looks at where creativity and data meet. Debating are Greg Detre, chief data scientist at Channel 4 and David Flynn, co-founder of Youngest Media.
What's next for Amazon Prime Video?
They are responsible for some of the most talked about content in the entertainment business – hear from Alex Green, MD for Amazon Prime Video on plans for content and commissioning.
Amazon don't speak at many events and this is a rare opportunity to hear directly from one of the new powerhouses in original content on their plans.
The future for SVOD services
Netflix and Amazon are the new giants of SVOD but who is taking them on and how are they doing it? Hear from Efe Cakarel, CEO, MUBI, Hendrik McDermott, SVP branded on demand NBC Universal and Ralph Rivera, managing director, Eurosport Digital.
How do you future proof a broadcaster?
Hear from David Abraham, CEO Channel 4, Darren Childs, CEO UKTV, Susannah Dinnage, President and MD, Discovery Networks UK and David Lynn, President and Ireland, Viacom International Media Networks on their future plans for content and distribution and how they are "future-proofing" their businesses.
With C4's move out of London being proposed by government, David Abraham will give his view on whether that will help secure its long-term future.
The Media Summit, organised by Screen publisher MBI, takes place on 10-11 May at Bafta, 195 Piccadilly